If you're in need of a celebratory chocolate cake recipe, this is the place to come. We're showcasing over forty chocolate cake recipes suitable for birthdays and other celebrations. They're from a bunch of very talented food bloggers and you're almost guaranteed to find something that you'll want to bake again and again.
This collection of chocolate cake recipes was originally compiled to celebrate an important event. Our chocolate recipe challenge, We Should Cocoa had just turned three. Bloggers from all over the country and indeed all over the world put forward their best chocolate showstopper cake recipe.
I've subsequently updated the post to keep it current and to add many more recipes. Whilst most of the original twenty six showstopper recipes are included, some of the recipes are sadly no longer online.
The recipes are divided into three main blocks:
Chocolate Cake Recipes
Vegan Chocolate Cake Recipes
Tin and Thyme Chocolate Cake Recipes
My party piece for We Should Cocoa's third birthday turned out to be a real showstopper. It was so good, it stopped me in my tracks and knocked all sense out of me. As a result, I stupidly didn't write the recipe down.
So a couple of weeks down the line, when I assumed all I had to do was put a few finishing touches to the post, I found I didn't have one and couldn't remember how I made the cake. More importantly, I couldn't remember what I put in it.
This is really annoying as I do recall it was a particularly good one and I've never been able to repeat it. The only certainty I have is that it I used one of these Afternoon Tea Chocolates to decorate it with. Note to self: pay attention and write recipes down immediately.
Chocolate Cake Recipes For Birthdays And Other Celebrations
Summer Show Off Cake
Dom of Belleau Kitchen kicked these chocolate cake recipes off in fine style. He only went and won the much coveted award of Best in Show at the Abbey Village Show for his stunning Summer Cake. Dripping with luscious fruit as it is, it's hard to imagine anyone being able to pass this one by. Well done Dom.

Chocolate Courgette Cake
It was great to see some seasonal produce being used and this chocolate courgette cake has to be the most glamorous one I've ever seen. Elizabeth of Elizabeth's Kitchen made this to celebrate several birthday events and my only concern is how is she going to distribute it to interested parties in Canada, Cornwall and Shetland?

Chocolate Cake With Milk Chocolate Crunch And Caramel Sauce
I regularly look forward to Susan's entries from The Spice Garden, they are always so interesting and sound so delicious. Dense, moist, rich and gooey, this chocolate cake with milk chocolate crunch and caramel sauce is not likely to disappoint.

Triple Chocolate Star Cake
Now hold your breath, the clue is in the name. This triple chocolate star cake from Alexandra of The Lass in the Apron is not only elegant, but is a masterpiece of chocolate indulgence. You name it, it's there – dark, white, milk, cocoa powder and not only that, it's an eggless sponge too.

Milk Chocolate and Toffee Bundt Cake
A beautiful bundt is next to make it's appearance. Jean of Baking in Franglais managed to find a bargain bundt tin and immediately used it to good effect to make her sister in law a birthday cake. Milk chocolate, toffee yogurt and crunchies formed the basis of the resulting milk chocolate and toffee cake.

Rocky Road Brownie Cake
Temptress Gill of Pigling Bland was given the task of persuading an overseas work colleague to stay in the country by coming up with a cake so good they couldn't resist. This rocky road brownie cake was the result. It's seriously tempted me and I'm not leaving.

Chocolate Guiness Cake
This chocolate Guinness celebration cake from Ros of The More Than Occasional Baker was made for an Irish colleague's wedding anniversary. She even made some very cute chocolate champagne bottles to decorate it with. It was voted as one of the best cakes Ros has made this year.

Coffee & Walnut Chocolate Drip Cake
If you really want to show how much someone means to you, how about trying out this fabulous coffee and walnut chocolate drip cake from Feeding Boys? This one was made as a birthday cake for Katie's 12 year old, but I know one very large kid who would adore this cake.

After Eight Birthday Cake
Ruth of Makey-Cakey did a very clever thing with After Eights and two types of cake for Mr E's Birthday Cake. It made me smile and I'm quite envious of the jolly party had by all at one of my favourite places, Arthur's Seat.

Chocolate Cake With White Chocolate Mascarpone Buttercream
If you have a celebration coming up, it would be hard to beat this chocolate cake with white chocolate and mascarpone buttercream. Suelle over at Mainly Baking made this stunner to celebrate both her and her son's birthday.

Chocolate Vanilla Layer Cake
September, it seems is a very popular month for birthdays. There was a 60th birthday to celebrate over at Corner Cottage Bakery and Hannah got busy in the kitchen to bake her mother a chocolate and vanilla layer cake. Hannah insists the artful stencilling on the top is quite simple to do; I remain impressed but unconvinced.

Chocolate Orb Cake
For a right royal CCC, Jill of Lapin d'Or made this regal chocolate orb cake. Of course if it was a real orb sitting in the monarch's hand, it would melt very quickly leaving unbecoming smears on the ermine robe. Luckily, this one is sitting on top of a rather delicious looking chocolate cake, so disaster averted and pleasure increased. Inspired by Vivienne Westwood, this has a punky edge to it.

Black and White Chocolate Showstopper
Nat of Hungry Hinny brought back a few tips and tricks from last week's Cake and Bake Show and wasted no time in putting them to good effect. This beautifully decorated black and white chocolate showstopper consisted of dark chocolate cake layered with white chocolate mousse and raspberry jam. She made it for a friend's birthday. Lucky friend.

Chocolate Salted Caramel Layer Cake
Next up is a cake to celebrate a 13th anniversary as well as a 3rd. Erica of Tea With Erica must surely have had me in mind when baking this anniversary cake, for this dark chocolate layer cake is filled with salted caramel and just in case you weren't already aware, this is one of my very favourite things. One filling was not enough for Erica though. She also employed a second fudgy walnut filling and she topped the whole thing off with dark chocolate ganache. Mmm.

Pink Princess Cake
If ever you want to make a pink princess cake, hop over to Caroline's blog Caroline Makes for a step by step guide. It looks terribly clever and most professional. I'm sure the recipient Ros of The More Than Occasional Baker was extremely pleased with her birthday cake.

Chocolate Mousse Cake
Lucy of The KitchenMaid went for a real heartstopper with this fabulous take on the antipedian classic pavlova. Her chocolate mousse cake contains copious amounts of chocolate and cream, ingredients without which life really isn't worth living.

Vegan Chocolate Cake Recipes
Celebratory Vegan Chocolate Cake
This is my go to vegan chocolate cake for birthdays and celebrations. The cake is easy to make and delicious, even if you leave it plain. However, for special occasions, it's sandwiched and topped with an irresistible vegan tofu icing. I've made it for several birthdays and also to celebrate hitching up with CT. This was twenty five years after we actually got together.

Dolly's Birthday Cake
Adapting a much loved recipe from her university days, Johanna of Green Gourmet Giraffe baked this lovely dark vegan chocolate layer cake to celebrate We Should Cocoa and another of Dolly's birthdays. It seems she has quite a few!

Vegan Gold Leaf Chocolate Cake
It appears no stops were pulled out for this celebration and Shaheen of Allotment 2 Kitchen has used real gold leaf to add an extra touch of show and luxury. She has thus given a second name to her vegan gold leaf and chocolate cake – Bling Bling Cake, which kind of says it all. The lucky recipent of this one was Shaheen's nephew who was off to University for the first time.

Top 10 Chocolate Chocolate Cake Recipes on Tin and Thyme
Here's my top ten. They may not be everyone's idea of showstoppers, but I was rather pleased with them.

Chocolate Chilli Cake with Aprioct Buttercream and Chocolate Ganache Icing for We Should Cocoa's 1st anniversary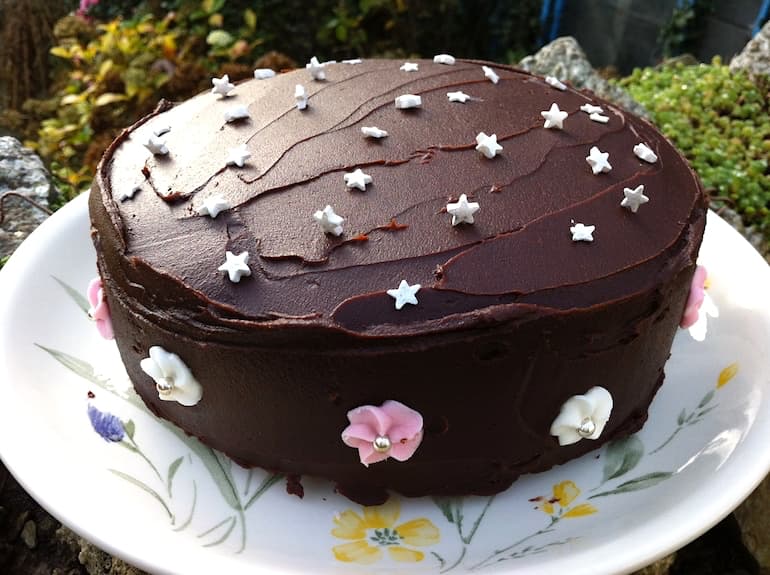 We Should Cocoa
I'd like to thank each and every one of you who has participated in We Should Cocoa over the last year. This would not be the remarkable event it is without you and your astounding creativity. I'd also like to thank this year's guest hosts who have done such a wonderful job of devising themes, shepherding the entries and then corralling them in the round-up. These brave souls have helped to keep the We Should Cocoa challenge going.
Hungry Hinny – Pumpkins
Franglais Kitchen – Bread
Blue Kitchen Bakes – Ginger
The KitchenMaid – Fame
Allotment 2 Kitchen – Mango
A Kick at the Pantry Door – Mint
Elizabeth's Kitchen – Chocolates
We bid a sad farewell to WSC co-creator Chele of The Chocolate Teapot who has now retired from blogging. Without her this challenge would never have happened and nor would we have this logo. Thank you Chele.
So what of this month's theme? Inspired by the recent first episode of the Great British Bake Off (series 4), I am challenging you all to come up with your very own Chocolate Showstopper Cake. For those who have not seen GBBO, I'm asking for a chocolate cake that is fit to be the centrepiece of a #WeShouldCocoa anniversary party. Be as over or under stated as you like, make it as large or as small as you like, but the predominant flavour must be chocolate and it must be one cake.