A quick and delicious main meal for two or indulgent weekend brunch for four. Shakshuka is a Middle Eastern pepper and tomato dish that's traditionally served with bread. Here, halloumi shakshuka is served with a zesty lemon and coriander couscous instead.
AD – this post contains affiliate links. See my cookie and privacy statement for further details.
Shakshuka is one of my favourite things to eat, though I have to confess I've never yet eaten it for breakfast. In the Middle East, it's a breakfast dish and includes eggs rather than halloumi. I've found that halloumi makes a most delicious substitute for eggs.
Couscous is one of those ingredients that comes and goes in our household. I'll have a spate of using it in various dishes, then forget about it for a while. This halloumi shakshuka recipe from Hello Fresh has reminded me of just how good couscous can be.
Hello Fresh
Whilst I enjoy cooking and the creative process of deciding what ingredients to pair with what, it's sometimes a blessed relief not to have to think 'what to cook' of an evening. This is where recipe boxes come in. A box of ingredients arrives at your door with accompanying recipes. All you have to do is make them.
Hello Fresh is a recipe box delivery service. Seasonal fresh ingredients delivered right to your door so that you can have a flavoursome home cooked meal with a minimum of fuss. It can be a real godsend when you've run out of ideas and / or energy.
The service can also save you time as you don't need to do any shopping – win win. There's just the right amount of ingredients for the recipes too so you'll end up with no waste. Not that that's ever an issue with me. I can always find something to do with leftovers.
The recipes are perfect for less experienced cooks. They're detailed and have easy step-by-step instructions with accompanying pictures. More experienced cooks can probably skim through the instructions, but they provide a handy guide nonetheless. I found this recipe for halloumi shakshuka simple and straightforward to follow.
Hello Fresh were unable to send me the box for this halloumi shakshuka, so I bought the ingredients myself. But even though this is an easy dish to make, it would have been even easier with a recipe box. Everything is ready to hand and all you need to do is chop and cook. How fabulous is that?
I seem to spend an inordinate amount of time hunting for ingredients at the back of cupboards. Oftentimes I'll empty the cupboard, only to find what I'm looking for isn't there. So I love this recipe box concept where I don't have to think too much and all of the ingredients are to hand. It may not be for every day, but it's worth knowing about for an occasional treat.
Recipe Boxes
There are a myriad recipe boxes and meal types to choose from. If you've got fussy kids and simplicity is key, try the family box. Then there's the classic box which gives you a choice of twenty six meals featuring both British and world cuisine.
The rapid box is for those who are strapped for time. You can choose from six meals each week and they all take less than twenty minutes to cook.
Then of course, there's the box I'm most interested in: the veggie box. There's an ever changing menu, but each week you get six meals to choose from. I've just had a peek to see what's on offer at the moment. They all look tempting, but if I had to choose one it would be mushroom shawarma tacos with lettuce and feta cheese. Yum!
I chose this recipe for halloumi shakshuka because a) I can't resist halloumi and b) it's been a long time since I ate anything with couscous. Now I've cooked it and we've eaten it all up, I don't in the least bit regret my decision. CT has asked that I make it on a regular basis. That's what I call an endorsement.
Halloumi Shakshuka with Couscous
This really is such a delightful dish. It's quick and easy to make and it's both delicious and satisfying. I've made shakshuka many times, but never with halloumi – until now. I have made it with chocolate though and it worked very well. Head over to my chocshuka post for the recipe.

The main task for this halloumi shakshuka is to slice and chop the various ingredients. Once that's done, it's a breeze.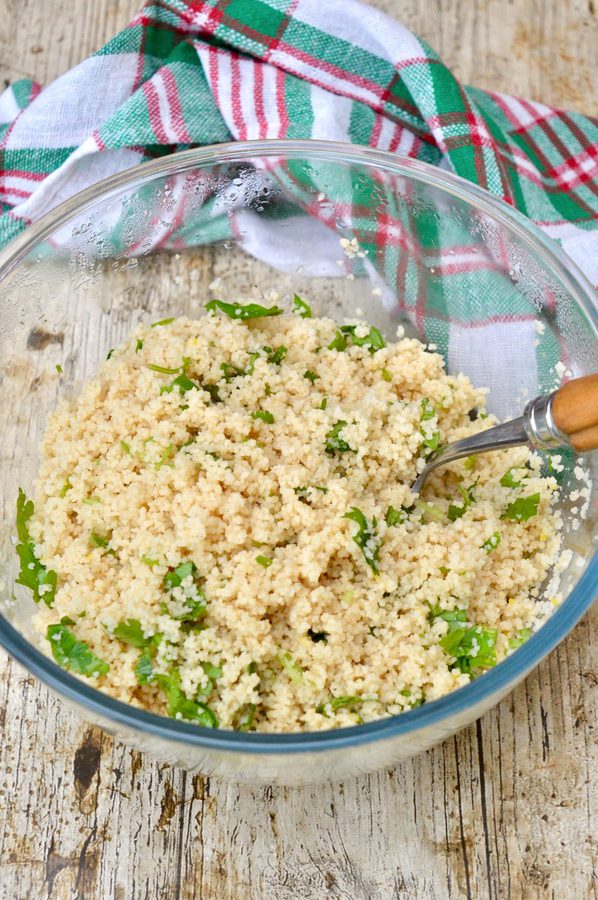 Start with the couscous, this needs to soak in hot liquid for at least fifteen minutes. I prefer twenty. That may be because I use wholemeal couscous and it takes a bit longer. Hello Fresh instruct you to cover the soaking couscous bowl with clingfilm. I prefer a plate. It works just as well and no plastic waste created.
Then fry the onion and peppers. I love this bit as the sliced peppers are so colourful and pretty. Add garlic and chermoula followed by a tin of chopped tomatoes. Let it bubble away.

Meanwhile fry up slices of delicious salty halloumi cheese, then add them on top of the rich bubbling tomato and pepper mixture. Clap a lid over the top for a couple of minutes or so and it's done. All you then need to do is add chopped coriander along with lemon zest and juice to the couscous. Fluff it up with a fork and spoon into bowls.

The quantities for this recipe err on the generous side, so it's a good one for when you're feeling hungry. For a lighter lunch or supper, I reckon it could stretch to three people. It's also a lovely idea for a lazy weekend brunch and in this case, it would be sufficient for four people.
All but the olive oil, salt, pepper and sugar are provided in this halloumi shakshuka recipe box. You can find this recipe and so many more on the Hello Fresh website.
Other Middle Eastern Recipes You Might Like
You'll find more Middle Eastern inspired recipes in my Middle Eastern category. I also have a six course chocolate Middle Eastern dinner menu you might be interested in. It went down very well with my guests.
Keep in Touch
Thanks for visiting Tin and Thyme. If you try this halloumi shakshuka, I'd love to hear about it in the comments below. Have you any top tips? Do share photos on social media too and use the hashtag #tinandthyme, so I can spot them.
For more delicious and nutritious recipes follow me on Twitter, Facebook, Instagram or Pinterest. And don't forget to SUBSCRIBE to my weekly newsletter.
If you'd like more halloumi recipes, follow the link and you'll find I have a few. All delicious, of course.
Choclette x
Halloumi Shakshuka. PIN IT.

Halloumi Shakshuka – The Recipe
Halloumi Shakshuka with Couscous
A quick and delicious main meal for two or indulgent weekend brunch for four. Shakshuka is a Middle Eastern pepper and tomato dish that's traditionally served with bread. Here, it's made with halloumi rather than eggs and is served with a zesty lemon and coriander couscous.
Ingredients
Couscous
150

grams

wholemeal couscous

(contains gluten)

300

ml

water

1

bunch coriander – finely chopped

½

lemon – zested and juiced

(organic or unwaxed is best)

salt & pepper to taste
Shakshuka
1

onion – peeled, halved and thinly sliced

2

garlic cloves – peeled and finely chopped

1

yellow pepper – halved, core and seeds discarded and sliced into strips

1

green pepper – halved, core and seeds discarded and sliced into strips

240

g

block of halloumi – sliced widthways into six

(contains milk)

1

tsp

chermoula spice

400

g

tin finely chopped tomatoes

pinch

sugar

100

ml

water

1

tbsp

olive oil

salt and pepper to taste
Instructions
Couscous
Pour the couscous into a bowl. Boil the water and pour over the couscous. Cover with a plate and leave to soak whilst you get on with making the shakshuka. It will need at least 15 minutes, but I find longer is better.

When the shakshuka is ready to be served, stir in half the coriander, lemon zest and juice and salt and pepper to taste. Fluff up with a fork.
Shakshuka
Fry the onions and pepper in the oil over a moderate heat for 6-8 minutes, stirring often. Add a pinch of salt whilst they're frying.

Once the peppers have softened, stir in the garlic and chermoula. Fry for a minute then add the tomatoes and water. Season with a pinch of sugar along with salt and pepper to taste. Simmer for 8-10 minutes, stirring occasionally.

Meanwhile, heat a non stick pan over a medium heat. Lay the halloumi slices down and fry for 2-3 minutes on each side or until they're nicely browned.

Transfer the halloumi slices to the tomato mixture. Cover the pan and simmer for a couple of minutes.

Divide the couscous between two bowls. Spoon in the shakshuka, ensuring there are three slices each. Sprinkle the remaining coriander over the top.
Notes
Serves four as a weekend brunch.
Please note: calories and other nutritional information are per serving. They're approximate and will depend on exact ingredients used.
Nutrition
Calories:
819
kcal
|
Carbohydrates:
87
g
|
Protein:
41
g
|
Fat:
39
g
|
Saturated Fat:
22
g
|
Sodium:
2335
mg
|
Potassium:
854
mg
|
Fiber:
13
g
|
Sugar:
11
g
|
Vitamin A:
2260
IU
|
Vitamin C:
201
mg
|
Calcium:
1344
mg
|
Iron:
6
mg
Tried this recipe?
Please take a photo and mention @choclette8 or tag #tinandthyme on Instagram, Twitter or Facebook.
Sharing
I'm sharing this recipe for halloumi shakshuka and herby couscous with Curly's Cooking for #CookBlogShare.
This post is commissioned by Hello Fresh. I was not expected to write a positive review and all opinions are, as always, my own. Thank you for your support of the brands and organisations that help to keep Tin and Thyme blithe and blogging.