Nettle cakes are a great way to celebrate spring. They're vibrantly green and you can indulge in a delicious sugary treat in the certain knowledge that some part of the cake is doing you good. It's also quite fun to keep your friends and family guessing as to the secret ingredient.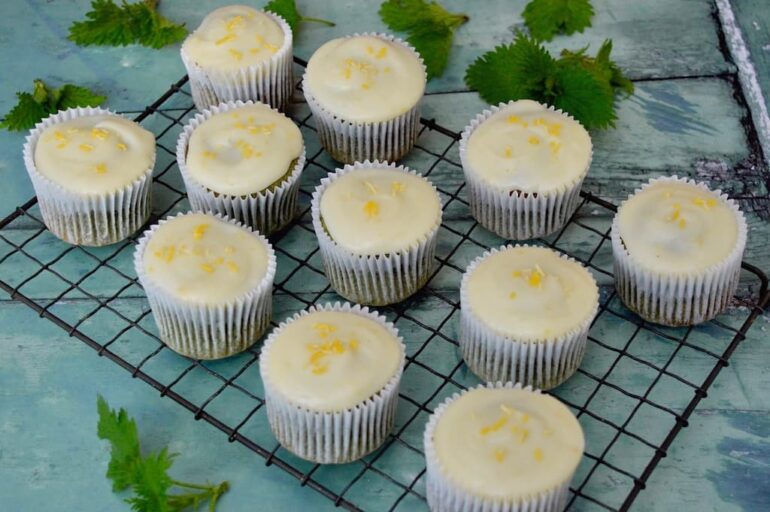 Stinging Nettles
There is no doubt about it, nettles are jam packed full of goodness and there seems no end to their health benefits. Be wary of their sting when raw by all means, but once cooked, they make an excellent spinach substitute. At a time of year when there is not a lot ready to be harvested in our gardens, plots and fields, they fill a handy gap.
Some of the nicest home brew I've tasted was nettle beer. We use them to enrich our compost heap and make a tea for both ourselves and the garden. Recently I noted in a guest post by Urvashi Roe over at Fuss Free Flavours that toasted nettle seeds are good scattered over salads or even porridge. That's a new one on me and I can't wait for the nettles to start seeding so I can try it.
Do be careful when you pick and wash nettles. Unless you're a hard nut like CT, wear rubber gloves for both of these activities. Pick the nettle tips, ie the top four to six leaves, only as the lower ones are usually tougher. And pick them in spring when they're young and fresh. I have more information on this in my nettle soup post.
Nettles in Cake, Really?
Despite my love of this stinging weed, nettles were not something I'd ever thought of adding to cakes. I was quite startled when I saw a recipe for nettle and lemon cake over on Veggie Desserts. I really shouldn't have been too surprised, however. For Kate incorporates all sorts of interesting vegetables into her bakes and desserts. And if you haven't yet come across her blog, I urge you to take a look.

My love of nettles and my experimental inclinations very soon got the better of me and it wasn't long before I was having a go myself. Over Easter, I met up with some old school friends for a fabulous walk along the south Devon coast near East Prawle. Don't you just love that name? I suspected they would be intrigued rather than aghast at the thought of eating nettle cakes, so I took them along to picnic on after our walk.

So what do the nettle cakes taste of? Well actually there was some debate as to whether the nettles could be tasted or not. Both CT and I felt that we could, but that was a positive rather than a negative. They give a bit of an umami flavour to the cakes which adds rather than detracts. CT was aghast that anyone could fail to detect the flavour. But thankfully he kept his thoughts to himself.

Whether notes of nettle were evident or not, everyone loved them. And they especially liked the vibrant green colour.

The best bit of course, was feeling as though we were having a nutritious snack whilst tucking into a sweet indulgent treat.
Lemon & White Chocolate Nettle Cakes
For the nettle cakes, I sort of followed Kate's recipe, but reduced the quantities somewhat and adapted it in order to add white chocolate. I also topped it with a mascarpone icing. The quantity in the recipe is enough for fifteen cupcake size cakes or twelve larger muffin sized ones.
Nettle Purée
The first thing you need to do is make a nettle purée. Wash the nettle tips well. Don't shake too much of the water off them as this will be used for cooking. Put them in a saucepan and cover. Bring to the boil, then turn the heat down and simmer for about five minutes.



You'll then need to drain the water off. There won't be much of it, but it's worth keeping as it's really nutritious. I drain it into a cup and just drink it. It's surprisingly delicious. But you could keep it to add to a soup or sauce.
Blend the nettles to a purée. I use a stick blender for this to save on washing up. But a jug blender should work too. In fact my Froothie Evolve* power blender blitzes these sorts of thing to a super fine purée in no time.
Making the Nettle Cakes
Apart from making a purée from the nettles, these cupcakes follow the same method as for most others. Although there is the white chocolate element to contend with too.
As I always try to keep my washing up to the bare minimum, I use a large bowl to melt the white chocolate in. I then use this bowl to mix the rest of the cake batter.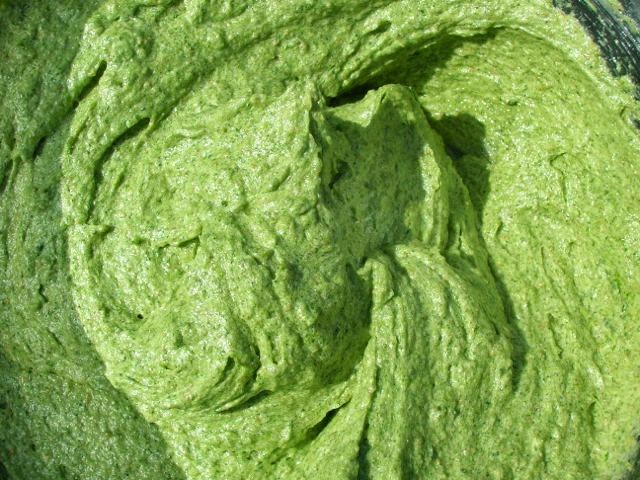 So, suspend the bowl with the broken pieces of white chocolate over a pan of hot, but not boiling water. As soon as the chocolate has melted, remove from the heat and add the cubed butter. This will help the butter to soften. Then add the sugar and lemon zest. Cream the whole lot in the normal way until you have something light and fluffy.
Then it's time to beat in the eggs. Follow this by mixing in the flour. You can use either half wholemeal and half plain flour or a hundred percent wholemeal spelt flour. I started off with the first method which works really well. But as I prefer to bake with whole grains, I now use only wholemeal spelt.
When I use a mixture I don't worry about the bran as there's less of it, but when I use only wholemeal spelt, I sieve our the largest bits of bran as they inhibit the cake's ability to rise.


Finally stir in the lemon juice and nettle purée. Pop into cupcake cases and bake.
Lemon White Chocolate Mascarpone Icing
Mascarpone icing can be a touch on the runny side, so I add a little white chocolate to firm it up. It's still quite soft though, so if you prefer something stiffer you might want to fiddle with the quantities. We really like it this way though as it has a nice mouthfeel. It also tastes super scrummy and I find it hard not to gobble it all up before ever it hits the cakes. A touch of lemon, both zest and juice adds a lift to the wonderfully creamy mascarpone.

Other Recipes for Green Cakes You Might Like
Keep in Touch
Thanks for visiting Tin and Thyme. If you make these nettle cupcakes, I'd love to hear about it in the comments below. Do share photos on social media too and use the hashtag #tinandthyme, so I can spot them.
For more delicious and nutritious recipes follow me on Twitter, Facebook, Instagram or Pinterest. And don't forget to SUBSCRIBE to my weekly newsletter.
If you'd like more cupcake recipes, follow the link and you'll find I have quite a lot of them. All delicious, of course.
Choclette x
Nettle Cakes. PIN IT.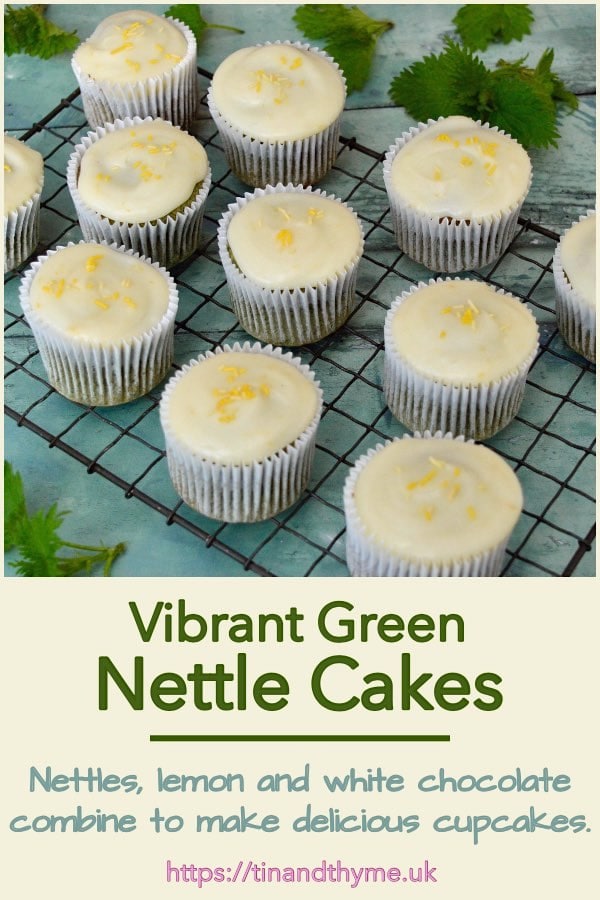 Nettle Cakes – The Recipe
Nettle Cakes with Lemon and White Chocolate
These individual cakes are a great way to celebrate spring. Naturally green, they're also made with lemon and white chocolate and topped with mascarpone icing.
Ingredients
Nettle Cakes
100

g

young nettle tops

(top 4 leaves)

50

g

white chocolate

150

g

unsalted butter – cubed

115

g

golden caster sugar

(I used homemade vanilla sugar)

½

lemon – preferably organic, but at least unwaxed

2

large eggs

(I used duck eggs)

1

tsp

vanilla extract

200

g

wholemeal spelt flour – or use half regular wholemeal and half plain

They both produce a slightly different texture, but both are good.

1

tsp

baking powder
Mascarpone Lemon Icing
25

g

white chocolate

125

g

mascarpone cheese

½

lemon – preferably organic, but at least unwaxed

75

g

icing sugar
Instructions
Nettle Cakes
Wash the nettle tops, then simmer with a little water until they're cooked – about 5 minutes.

Drain off any excess water and puree with a hand blender.

Melt the white chocolate in a large bowl suspended over a pan of hot, but not boiling, water. Remove from the heat.

Add the butter followed by the sugar. This will help to soften the butter.

Grate in the zest of ½ a lemon (reserving the other half for the icing) and cream until light and fluffy.

Beat in the eggs and vanilla extract.

Sift in 200g the flours and baking powder.

Squeeze in the juice of half a lemon.

Add the nettle puree and stir until just combined.

Spoon into 15 cupcake cases and bake in a preheated oven at 180℃ (350℉, Gas 4) for about

20 minutes

when the cakes should be well risen and an inserted skewer comes out clean.

Turn out onto a wire rack to cool.
Mascarpone Lemon Icing
Melt the white chocolate in a large bowl suspended over a pan of hot, but not boiling, water. Remove from the heat.

Stir in the remaining lemon zest and mascarpone cheese.

Squeeze in the remaining lemon juice.

Sift in the icing sugar and beat well. Leave in a cool place to firm up whilst the cakes bake and cool.

Spread the icing on top of the cakes.
Notes
Please note: calories and other nutritional information are per serving. They're approximate and will depend on exact ingredients used.
Nutrition
Calories:
245
kcal
|
Carbohydrates:
27
g
|
Protein:
4
g
|
Fat:
14
g
|
Saturated Fat:
9
g
|
Cholesterol:
53
mg
|
Sodium:
20
mg
|
Potassium:
139
mg
|
Fiber:
2
g
|
Sugar:
16
g
|
Vitamin A:
532
IU
|
Vitamin C:
4
mg
|
Calcium:
80
mg
|
Iron:
1
mg
Tried this recipe?
Please take a photo and mention @choclette8 or tag #tinandthyme on Instagram, Twitter or Facebook.
Sharing
As nettles were very much in season when I made these nettle cakes and in fact still are, I am entering them into Simple and in Season with Ren Behan.
I'm sending at least one of these cupcakes off to Emily of A Mummy Too for her #recipeoftheweek.
Spring is the time for nettles and I can't think of a better veg to celebrate it with. Well maybe I can, but it is one of my favourites. Celebrating Spring is the theme for this month's Four Seasons Food which is being hosted by Lou of Eat Your Veg. Anneli of Delicieux hosted last month.
This was a bank holiday cake bake for taking on a picnic so it qualifies for this month's Calendar Cakes over at Dolly Bakes.