A very cherry cream dessert recipe to make the most of sweet ripe seasonal cherries. This quick cherry pudding with amaretti biscuits (cookies) and whipped cream takes ten minutes to put together and has only five ingredients. Perfect for languorous midsummer evenings.
AD – this post contains affiliate links. See my cookie and privacy statement for further details.
I first made this very cherry cream pudding one midsummer eve. CT dubbed it a midsummer night's cream and that's how we now refer to it. It's become a bit of a tradition for us to indulge on the summer solstice.
When Are Cherries in Season?
June is the beginning of the very short British cherry season. It generally starts in mid-June and goes through to mid-August. Cherries are a small stone fruit, rather than a berry and they've been growing in the UK for many hundreds of years.
Cherries come in various colours and sizes. The most common ones you can buy are large and sweet and vary in colour from bright red to almost black. They're best eaten raw and are perfect for snacking on.
Morello cherries are also common. They're smaller and bright red and also very tart, so are best used for cooking.
If you're lucky enough to find wild cherries, they're a foragers delight. They tend to be small and yellowish red and usually on the tart side. They're great for jam.
Cherries are high in vitamin C and melatonin. With their deep red colour, they're also particularly rich in anthocyanins 1 and 2.
Make the most of the cherry crop with this simple, but delicious very cherry cream dessert. I do have a few other cherry recipes, however, if you're after something else.
Cherry Recipes
Very Cherry Cream Dessert
Much like my easy strawberries and cream dessert, this very cherry cream dessert is a cinch to make. The only thing that's a bit fiddly is pitting the cherries. If you have a good cherry pitter, however, this bit becomes pretty easy too.

The key to this dessert are seasonal sweet ripe cherries. The sweeter the cherries, the less added sugar you need. In fact, I only add a little rose syrup to the cream to sweeten it slightly and give it flavour. Other than that it's down to the cherries and amaretti.
Prepare the bowls not long before you're ready for pudding. It's nice to have the contrast of textures as well as flavours. Leave these cherry bowls too long and the amaretti will lose their crunch and go soggy.
You can, however, always prep the first two steps in advance. Then assemble the desserts just before you're ready to serve them.
Very Cherry Cream Dessert: Step-By-Step
1. Whip The Cream
In a medium sized bowl whip the cream with rose syrup until you get soft peaks. Be careful not to over whip or it becomes slightly buttery. I usually use a hand whisk for this, but you can use an electric one for speed and ease.
If you don't have any rose syrup to hand, you can use a drop of rose extract or half a teaspoon of rose water combined with a little icing sugar. Alternatively, try amaretto or kirsch instead.
Carefully stir in the yoghurt, until everything is just combined.
2. Pit The Cherries
See the section further down the post on whether you need a cherry pitter or not. However, you choose to do it, it's important for this very cherry cream dessert to pit the cherries. It's definitely not the sort of dessert where you want to spit the pits out.
Before you start though, reserve two of the cherries for the end. If they have stalks, so much the better.

Depending on the size of the cherries, halve or quarter them and divide between two bowls.
I like to serve this very cherry summer cream in glass dishes so I can see the different layers and appreciate the colour of the cherries. But choose whatever grabs your fancy.
3. Crush The Amaretti
Amaretti biscuits, or cookies, are an Italian version of macaroons. They're made with apricot kernels rather than almonds though. They come in two forms: soft or crunchy. You need the crunchy version for this very cherry cream dessert.

Crush or crumble three quarters of the amaretti then scatter the crumbs over the cherries.
4. Spoon On The Cream
Divide the cream between the two bowls and spoon over the top of the cherries and amaretti.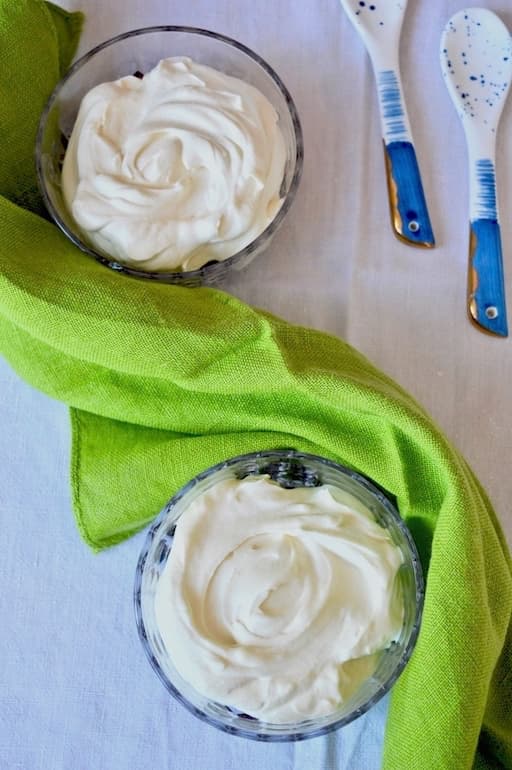 5. Finishing Touches
Crush the remaining amaretti and scatter over the top. Crown with the whole cherries and decorate with rose petals if you like.

Rose Syrup
At this time of year, rose syrup really comes into its own. It marries exceedingly well with lots of fruit, but particularly berries. Not that cherries are berries, of course.

I make several batches a year and often drink it as a cordial. Just add it to still or sparkling water and serve with, or without ice and a sprig of mint.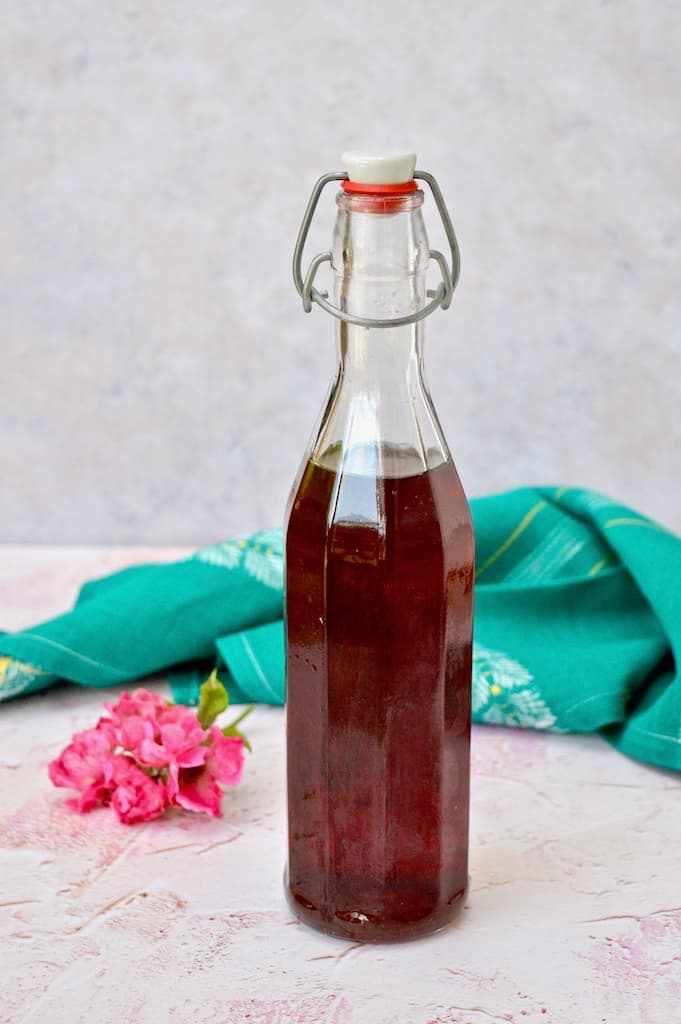 It's ever so easy to make. All you need is a fresh, unsprayed highly scented rose. Here's my recipe for rose syrup if you want to give it a go.
Do You Need A Cherry Pitter?
Well, strictly speaking, no you don't need a cherry pitter. You can use a metal straw or chopstick to poke out the cherry pits. But it's an awkward and messy process. If you're likely to make bakes, puddings and desserts with cherries in the future, I strongly recommend getting one.
Thank goodness for my OXO cherry pitter*. It has a guard to stop the juice squirting all over the place and it makes short work of pitting those cherries. I may only use it for a few short weeks a year, but it's definitely worth a place in my kitchen utensil drawer.
You can use it for pitting olives too, but I have to confess I've never put it to this purpose. If I have olives that need pitting, I serve them whole and warn everyone that the olives have stones. You can read more about this gadget in my mini cherry pitter review.
Other Easy Summer Desserts You Might Like
Keep in Touch
Thanks for visiting Tin and Thyme. If you make this green vegetable galette, I'd love to hear about it in the comments below. And do please rate the recipe. Have you any top tips? Do share photos on social media too and use the hashtag #tinandthyme, so I can spot them.
For more delicious and nutritious recipes follow me on Twitter, Facebook, Instagram or Pinterest. And don't forget to SUBSCRIBE to my weekly newsletter.
If you'd like more no-bake dessert recipes, follow the link and you'll find I have quite a lot of them. All delicious and nutritious, of course.
Choclette x
Very Cherry Cream Dessert. PIN IT.

Very Cherry Cream Dessert
Very Cherry Dessert
This quick and easy cherry cream dessert recipe makes the most of sweet ripe seasonal cherries. Includes amaretti biscuits, rose syrup and whipped cream. It takes ten minutes to put together and has only five ingredients. Perfect for languorous midsummer evenings.
Ingredients
100

ml

double cream

1

tbsp

rose syrup

or kirsch or both

2

tbsp

natural yoghurt

150

g

sweet ripe cherries

4-12

crunchy amaretti biscuits (cookies)

depending on size

rose petals to decorate

optional
Instructions
In a medium sized bowl, whip the double cream with the rose syrup (and kirsch if using) into soft peaks.

Stir in the yoghurt.

Pit all but two of the cherries and halve them. Divide between two glass dishes or bowls. Keep the whole cherries for decoration, with their stalks intact if possible.

Crumble three quarters of the amaretti over the cherries.

Spoon the yoghurt cream over the top.

Crumble the remaining amaretti over the yoghurt and crown with the whole cherries.

Scatter some fresh rose petals over the bowls if you like.

Eat straight away, so the amaretti remain crunchy.
Notes
If you don't have any rose syrup, whisk in two teaspoons of icing sugar and a drop of rose extract or ½ teaspoon of rose water instead. Alternatively swap the rose syrup for Amaretti if you prefer.
Please note: calories and other nutritional information are per serving. They're approximate and should only be used as a guide.
Nutrition
Calories:
297
kcal
|
Carbohydrates:
30
g
|
Protein:
3
g
|
Fat:
20
g
|
Saturated Fat:
12
g
|
Polyunsaturated Fat:
1
g
|
Monounsaturated Fat:
6
g
|
Cholesterol:
71
mg
|
Sodium:
59
mg
|
Potassium:
241
mg
|
Fiber:
2
g
|
Sugar:
25
g
|
Vitamin A:
803
IU
|
Vitamin C:
6
mg
|
Calcium:
68
mg
|
Iron:
1
mg
Tried this recipe?
Please take a photo and mention @choclette8 or tag #tinandthyme on Instagram, Twitter or Facebook.
This post contains affiliate links which are marked with an asterisk*. If you buy through a link, it will not cost you any more, but I will get a small commission. Thank you for your support of the brands and organisations that help to keep Tin and Thyme blithe and blogging.