Rich, dark and delicious, these triple chocolate ale brownies are super tasty. Not as sweet as most brownies, but smooth and mousse-like inside with a lovely crackly top.
Quite some time ago now, I won some tickets from FoodiesSW to go to the Beer Festival at the St Austell Brewery. A beer festival is not something either I or CT had ever attended before and I think it's rather unlikely we shall ever attend one again. My motivation was the opportunity to sample a chocolate beer that would be featuring there. Chocolate beer? Well I couldn't resist could I.
Chocolate Beer
In my naivety, I assumed that if we turned up early, 11:30am, all would be quiet, we could try a couple of unusual beers, get some chocolate beer to take home and go before it started to get crowded. It didn't quite turn out like I imagined. The doors had only opened half an hour before we got there, but the place was already heaving and a long queue had formed at the entrance. We eventually got in and were given 3 tickets each to get half pints of any beer we wanted.
Having fought our way down to the cellars and through the maze of barrels to get our drinks (I've sadly lost the names for these now), we tried to find somewhere to sit and sup our hard won halves. No such luck, all seats had long gone. It was standing room only and not much of that either. There was only one thing for it: to drink our beer.
The chocolate beer was actually quite nice, smooth and creamy with definite cocoa notes. Not being much of a drinker, it very quickly went to my head. I fought my way, rather unsteadily, back to the chocolate beer barrel and got another couple of halves. These two were destined, not to be downed immediately, but for the bottle that we had cunningly brought with us to take home and use in chocolate baking.
By this time, we had had enough. It was noisy, uncomfortable, dark (the sun was shining outside) and smelt rather too strongly of spilt beer and BO. But we still had two tickets left – what to do? I was just on the point of giving them to the first person who caught my fancy, when I bumped into an old friend who definitely likes his beer. He was more than happy to relieve us of the tickets.
Triple Chocolate Ale Brownies
Back in October, I had spotted a recipe for Young's Double Chocolate Stout Brownies on Andys Kitchen and was just waiting for the right time to give it a whirl. Of course, I had to go one better and make mine into triple chocolate beer brownies.
Like most brownies, the recipe is very simple and it really doesn't take long to prepare. The original recipe stated 250ml of stout, but as mine was beer I only used 200ml. My reason for this was because I didn't want to make the batter too thin and stout is much thicker than ordinary ale.
Goodness, did these triple chocolate ale brownies smell good. They tasted really good too. Rich, dark and delicious. They should come with an Adult Only warning though. For the malty and bitter notes of the dark chocolate combined with the beer mean these are not at all sweet. Well maybe a bit sweet but you know what I mean.
I read somewhere that these sort of brownies will not produce a crisp top due to the amount of liquid. After all normal brownies contain no liquid at all. So I was delighted to find that mine were lovely and crackly all over the top.

The texture inside is smooth, mousse-like and rather moreish. Despite their irresistibility, we managed to keep them going for a few days. And like most brownies, they improved with age. They even survived me dropping the tin on the floor from a considerable height. I'm beginning to wonder whether I should patent them as the Indestructible Brownies TM.
CT smelt the beer straight off. Is it going to be like a steak and ale pie he wondered? Sadly not. He described it as being a working man's brownie. The bitterness of the beer gives it a savoury tang and he wondered if he should be eating it in a room with a sawdust floor. It reminded him of Christy Moore's song about "drinking black beer in the same public houses, smelling of smoke and strong whiskey".
He also suggested that sticking one of these triple chocolate ale brownies in the sweet side of a Cornish tin miner's pasty would make him very happy.
I'm really going to have to stop CT and his free association – he's getting a bit keen on all this. I suppose it is only his usual round about way of saying that he really enjoyed these brownies.
Other Beer Recipes You Might Like
Keep in Touch
Thanks for visiting Tin and Thyme. If you make these triple chocolate ale brownies, I'd love to hear about it in the comments below. Do share photos on social media too and use the hashtag #tinandthyme, so I can spot them.
For more delicious and nutritious recipes, follow me on Twitter, Facebook, Instagram or Pinterest.
Triple Chocolate Ale Brownies. PIN IT.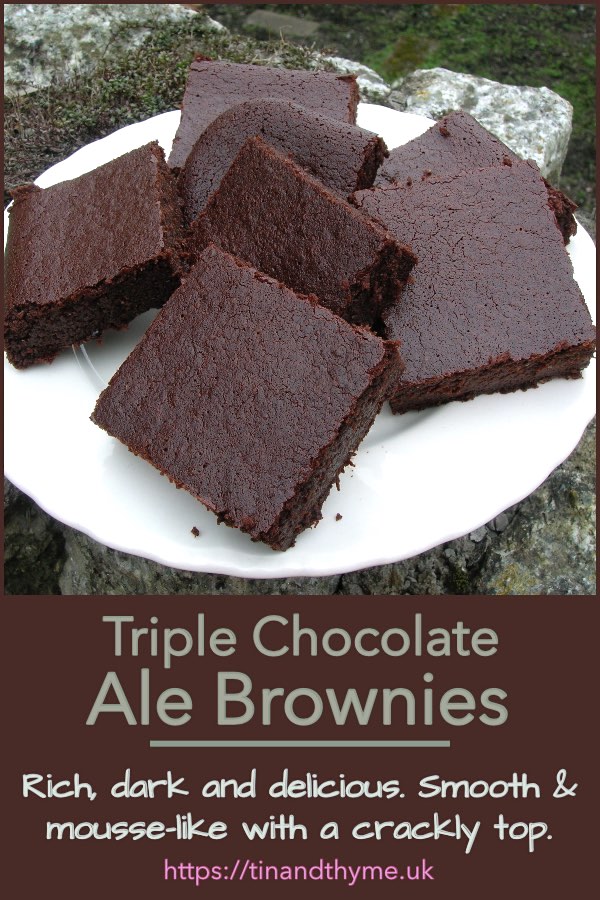 Triple Chocolate Ale Brownies – The Recipe
Triple Chocolate Ale Brownies
Rich, dark and delicious brownies made with beer. Not overly sweet, but smooth and mousse-like inside with a lovely crackly top.
Ingredients
150

g

dark chocolate

(I used 100g 85% and 50g 70%)

175

g

unsalted butter

200

g

dark brown sugar

2

large eggs

(I used duck eggs)

75

g

wholemeal flour

50

g

cocoa

200

ml

chocolate beer or other dark ale
Instructions
Melt the chocolate in a large bowl suspended over hot, but not boiling water along with the butter.

Once melted mix in the sugar.

Beat in the eggs until the mixture is thick and glossy.

Sift in the flour and cocoa then fold in.

Stir in the chocolate beer as carefully as you can.

Pour into a 22 cm (9") sq silicon cake mould or lined tin and bake at 180℃ (350℉, Gas 4) for 20 mins. Or until the top is risen and crackly, but there's still a slight wobble in the middle of the bake.

Leave to cool then cut into 16 squares.
Notes
Please note: calories and other nutritional information are per serving. They're approximate and will depend on exact ingredients used.
Nutrition
Calories:
218
kcal
|
Carbohydrates:
22
g
|
Protein:
3
g
|
Fat:
14
g
|
Saturated Fat:
8
g
|
Cholesterol:
44
mg
|
Sodium:
16
mg
|
Potassium:
162
mg
|
Fiber:
3
g
|
Sugar:
14
g
|
Vitamin A:
307
IU
|
Calcium:
29
mg
|
Iron:
2
mg
Tried this recipe?
Please take a photo and mention @choclette8 or tag #tinandthyme on Instagram, Twitter or Facebook.