Who wants to be stuck in the kitchen slaving over a hot stove in the summer? Not me. But I do like a summery bake or two. These raspberry rose friands are a good compromise. They're full of summer flavour, quick to prepare and only take twenty minutes in the oven.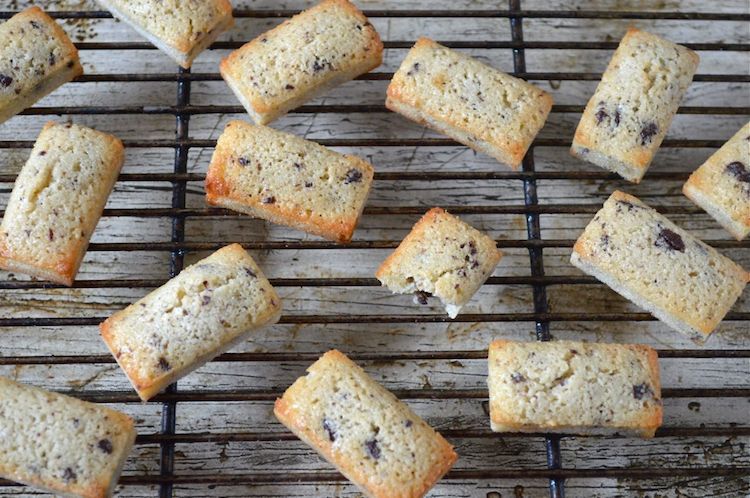 When I have leftover egg whites, friands are my go to bake. You can make them with one egg white or with six. They keep well and are always popular. I had a lone egg white left after making these peanut butter chocolate chip cookies, so chilli chocolate chip friands it was.
Back along, nearly three years ago to be exact, I hosted a six course chocolate themed dinner party for friends. These rhubarb friands with white chocolate (that's with an a not an e) accompanied the rhubarb, rose and white chocolate ice-cream that made up the last course but one. With rhubarb already in season, this seems like a good time to finally publish the recipe.
My friends the friands are back. This time it's with a bright pink fruity version. I give you my very own mini raspberry & white chocolate friands, made for after dinner nibbles with friends.
This is what I did:
Melted 60g unsalted butter in a small pan and left to cool.
Crushed 50g raspberries in a small bowl with the back of a fork.
Whisked 2 duck egg whites until frothy in a larger bowl.
Whisked in 80g sifted icing sugar.
Gently stirred in the melted butter and crushed raspberries.
Stirred 30g buckwheat flour and 40g ground almonds.
Stirred in 50g white chocolate chips.
Placed a teaspoon of the mixture in 12 mini silicone cupcake cases.
Placed a whole raspberry on top then filled the cases up with more mixture.
Divided the remaining mixture between 4 larger silicone cupcakes cases.
Baked for about 15 minutes at 180C until firm and well risen.
Left to cool for a little, then turned out onto a wire rack to cool completely.
Dusted with icing sugar.
Utterly scrumptious, these little friands had just the right balance of sweetness and fruity acidity. The juicy texture combined with the bright colour made these gorgeous to look at and just as good to eat. These were so moist they needed to be consumed on the day, but to be honest, this was not a difficulty.
These are the other scrummy friands I've made so far.
I am submitting these to the fabulicious Simple and in Season event. Having been on tour for a few months, this is now back home with Ren of Fabulicious Food.
I'm also submitting them to Let's Cook with Fruits, a one off event this month hosted by Simply Food.
Newly introduced to friands, I am now a real fan. Half way between a macaroon and a cake, these are gloriously crisp on the outside, soft and delectable on the inside. As soon as Laura of How to Cook Good Food announced this month's ingredient for We Should Cocoa was to be almonds, friands were the first thing that popped into my head. And that idea has not gone away. Friands it is then.
Friands are very similar to financiers. Without being an expert on the subject and unable to find much information about these little cakes, it seems that friands are the antipodean version of the French financier. Financiers are traditionally baked in a rectangular shape and are made with brown butter or hazelnut butter (beurre noisette) as it is known in France. Friands are, apparently, baked in oval moulds. Mine are baked in round moulds because that's all I have. Anyway, I thought I'd try baking some friands with the traditional financier brown butter to see what difference it made.
Co-incidentally, minutes before I was about to bake these, I read a post for brown butter chocolate chunk cookies over at The Little Loaf. As well as using buerre noisette in her cookies she had also used buckwheat flour to make them gluten free. Well what a brilliant idea. Friands don't have much flour, relying mostly on ground almonds, so it seemed an opportunity not to be missed to make them gluten free.
It is always useful to have a few good gluten free recipes up ones sleeve. Coeliac disease is something we are becoming increasingly aware of. However, although CT has a friend who suffers from it, I had no idea it was quite as prevalent as it is, with 1 in 100 people being affected by it in the UK. It is an autoimmune condition affecting the lining of the small intestine and is triggered by the consumption of gluten. Gluten is found in a number of grains, but specifically wheat, rye and barley. Katie of Apple & Spice who was diagnosed with the disease about a year ago is running a coeliac awareness raising challenge to coincide with National Coeliac Awareness Week (14th-20th May).
This is what I did:
Melted 90g unsalted butter over a low heat and left to bubble gently. Checking every now and again, left it until the solids had sunk to the bottom and turned a light brown. Immediately took off the heat as I didn't want the butter to burn. Left to cool.
Whisked 3 duck eggs whites until frothy (not stiff).
Stirred in the cooled butter.
Sifted in 120g icing sugar, 45g buckwheat flour and 60g ground almonds.
Chopped 50g dark chocolate (85%) and stirred in as lightly as possible.
Spooned into 12 silicone mini muffin cases and divided the remainder between 6 larger ones.
Sprinkled the tops with slivered almonds.
Baked at 180C for 15 minutes and removed the mini friands. Baked the larger ones for a further 3 minutes (18 in total).
Placed on a rack to cool a bit, then turned out of the cases to cool completely.
Dusted with icing sugar.
The aroma of the nut like butter as it turned brown was delicious and filled the house with its fragrance. The mini friands were destined to go to friends, but CT and I got to try the larger ones. These were as good as I remembered the cinnamon choc chip ones to be, if not better. the buckwheat flour worked really well, although we couldn't detect anything specific. The brown butter gave an added depth to the almonds bringing out the nutty flavour as well as adding a slight richness to the whole. The mellow sweetness of the friand combined well with the dark bitter chocolate and made for an excellent and varied taste experience.
A while back, ahem, I had two egg whites left over from the
coconut cream pie
I made. Since making
friands
for the first time just after Christmas, I had something other than meringues or macaroons to use them in and I was keen to experiment some more.
If you've not heard of nonnettes before, you're in for a treat. They're delicious egg-free French honey cakes with a lovely smooth texture. These white chocolate nonnettes are topped with marmalade to give a delightful bitter contrast to the sweetness of the cake.