A deliciously moist chocolate orange marble cake where you get two different flavours in every bite. Bake it in a bundt-type mould and it looks impressive too. And if you really want to push the boat out, you can make a larger cake with matcha green tea which will give a third flavour and colour.
AD – this post contains affiliate links. See my cookie and privacy statement for further details.
Bundt Cakes
I have long been an admirer of the stunning bundt creations to be seen over at Dolly Bakes. Being averse to tins for storage reasons as well as sticking ones, I've been on the look out for a silicone bundt-type mould to use. I've not found anything suitable – until now that is.
Lékué do an amazing range of silicone bakeware and it looks to be better quality than some I've come across. Recently I received a few items from them to try out. You can see how I got on with the bread maker in a previous post. The bundt-like mould* they sent, however, was the very first thing I tried. I was a little nervous and quite excited.
Chocolate Orange Marble Bundt Cake
For my first ever bundt, I thought I'd create an orange and chocolate marbled affair with an orange glacé icing. There were no clues as to the quantities needed for the mould, so I had to guess. I thought I was making a generous amount of cake mix, but it barely covered the bottom. As it turned out, this was fine and produced a perfectly good sized cake which still looked good.

The second time I used it, I upped the quantities, but it still didn't make a full size cake. I sprayed the mould with oil just to be on the safe side as I really didn't want it getting stuck. I needn't have worried, it came out like a dream.
Despite my nerves, I was super happy with the result of my first ever bundt-shaped cake. It really looked quite striking. The almonds, orange juice and yoghurt kept the cake nicely moist and the flavours were clear and fresh and worked beautifully in combination.

The Lékué bundt-like mould was so easy to use too: it was sturdy enough to stand up in the oven on its own without losing shape; I had no problems turning the cake out (and the second time I didn't spray it) and it was easy to wash. Perfect. I can see this getting a lot of use.
Chocolate Orange Matcha Bundt Cake
A few days later, we had some good news to celebrate. This could only mean one thing; I invited some friends around for tea. So impressed was I with my orange and chocolate bundt cake, that I decided to make another one. Only this time I added more ingredients and accompanied it with a third flavour – matcha.

This was an even prettier cake than the first. It was bigger and had three contrasting colours rather than two. Once I cut into the cake, all sorts of interesting swirling patterns were revealed and some of the slices were quite spectacular. No one piece the same. CT likened it to a metamorphic rock, maybe not marble but it was certainly very "gneiss", he quipped.
The chocolate orange matcha marble cake was just as delicious as the first and the texture was equally good. Now what ingredients, I wonder, am I going to include in my third bundt-like cake?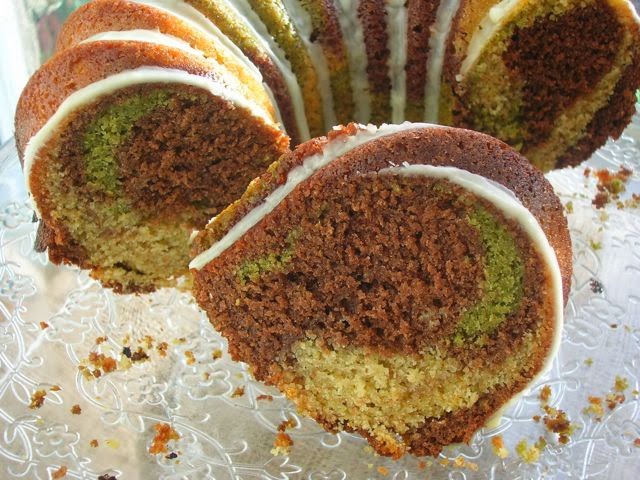 My method for this second bundt cake was exactly the same as the first, except I had three different mixtures rather than two. See the printable recipe card below for the chocolate orange cake. The quantities for the second are as follows:
Chocolate Orange Matcha Marble Cake Ingredients
240g unsalted butter
260g caster sugar (again I used cardamom sugar)
4 large eggs
100g ground almonds
230g flour
2 tsp baking powder
¼ tsp bicarbonate of soda
1 organic orange – zest and juice
2 tbsp yogurt
1 rounded tbsp cocoa powder
1 scant tbsp matcha powder
Other Bundt Cakes You Might Like
Keep in Touch
Thanks for visiting Tin and Thyme. If you make one of these marble bundt cakes, I'd love to hear about it in the comments below. And do please rate the recipe. Have you any top tips? Please share photos on social media too and use the hashtag #tinandthyme, so I can spot them.
For more delicious and nutritious recipes follow me on Twitter, Facebook, Instagram or Pinterest. And don't forget to SUBSCRIBE to my weekly newsletter.
If you'd like more large cake recipes, follow the link and you'll find I have quite a lot of them. All delicious, of course.
Choclette x
Chocolate Orange Marble Cake. PIN IT.

Chocolate Orange Marble Cake – The Recipe
Chocolate and Orange Marble Cake
A deliciously moist marble cake where you get two different flavours in one bite. Looks impressive too.
Ingredients
180

g

unsalted butter

200

g

golden caster sugar

(I used cardamom sugar as the flavour works well with both chocolate and orange)

175

g

flour

(I used half wholemeal, half white)

75

g

ground almonds

scant 2 tsp baking powder

¼

tsp

bicarbonate of soda

3

large eggs

1

organic orange – zest & juice

2

tbsp

cocoa powder

1

tbsp

natural yoghurt

(I used honey yoghurt)

50

g

icing sugar
Instructions
Cream butter and sugar together until light and fluffy.

Beat in eggs, one at a time, alternating with a spoonful of the flour if necessary.

Sift in the flour, almonds, baking powder and bicarb. Stir until just combined.

Place half the mixture in a separate bowl.

To one bowl, grate in the orange zest and 1 to 2 tbsp orange juice.

Dissolve the cocoa powder in 2 tbsp warm water, then add to the other bowl along with the yogurt. Stir until just combined.

Spoon heaps of alternating batter into a greased bundt mould or tin. Bake in a preheated oven at 180℃ (350℉, Gas 4) for about 40 minutes or until the cake is well risen and an inserted skewer comes out clean. Allow to cool for 10 minutes, then turn out onto a wire rack to cool.

Mix the icing sugar with just enough orange juice to make a slightly runny icing. Spoon or pipe this over the cooled cake.
Notes
Please note: calories and other nutritional information are per serving. They're approximate and will depend on exact ingredients used.
Nutrition
Calories:
367
kcal
|
Carbohydrates:
42
g
|
Protein:
6
g
|
Fat:
20
g
|
Saturated Fat:
10
g
|
Cholesterol:
88
mg
|
Sodium:
152
mg
|
Potassium:
63
mg
|
Fiber:
4
g
|
Sugar:
27
g
|
Vitamin A:
551
IU
|
Vitamin C:
7
mg
|
Calcium:
91
mg
|
Iron:
2
mg
Tried this recipe?
Please take a photo and mention @choclette8 or tag #tinandthyme on Instagram, Twitter or Facebook.
Sharing
Not only are these bundts made completely from scratch but the recipes are my own. With just a little bit of pride, I'm thus sending them off to Javelin Warrior for his Made with Love Mondays.
As you can probably tell, I have a new found passion for bundt cakes. So I am sending these two off to the very first Love Cake Challenge with Ness over at JibberJabberUK. She's chosen the theme of Baking with Passion for February.
As already stated, I've rather fallen in love with these cakes, so although I didn't make them for Valentine's Day as such, I think they fit into the general love theme for February. So, off they go to Dolly Bakes for her Calendar Cakes – Oh L'amour.
CT is quite keen on these bundt cakes too, so it is possible the next flavour might be a mocha one and he might get it for a special Valentine's Day treat. As such I am submitting both cakes to Lets Cook Sweet Treats for Valentine with Nayna over at Simply Food.
Both of these bundt cakes were made for loved ones, so I'm also entering it into the Four Seasons Food challenge with Anneli Delicieux and Lou at Eat Your Veg. The theme this month is not surprisingly Food From The Heart.
Finally, I think, I'm linking the chocolate orange marble bundt cake up to #recipeoftheweek with Emily over at A Mummy Too.
Oops, there is another one. Victoria over at A Kick at the Pantry Door has chosen Orange as this month's Feel Good Food. So I absolutely have to enter this chocolate orange cake.
I'm also sharing this recipe for chocolate orange marble cake with Lost in Food for #CookBlogShare.
Thanks to Lékué for sending me the bundt mould to try out. I was not required to write a positive review and all opinions are my own, as always. This post contains affiliate links. They're marked with an asterisk*. If you buy through a link, it will not cost you any more, but I will get a small commission. Thank you for your support of the brands and organisations that help to keep Tin and Thyme blithe and blogging.