Hello and Happy New Year. After a brief blogging break over the festive period, I am back and raring to go. But first, I thought I'd let you know what the most popular top ten 2015 recipes were on Tin and Thyme.
It's been a momentous year for me and the blog. Chocolate Log Blog moved over to its new home at Tin and Thyme early in the year. It had a change of focus as well as name which has enabled me to explore a wider range of ingredients and recipes. The blog has remained vegetarian and continues to offer nourishing home cooked recipes, both sweet and savoury. Chocolate has not been forgotten and my quest to find accessible good quality ethical chocolate continues.
Thank you to all those who visit Tin and Thyme, especially to those who read, comment, share and make my recipes. It is this that makes all the hard work worthwhile. I had the great pleasure to find out last month that Tin and Thyme had been shortlisted for the Food Reader Awards. However, with the rather hectic festive period I didn't get around to letting my readers know. So with today being the last day of voting, it would be grand if you'd take a few minutes to vote for Tin and Thyme in the blog category today.
We food bloggers are a bit obsessed by our stats, but I hope some of you might look beyond the blog-geekery and find this interesting too. I'd love to know if you have a favourite recipe you've found on Tin and Thyme. Oh and if you have a recipe you'd like to see on the blog, I'd be interested in hearing that too.
So, to the bit you've all been waiting for – your favourite top ten 2015 recipes in reverse order:
Your Favourite Top Ten 2015 Recipes
Turning cauliflower into rice was a revelation. It's a great way to enjoy a low carbohydrate meal and get more vegetables on your plate at the same time. The accompanying spicy vegan curry was delicious too.

I can't take the credit for this recipe, which came from the rather wonderful book Homemade Memories by Kate Doran. I adapted it to make the cups a little less sweet and was bowled over by the results – eat your heart out Reese's Pieces.

Who would have thought that rose syrup would be popular enough to make it into your favourite top ten recipes. I've been making rose syrup for years, but my recipe was hidden away in an old post, so I thought I'd give it the spotlight it richly deserves. Made with fresh unsprayed rose petals, it works wonderfully in all sorts of ways and in summer it makes a refreshing cordial.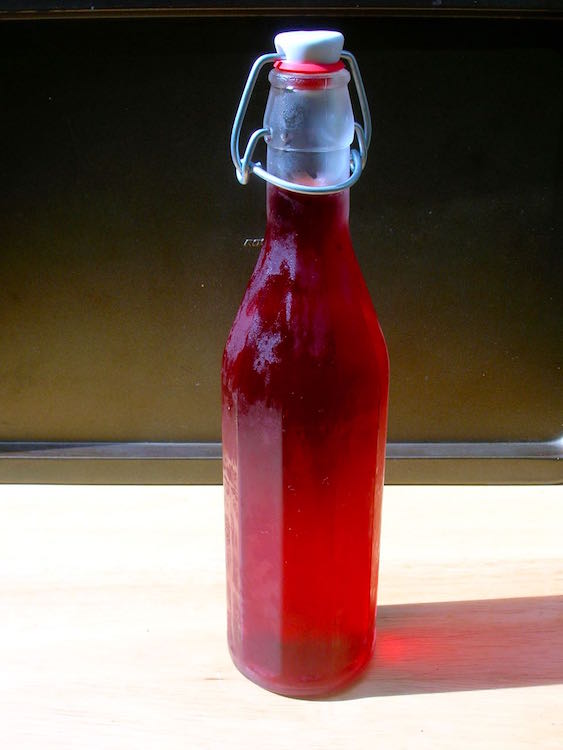 Rose syrup is very simple to make and it keeps for ages. It has a whole heap of uses, so if you haven't tried this yet, I urge you to give it a go. The key to getting a deep pink colour and good flavour is to use the petals from a deeply scented dark rose.
Marshmallow fluff was not something I'd tried before, but whilst developing this recipe, I came to appreciate just why it's so popular. Ooey, gooey, sweet and sticky, I found eating it from the jar with a spoon was almost as nice as sampling one of these cookies.

When given a vintage jelly mould from my mother in law, there was nothing for it but to have a go at making a blancmange – a vegetarian blancmange of course. I used fresh strawberries which gave an intense flavour to the blancmange, but I omitted to sieve the fruit, which, we all agreed, detracted from the expected smooth mouth feel.

That was a mistake I won't repeat. So if you make this, do please sieve the strawberries in order to get a super smooth texture.
Enamoured by my new Optimum 9200A power blender, I was very keen to try a raw nettle smoothie. Nettles are just brilliant in the spring. I like the flavour and always feel good after eating them. A nettle smoothie was a new one on me, but it worked so well, I repeated it a number of times while the nettle season was in full swing and look forward to making it again this year.

Tiffin, fridge cake, call it what you will, is always a popular item in our house and so it seems with my readers too. This one was made with coconut chips and coconut liqueur and went down exceedingly well with the birthday boy.

I've made raw chocolate cashew spread and this one with roasted cashew nuts. Both were very different in texture and flavour but equally delicious. I couldn't decide which one I liked best, though CT favoured the raw version.

The humble fritter proved to be your second most popular post of 2015. They were very popular in the Tin and Thyme household too and are a brilliant way to use up any surplus courgettes. They are easy to make and very moreish.

And coming in at top place, I was surprised to see just how popular these flapjacks were. True, flapjacks are a bit of an all round winner and these were very tasty and also simple and quick to bake. But please do let me know why you think they are quite so appealing.