Go bananas with this extravaganza of banana and chocolate recipes. If ever you need a banana chocolate flavoured bake, breakfast, drink or pudding, this is the place to come.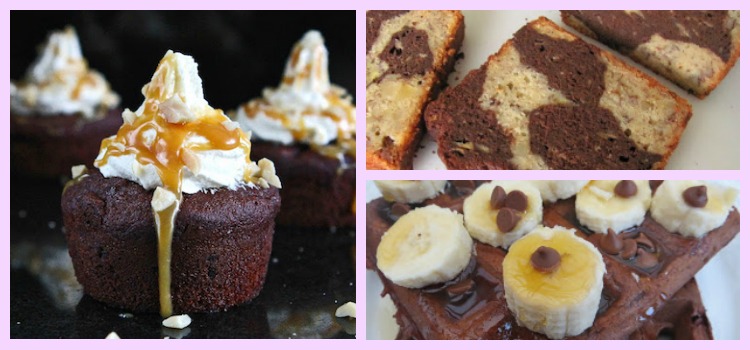 Banana and chocolate is a fabulous combination. If you haven't tried it yet, you're missing out. A simple bowl of sliced bananas with some melted chocolate poured over the top is pretty good. However, jazz that up with a few other ingredients and you have yourself something rather special.
Breakfast Banana and Chocolate Recipes
Breakfast seems like a very good place to start. Bananas are a classic breakfast ingredient, but chocolate less so. Nevertheless, there's nothing quite like starting the day with a banana chocolate concoction of some kind.
Banana and Chocolate Cakes and Bakes
Banana bread with chocolate chips is quite a common bake. But there's more to this combination that just that, good though it is. Here's you'll find a few ideas.
Banana and Chocolate Puddings
On high days and holidays, my mother used to make us banana splits for a special treat dessert. Despite being the Queen of Puddings, however, I don't think I ever had any other type of banana pudding. Let alone banana and chocolate pudding. I can't really say I missed out, but there are quite a few I'd like to try.
Actually, I may have already tried them, shhhh!
Keep in Touch
If you'd like more banana recipes, follow the link and you'll find I have quite a lot of them. All delicious, of course.
Choclette x