This month We Should Cocoa went bananas and from the gorgeous entries we've had, it looks as though some of you did too. If ever you needed a banana chocolate flavoured bake, breakfast or pudding, this is the place to come.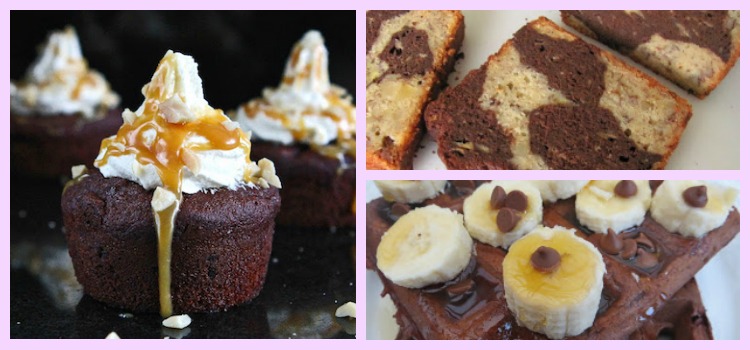 Please visit at least a couple of the entries to show your appreciation. We bloggers love getting visits and comments. Next month Rebecca from Munchies and Munchkins will be hosting We Should Cocoa, so do check out her blog tomorrow to see what she's chosen for next month's challenge.

A classic banoffee pie from Daphne at Ivy Phyllis and Me makes a great start to this banana chocolate extravaganza. This Hairy Bikers recipe uses chocolate biscuits as a base and then piles on the bananas and cream – oh my!

In need of a health boost, Cathy from Planet Veggie, put together a rather delicious sounding banana, cacao, cashew and coconut smoothie. If this wasn't tasty enough, blueberries featured too.

I've made many a banana chocolate cake in my time and was pleased to hear Kath from the Ordinary Cook state what a great combination it was, especially paired with bananas. Here's her oh-so-tempting banana chocolate walnut cake topped off with indulgent chocolate ganache.

Despite the indulgent look of these banana pancakes with chocolate sauce, they are surprisingly healthy. Made by me, they contain no refined sugar and are made with buckwheat flour and ricotta cheese.

With autumn in full swing, a bit of comfort food is definitely needed and there can't be many more comforting puds than this chocolate and banana bread and butter pudding from Janice at Farmersgirl Kitchen.

Banana, chocolate and walnuts are a popular combination, it seems. Ros from The More Than Occasional Baker has used it in her banana chocolate and walnut waffles and ate them as an indulgent weekend brunch – how wonderful.

Suelle over at Mainly Baking was not convinced by the banana chocolate combination. She gave it a whirl, however and came up with this beautiful marbled banana chocolate and Brazil nut loaf. Sadly the cake did not convince her, but I know I'd like to have tried a slice.

Rebecca from Bake n Quilt also fancied chocolate and banana for breakfast. She adapted her usual granola recipe and cake up with this rather lush but healthy banana chocolate granola.

Johanna from Green Gourmet Giraffe has been experimenting with aqua faba (chickpea brine) recently. She used this instead of eggs to make this vegan chocolate banana Swiss roll and it was her first ever attempt at a Swiss roll too.

Walnuts make another appearance in these white chocolate, banana and walnut gluten-free muffins from Caroline Makes. Made to celebrate Caroline's Writer of the Year award at work, she used gluten-free flour so that all of her colleagues could indulge.

As if sticky banana chocolate cakes, with extra chocolate chips wasn't enough, Kate from The Gluten Free Alchemist brings us these lavish double chocolate banana muffins with whipped cream, nuts and salted caramel sauce. I can see the queues forming already. And they are gluten free too of course.

And to end with a flourish, Dashing Dom from Belleau Kitchen brings us this delightful banana chocolate soufflé pudding. Only four ingredients, but what a treat.