Relax with a Bowl of Bircher Muesli and a Giveaway #64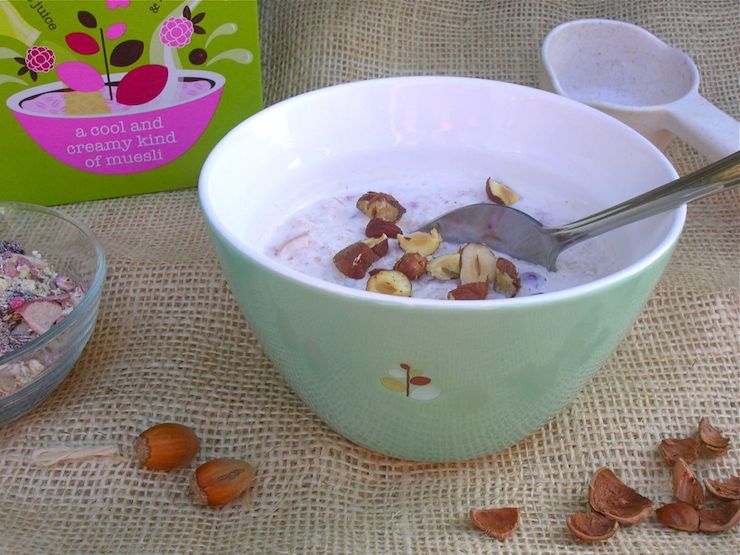 When I was an intrepid eighteen year old, I took off to Switzerland to work, first in an hotel and then as an au pair. I'd never been there before and I didn't speak the language, but throwing myself into the thick of it was a very effective way to learn French. Of the many culinary experiences I had there, chocolate aside, Bircher muesli was my favourite. Bircher muesli, for those not in the know, is effectively what we are now terming overnight oats; it has a base of rolled oats soaked in water and lemon juice to which dried and fresh fruit is added. It was developed by Swiss physician and nutritionist Maximilian Bircher-Benner around 1900 after he came across oats soaked overnight on an Alpine walking holiday. He prescribed it to his patients to give them a raw energy boost. There are now numerous recipes and ways of making it. The Bircher muesli I ate in Switzerland was soaked along with grated apple, dried fruit and nuts. Fresh fruit, yoghurt and thick Swiss cream was then added to taste before eating – no wonder I was so enamoured.
I've always loved a good breakfast and there is something a little luxurious about eating a bowl full of creamy goodness which has been prepared the night before. However, although a long soak is best practice, not all of us are that organised and actually thirty minutes soaking time still gives a deliciously creamy result. This is all that's required with Dorset Cereals' new Bircher muesli. I tried the raspberry and blackcurrant out the other day and really enjoyed it. Why, I wondered, do I not do this more often? With breakfasts usually being a very rushed affair, having to wait thirty minutes between preparation and eating can be a good thing. Thirty minutes to yourself to do something positive can relax and improve happiness, according to life coach Liz Wilde. Don't despair, if you can only manage fifteen minutes "me" time, Darina Allen reckons that's all you need in the way of soaking.
My favourite thing to do of a morning is to go out for a brisk walk. I love the light of early mornings and as I work from home, mostly sitting at a desk, it both invigorates and relaxes as well as giving me time to think; I don't do it nearly often enough, however. Thirty minutes is just the right time for a good stretch. And what bliss to come back to a bowl of comforting Bircher muesli just ready to eat.
It's been a while since I last reviewed Dorset Cereals, so I was happy to try out their new Bircher muesli mix made with fine-cut oats and barley. Now which of the two flavours to choose first? Almonds and Honey contains raisins, apple, almonds, roasted hazelnuts, sunflower seeds, coconut and honey whilst the Raspberry and Blackcurrant replaces the nuts and honey with freeze dried raspberries and blackcurrants. These make what is a fairly easy breakfast even faster to prepare. Simply add apple juice and yoghurt, stir and leave for thirty minutes.
As usual, I went my own way and used kefir instead of the apple juice and yoghurt and added two scoops to one scoop of Bircher muesli, which I found to be just right. It tasted both creamy from the kefir soaked oats and tangy from the fruit. I then topped it with some foraged hazelnuts. Sorry squirrels, first come, first served.
Giveaway
Dorset Cereals is kindly offering one Tin and Thyme reader five boxes of Dorset Cereals – two bircher muesli, one porridge, one muesli, one granola. To be in with a chance of winning, please fill in the Gleam widget below. You will need to leave a comment on this post, answering the question, which then gives you additional chances to enter if you so wish. Gleam will pick a winner at random from the entries received. If you are commenting anonymously, please give me some way of identifying you as I will be verifying the validity of entries. Any automated entries will be disqualified. This giveaway is only open to those with a UK postal address. Winners will need to respond within 7 days of being contacted. Failure to do this may result in another winner being picked.
Prizes are offered and provided by Dorset Cereals and Tin and Thyme accepts no responsibility for the acts or defaults of said third party. Tin and Thyme reserves the right to cancel or amend the giveaway and these terms and conditions without notice.
Closing date is Wednesday 2 December 2015
Do have a look at my
giveaways page
to see if there's anything else you'd like to enter.
Disclaimer: I received a soak-it-up breakfast kit from Dorset Cereals. I was not required to write a positive review and as always, all opinions are my own.