Delicious and filling savoury beetroot muffins packed full of healthy ingredients including goat's cheese, walnuts, olive oil and thyme. Options for the additions of carrot, wild garlic and even some surprise chocolate. They work brilliantly as a brunch meal or for an interesting and easy packed lunch. Perfect for picnics too.
Savoury muffins for brunch are a wonderful thing. They taste good and you can pack in whatever vegetables you happen to have to hand. They're a firm favourite with us.
Olive Oil
The benefits of olive oil have long been appreciated. When I was a child it was hard to get hold of and more of it was poured into our ears than went into our salads. It was bought from the chemist and used to reduce ear infections and soften wax. Luckily things have moved on since then.
We're big fans of it in this household and use quite a lot of the extra virgin variety, preferably cold pressed. Not only does this have a better flavour, but also has a higher level of the beneficial components.
If the claims for its health benefits are to be believed, CT and I should do pretty well as we get older. I'm particularly interested in it as an aid to calcium absorption. This in turn reduces the effects of osteoporosis in the elderly. Just saying! The monounsaturated fatty acids found in olive oil may also prevent memory loss by maintaining the structure of the brain cell membranes. Hmm, perhaps I'm not consuming enough of it or perhaps my memory would be even worse without it.
It also contains a number of antioxidants, including Vitamin E, carotenoids and phenolic compounds. These are said to help in the prevention of certain diseases such as cancer and mitigate against some of the effects of ageing.
When I was sent a couple of mini bottles of olive oil to sample, I wondered how I might use them. I didn't wonder for long. Ever since I first made beetroot muffins back in 2012, I've baked many a variation and loved every one of them.
Beetroot, Walnut and Goat's Cheese Muffins
I'm a big fan of beetroot, CT less so. I figured that he might find beetroot more palatable contained in a savoury muffin with lots of goats cheese. And if he didn't? I was very happy to eat them all by myself.
Not only are these savoury muffins delicious and relatively quick to make, but they're packed full of nutritious ingredients and are perfect portable material into the bargain. I used to regularly take them in to work for my packed lunch and they're also great for picnics.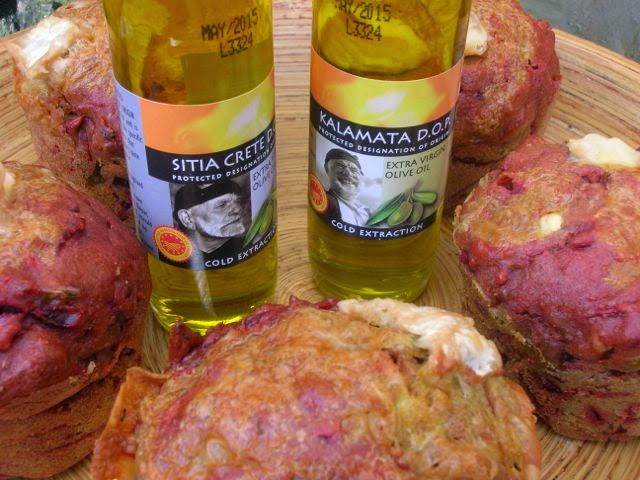 For this batch, I stuck with the beetroot, walnut and goat's cheese angle as I had some beets that needed using up, some goat's cheese in the fridge and I like the crunch and flavour of walnuts. However as I have plenty of thyme in the garden, I thought I'd add some of that as well.
This was also the first time I made these muffins using olive oil. Normally I'd use sunflower oil, or a mix of sunflower and walnut oil. As I mentioned previously we get through a fair amount of olive oil. We used to buy it in large six litre tins, but when our local organic shop closed, our supply dried up.
In the end I didn't use those dinky bottles of olive oil you can see above. Turns out they only measure 80ml in total and are a good quality cold pressed Greek version. I reckoned I'd better save those for use as a dip or salad dressing.

These two tone muffins were so good, we found it hard to stop at one, even though they were quite substantial. The flavour of the olive oil came through and made them even more delicious. This is a good way to sneak beetroot into the diet of non-beetroot lovers like CT; he didn't complain once. In fact, I had a hard time holding him back.
The mix of flavours is really good. Goat's cheese is possibly the star of the show, but the beetroot gives interest and colour. The crunchy nuts provide additional flavour and texture. Next time I make a variation of these muffins, I think I might stick with the olive oil.
Best Way to Prepare Beetroot
For these beetroot muffins, I've grated the beetroot, but in previous iterations, I've mashed up cooked beetroot. I've also used cooked beetroot in vinegar and that works surprisingly well too. The resulting muffins aren't in the least bit sour. So it really depends on what you have and what suits you best.
If you mash cooked beetroot and combine it well with the other ingredients, you get a vibrant pink batter which is rather beautiful. When you bake the muffins, however, the colour fades to brown.
Preparing beetroot is a messy business and do be careful not to get it on your clothes as it stains. It can also stain your hands, so you might want to wear gloves when you're handling it. A food processor is excellent for grating the beetroot with minimal mess.
If you're going to use ready cooked beetroot, a sturdy potato masher works well, though it requires a bit of effort.
Beetroot Muffin Variations
This beetroot muffin recipe is incredibly versatile. I've made it many times now and I add different ingredients each time. In my opinion, the key ingredients to keep are the beetroot, walnuts and goat's cheese. They go together so well. But pretty much anything else is up for grabs.
Beetroot Chocolate Brunch Muffins
I often add cocoa or unsweetened chocolate to my beetroot muffins. Beetroot and chocolate have a surprising affinity. Just thing beetroot brownies or beetroot chocolate cake. You may find the idea strange in a savoury muffin, but I urge you to give it a go. It adds additional savoury umami notes which are quite subtle, but a definite flavour booster.

Add two tablespoons of cocoa along with the flour or grate in twenty grams of 100% chocolate.
Wild Garlic Beetroot Muffins
Try adding some wild garlic leaves when they're in season. The garlic flavour is fairly subtle, but it's a discernible seasoning that works well with the goat's cheese. Finely chop eight to ten leaves and add them along with the beetroot.

Carrot and Beetroot Muffins
For this version of my beetroot muffins, you'll need two medium carrots and two smallish beetroot. They should weigh in at about 300g before scrubbing, topping and tailing. But don't worry if there's a little bit more or a little bit less. This recipe is fairly forgiving.

Grate the carrots and beetroot and add them at the end of the process. I omit the thyme but add half a teaspoon of cayenne pepper along with the flour for a bit of extra punch. You can leave this out if you prefer or swap it for smoked paprika.
Other Savoury Muffins You Might Like
Keep in Touch
Thanks for visiting Tin and Thyme. If you make these super beetroot muffins for brunch or any other occasion, I'd love to hear about it in the comments below. And do please rate the recipe. Have you any top tips? Do share photos on your preferred social media site and use the hashtag #tinandthyme, so I can spot them.
For more delicious and nutritious recipes follow me on Twitter, Facebook, Instagram or Pinterest. And don't forget to SUBSCRIBE to my weekly newsletter.
If you'd like more beetroot recipes, follow the link and you'll find I have quite a lot of them. All delicious, of course.
Choclette x
Beetroot Muffins. PIN IT.

Beetroot Brunch Muffins – The Recipe
Beetroot, Walnut, Wild Garlic and Goat's Cheese Brunch Muffins
Delicious and filling savoury muffins packed full of healthy ingredients including beetroot walnuts, olive oil and thyme. They work brilliantly as a brunch meal or for packed lunches or picnics.
Ingredients
300

g

flour

I used ⅓ wholemeal, ⅓ rye, ⅓ white

2

tsp

baking powder

½

tsp

bicarbonate of soda

¼

tsp

sea or rock salt

20

g

unsweetened chocolate – finely grated

optional

ground black pepper to taste

2

large eggs

I used duck eggs

100

ml

olive oil

200

ml

yogurt

100

g

soft goat's cheese – cubed

4

smallish beetroot weighing about 300g

250g when scrubbed, topped, tailed & grated

4

sprigs thyme leaves

50

g

walnuts – roughly chopped
Instructions
Sieve the dry ingredients into a bowl with the pepper and chocolate, if using. Stir in the walnuts and make a well in the centre.

Break in the eggs and start stirring, slowly adding the oil, yogurt and milk as you go along until just combined.

Gently mix in the beetroot, wild garlic, thyme and ⅔ of the goat's cheese cubes.

Spoon into a greased 12 hole muffin tin (I used two 6 hole silicone moulds).

Divide the remaining ⅓ cheese into 12 pieces and place one on top of each muffin.

Bake in a preheated oven at 180℃ (350℉, Gas 4) for about

30 minutes

or until the muffins are well risen and nicely browned. Leave to cool for a couple of minutes then turn out on to a wire rack to cool completely – or eat whilst warm.
Notes
Please note: calories and other nutritional information are per serving. They're approximate and will depend on exact ingredients used.
Nutrition
Calories:
256
kcal
|
Carbohydrates:
23
g
|
Protein:
7
g
|
Fat:
15
g
|
Saturated Fat:
3
g
|
Cholesterol:
33
mg
|
Sodium:
173
mg
|
Potassium:
225
mg
|
Fiber:
4
g
|
Sugar:
3
g
|
Vitamin A:
172
IU
|
Vitamin C:
2
mg
|
Calcium:
81
mg
|
Iron:
2
mg
Tried this recipe?
Please take a photo and mention @choclette8 or tag #tinandthyme on Instagram, Twitter or Facebook.
Sharing
As this is an original vegetarian recipe idea for breakfast, brunch or lunch, I am entering these beetroot, wild garlic, walnut and goat's cheese muffins into the Betta Living Vegetarian Recipe Competition.
I am sending these beetroot, walnut, wild garlic & goat's cheese savoury muffins off to Karen's Cooking with Herbs over at Lavender and Lovage, as the muffins contained ramsons as well as thyme, although sadly no mint!
I'm also submitting these brunch muffins to Four Season Food with Anneli over at Delicieux and Lou over at Eat Your Veg. The theme this month is celebrate vegetables, so my stash of beetroot fits very nicely.
And as there is a substantial amount of beetroot in these muffins I am also sending them off to Extra Veg with Helen of Fuss Free Flavours and Michelle of Utterly Scrummy Food for Families.
Blog Summit Bristol
A year or so ago, I met Vanesther of Bangers & Mash at Blog Summit in Bristol. She informed me about her Recipes for Life challenge which she hosts in conjunction with SWALLOW, a charity which helps adults with learning difficulties to lead more independent lives. Do find out what it is all about by visiting her blog.
As soon as I heard what the ingredients for that month's recipe was, I knew what I wanted to make. Beetroot, carrot and cheese translated so easily into a batch of carrot and beetroot muffins with goat's cheese.
My only concern was would I have time to do it. With a cake club meeting, a chocolate course and a birthday party to bake for, I really wasn't sure if I could fit it in. But sense prevailed; as well as making a nice change to my lunchtime sandwich, it would save me having to make said item in the mornings before going to work, something I always find a bit of a chore.
I'm not going to write an account of the Blog Summit. It was a really useful gathering of bloggers from Foodies100 and Tots100 held at the famous MShed down by the river. This is partly because there was not a single piece of chocolate or chocolate cake or even a chocolate biscuit to be had anywhere. Can you believe it? Partly because others have written far more informative posts than anything I am likely to do and partly because this was the only quarter decent picture I took.

I've listed below a couple of particularly useful write ups that others have done. It was a useful day and despite the rather long journey, it was worth attending. I met lots of very nice bloggers and heard quite a lot of useful tips about SEO, social media and photography – the follow / no follow issue was covered at some length.
Special mention must go to Ali of PLUS 2.4 and Annie of Mammasaurus who rescued me from who knows what heinous fate as I wondered around Temple Meads in daze, stupefied by the splendour of a great metropolis – I am a country lass after all! Apart from the lack of chocolate, I only had one other slight quibble. And that was that Foodies 100 members were sadly underrepresented. Vanesther and I were the only two there.
Ten things I learnt at Bristol Blog Summit by Vanesther of Bangers & Mash
Blog Summit Bristol: a summary by Sally Whittle of Tots100