Chocolate Marshmallow Crispies – We Should Cocoa #48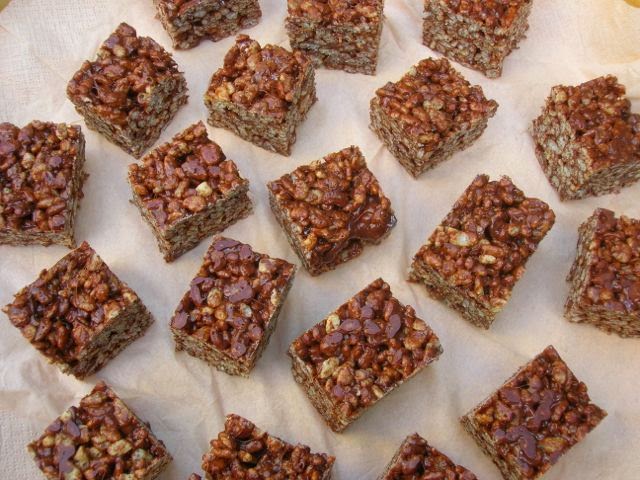 Rebecca over at Bake n Quilt is hosting We Should Cocoa this month and has chosen the ingredient marshmallow to get us all thinking. With the hot and steamy weather continuing here in the UK, this is a good choice; there is no baking required in making marshmallows and plenty of simple no bake recipes to use them in too.
My first thought was what a good excuse to make rocky road, something I like, but try not to make too often as it disappears rather too fast. However, when browsing through my newest book, Mast Brothers Chocolate: a family cookbook, I came across a recipe for crispy treats, which was basically a mass of melted marshmallows with some chocolate and crisped rice thrown in. As we are about to embark on a journey to visit CT's mother, it seemed like a good time to try these out. She has a sweet tooth, so I'm hoping she will be appreciative. I had to convert US measures to UK ones, but I more or less did what the recipe stated for once; it's such a simple recipe, it's barely more than a sentence long anyway.
This is how I made:
Chocolate Marshmallow Crispies
Melted 50g unsalted butter in a large pan over low heat.
Added 300g marshmallows and allowed to melt, then stirred to combine.
Removed from the heat, then added 150g 72% chopped dark chocolate (G&B). Left for a couple of minutes to melt then stirred to mix.
Added 200g crisped rice (rice krispies) and stirred until just incorporated. The stirring was quite tricky as the mixture was very sticky.
Turned into a greased 9″ sq. cake mould and pressed down lightly with the back of a spoon to distribute the mixture and flatten it.
Allowed to set, turned onto a board and cut into 36 squares.
Just like rocky road, I found these crispy treats to be very moreish. Luckily, they were destined for Hampshire, so they were hastily packed into a tin before too many disappeared. How many, I shall eat when I'm in the New Forest of course, remains to be seen.