In the last year or so, the Happy Pear have gradually seeped into my consciousness. I'd heard them mentioned by Riverford, Jamie Oliver, in the press and through various food bloggers, but I'd never seen any of their recipes. I'm now the happy owner of their latest book The World of the Happy Pear, to be published soon, on 2nd June. To celebrate National Vegetarian Week, I'm excited to say, I also have two copies of the book to giveaway.
So, in case you've been indulging your hermit fantasies on a remote island, The Happy Pear refer to twins, Stephen and David Flynn. Independently of each other, they saw the light and became vegetarians in their twenties. Since then it's been a never ending journey of learning to live healthier and happier lives. They opened their cafe, The Happy Pear, in their home town of Greystones, County Wicklow, Ireland some ten years ago.
So, what did I think? I loved it the moment I got a chance to look inside the book. The ethos and recipes are right up my street. For a start, there's no mention of "clean eating" and eggs and dairy, whilst limited in their use, have not been banned. The recipes are fresh and exciting, but also simple and nutritious, featuring plenty of vegetables and wholefoods. I found the twins' enthusiastic style both appealing and infectious. I definitely get the idea they believe in what they do.
As in all right thinking cookbooks, this one started with my favourite meal of the day, breakfast. Corn fritters with an avocado salsa caught my eye immediately, but I got most excited about their Vegan Full Irish. At last, a cookbook that uses tempeh. CT used to make tempeh and it's one of my most favourite things; it has a wonderful texture and good umami flavour. We've not really been in a position for him to make it over the last few years, but now we've got my rather wonderful dehydrator, it might be on the cards again – put it like this, I'm working on him!

The book then goes on to cover recipes for soups, salads, mains, snacks, dips & fabulous extras and then finishes with my favourite bit: the sweet stuff. What can I say? I've bookmarked heaps of the recipes and I'm pretty certain they'll all be good, although I draw a line at spicy millet and mushroom burgers. I've tried, but millet and I do not get on. Rather more engaging is the grilled halloumi burger with chilli ketchup and tahini mayo – now they're talking.
Most of the sweet stuff is raw, but no less appealing for that. I definitely have my eye on the lemon and lime avocado mousse cake. Strangely, they had a recipe for chocolate cookie dough balls, which is very similar to one I've made recently and will be posting shortly. I like to think it's a case of great minds! The chocolate fudge cake is baked, but made with white spelt flour rather than wholemeal, which I found slightly disappointing. Nevertheless, it sounds totally lush.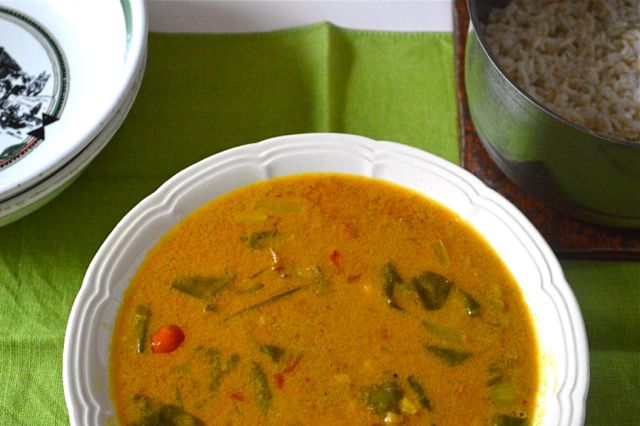 As I had some Swiss chard in need of using in the fridge, I had a go at making their coconut chana masala with spinach almost straight away. I substituted the spinach for Swiss chard, obviously. As I expected, it was totally delicious. Creamy, spicy and very satisfying. We ate it with some brown basmati rice. That's my picture, not theirs.
Although the book is first and foremost a recipe book, there are anecdotes and tips for healthy living scattered throughout. Getting plenty of exercise and managing stress are obviously important to the twins and I for one could certainly benefit from both. It was good to get some reminders.
At the back of the book is a great section on some of their favourite ingredients and how to use them. I know when I first came across nutritional yeast, for instance, I didn't really know what to do with it, other than to make tofu scramble. Here we are told it's particularly useful for vegans, because not only does it impart a "cheesy" taste to many dishes, but it's also a good source of vitamin B12 and beneficial bacteria.

Like many modern cookbooks, pictures of the authors abound. Handsome as they are, I could, quite frankly, do with less of them. They have, however, been flagged by The Times as "the poster boys for a healthy way of life", so I guess it's not too surprising in this instance. The photographs were taken by Alistair Richardson and the food images are all bright, clear and very appealing.
The World of the Happy Pear by Stephen & David Flynn is published by Penguin as a hardback and retails at £18.99.
World of the Happy Pear Giveaway x 2
Penguin has kindly agreed to give two Tin and Thyme readers a copy of The World of the Happy Pear. To be in with a chance of winning, please fill in the Gleam widget below. You will need to leave a comment on this post, answering the question, which then gives you additional chances to enter if you so wish. Gleam will pick a winner at random from the entries received. If you are commenting anonymously, please give me some way of identifying you as I will be verifying the validity of entries. Any automated entries will be disqualified. This giveaway is only open to those with a UK postal address. Winners will need to respond within 7 days of being contacted. Failure to do this may result in another winner being picked.

Prizes are offered and provided by Penguin and Tin and Thyme accepts no responsibility for the acts or defaults of said third party. Tin and Thyme reserves the right to cancel or amend the giveaway and these terms and conditions without notice.
Closing date is Monday 20 June 2016
Do take a look at my
giveaway
page to see if there is anything else you would like to enter.
Thanks to Penguin for the copy of The World of the Happy Pear. I was not required to write a positive review and as always, all opinions are my own.