When the British Hamper Company got in touch with me and explained that they worked with small, artisan and independent food producers, my e-ears pricked up. It wasn't too much longer before a Divinely Decadent Chocolate Hamper arrived at my door. Woohoo!
Who can resist a well put together hamper? Not me, it seems. There's something so luxurious about receiving a box or whicker basket packed full of goodies. The feel good factor it gives is hard to put a price on.
As the name suggests, The British Hamper Company is a family run firm that delivers luxury British food hampers both to the UK and around the world. As already mentioned, the products are all from independent producers, which gets it several brownie points from me. I've had a good look around the site and I haven't spotted many hampers I would say no to.
Divinely Decadent Chocolate Hamper
The Divinely Decadent Chocolate Hamper met with my approval as soon as I took the fabulous box out of its packaging. It was beautifully presented, with an accompanying gift card and ribbon tying it together. I spent quite some time admiring it before I could bring myself to open it. The box is sturdy with an attractive and clever design which needs a little studying to fully appreciate it.
The colours are reminiscent of the blue and red you'd expect from something loudly proclaiming its British credentials, but they are subtler, a reddish brown and a blueish grey. The pictures are of typical London icons, but with a wry touch of humour; the inclusion of a raincloud certainly made me smile.
The box makes a nice change from a wicker hamper and it's a keeper. I'm now contemplating what I can store in it, once the chocolate contents have disappeared. This probably wont be very long.
So, you may well be asking, what was inside the the Divinely Decadent Chocolate Hamper? On opening the lid and hunting through the wood wool, I found seven well chosen items.
Not only were they all of good quality, but there was a nice mix of products, from truffles, to tiffin to drinking chocolate, from dark chocolate to milk – something for everyone. I was familiar with some of the brands, but not all of them. If this box of delights doesn't grab your fancy, there are plenty of other chocolate hampers to choose from.
Milk of the Gods – Willie's Cacao
As I have probably said more times than I care to think of on this blog, a really good quality high cocoa content milk chocolate is my absolute favourite. Willie's Milk of the Gods ticks all the right boxes.
Willie Harcourt-Couze is a bean to bar chocolate manufacturer in Devon. He sources his chocolate ethically from single estates around the tropics. a propo of nothing in particular, here's a link to my rendition of his cloud forest chocolate cake recipe.
Originating from the Hacienda San Augustine estate in Venezuela, this bar is made from Trinitario cacao beans and has a cacao content of 44%.
The ingredients are simple: no lecithin, just cacao beans, raw cane sugar and milk. It tastes sublime, which strangely is what it says on the packet. It's rich with a smooth texture and has the slight tang of buttermilk which I really like and immediately associate with good quality milk chocolate and its not too sweet either.
It comes in a single 50g block, so it's obviously not made to be broken up into neat little pieces and shared – or that's how I read it.
Dark Chocolate Tiffin – More Food
Tiffin is always a hit in this house and the six pieces of belgian chocolate mixed with cherries, sultanas and crisp biscuit pieces didn't last long at all. The dark chocolate made them rich and not too sweet, which is just how I like them.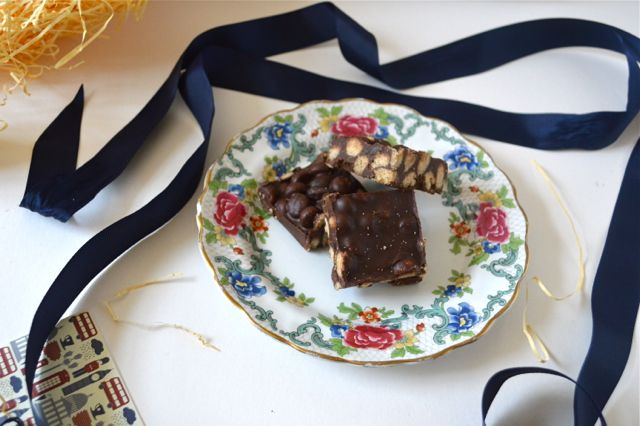 Choccy Scoffy – Monty Bojangles
My mother is a big fan of Monty Bojangles, so the 100g box of cocoa dusted truffles is destined for her. In fact Monty Bojangles' truffles proved such a hit when I introduced them to her a couple of years ago, that they have become a firm favourite with various, aunts, uncles and cousins. I've not tried these particular ones before, but I'm sure they won't disappoint.
Old Fashioned Fondant Creams – Mr Stanley's
I have a real weakness for peppermint chocolate. I blame this on my first childhood sweet making activities when peppermint creams were about all I could cope with.
The fondant creams in this 90g box are covered with 55% dark chocolate and dark chocolate is just what is needed to offset the sweetness of the filling. I'd not heard of Mr Stanley before, but it seems he started up business in 1843 and the traditional confectionery made today is still produced in copper pots.
Orange Peel Dipped in Dark Chocolate – Chocca Mocca
I'd never heard of Chocca Mocca before. Apparently they are a group of fine chocolate aficionados who cover sumptuous fruit and nuts in chocolate. The box is rather attractive and contains 100g of little sticks of crystallised orange peel covered in a 65% dark chocolate.
They were tasty and the orange came through loud and clear. As is often the case, however, both CT and I thought they would have benefited from being a little less sweet.
Drinking Chocolate – Chocca Mocca
I do like the, err, odd cup of hot chocolate. So the 150g tin of Belgian milk chocolate drops is very welcome. The tin is tall and elegant and I will retain it to fill with more drinking chocolate once this has run out. I haven't wanted to break into it yet, but I've subsequently heard, that the tiny chocolate buttons are wonderful eaten just as they are. It will be interesting to try though, as I tend to use dark chocolate when making hot chocolate at home.
Chilli Chocolate – South Devon Chilli Farm
The South Devon Chilli Farm is another company that is local (ish) to me, so it would be a sad thing indeed if I hadn't sampled their wares before. As it happened we visited this very establishment a couple of years ago when we went for a fabulous walk along the South Devon coast and ate nettle lemon and white chocolate cupcakes.
All the chillies contained in their chocolate are grown on the premises. I'm a big fan of chilli chocolate and this 60% dark 100g chocolate bar is best nibbled at in small doses. It's certainly a good way of firing up your body for an up-and-at-'em event.
Harrods Christmas Hamper
Back in December 2013, I received a Harrods Christmas decadent chocolate hamper. I have to say, this divinely decadent chocolate hamper was much better. This is what I wrote at the time.
It's many years since I've set foot in Harrods, but the thrill of entering those hallowed halls still lives on. As an awestruck country girl, this acme of department stores, situated in exclusive Knightsbridge, was an Aladdin's cave of delights. The food halls in particular live on in my memory.
As a cash strapped student, I would enter and just breathe in the exotic air. It was always rich with spices and other fragrant compounds. I'd gaze at the sumptuous riches all around and at the luxurious chocolates in particular. Well if I can no longer get to Harrods, Harrods can come to me. Or at least it did recently in the form of this strikingly elegant hamper.
Let Us Know
Thanks for visiting Tin and Thyme. If you try any of the chocolate products mentioned here, I'd love to hear about it in the comments below or via social media. Do share photos on your preferred social media site and use the hashtag #tinandthyme, so I can spot them.
For more chocolate reviews and giveaways, follow me on Twitter, Facebook, Instagram or Pinterest.
Divinely Decadent Chocolate Hamper Giveaway
The British Hamper Company is kindly offering one Tin and Thyme reader a a Divinely Decadent Chocolate Hamper worth £50. To be in with a chance of winning, please fill in the Gleam widget below. You will need to leave a comment on this post, answering the question. This will give you additional chances to enter if you so wish. Gleam will pick a winner at random from the entries received who will then be contacted via e-mail. If you are commenting anonymously, please give me some way of identifying you as I will be verifying the validity of entries.
Any automated entries will be disqualified. This giveaway is only open to those with a UK mainland postal address. Winners will need to respond within 5 days of being contacted. Failure to do this may result in another winner being picked. There are no cash alternatives.
The Divinely Decadent Chocolate Hamper is offered and provided by the British Hamper Company and Tin and Thyme accepts no responsibility for the acts or defaults of said third party. Tin and Thyme reserves the right to cancel or amend the giveaway and these terms and conditions without notice.
Closing date is Monday 6 June 2016
Do take a look at the Tin and Thyme
giveaways page
to see if there's anything else you'd like to enter. You can also find other competitions at The Prize Finder.