Whose up for a delicious savoury green vegetable galette? This quick rustic tart has a beautifully crisp and flaky pastry topped with a creamy spinach sauce, bell peppers, asparagus and peas. It's a must try.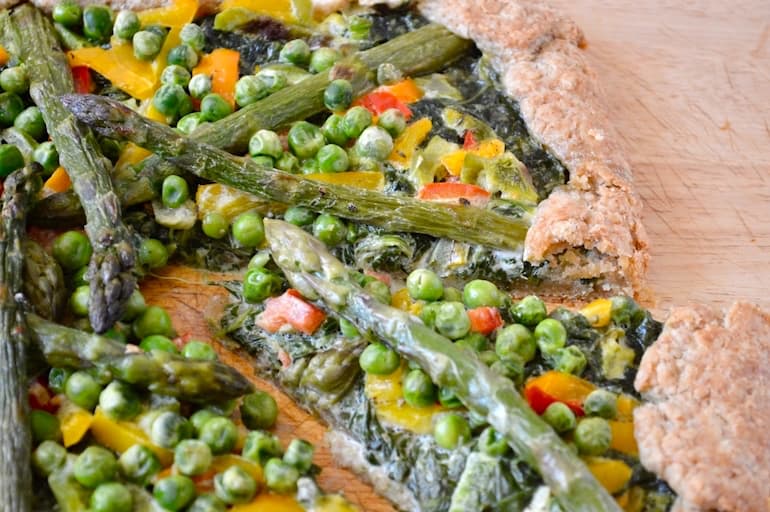 It's been many a year since I set foot in an Iceland shop. I moved back down to Cornwall from Leamington Spa nearly twenty years ago and I certainly haven't been to one since then. However, when I was challenged to "Go Frozen with Iceland" and create a tasty and nutritious meal, an idea for a green vegetable galette sprang to mind. It was time to track down an Iceland store and see what I could find.
Iceland
My memory of Iceland was principally of ready meals and foods I didn't really want to eat. Times change, of course and modern freezing techniques have improved. Frozen food can often be more nutritious than fresh.
This is especially true of fruit and vegetables which often get transported long distances and then sit around in shops for days or weeks before being bought and finally consumed. Freezing food almost immediately after picking seals in the nutrients and preserves freshness – that's the Power of Frozen.
Iceland is Niceland
As with so many of my preconceptions, I was wrong about Iceland. Yes it has ready meals and yes it has plenty of meaty offerings, but it also has a really good selection of vegetables. One of the first things to greet me when I entered the store, was a rack of fresh fruit and vegetables, I really wasn't expecting that.

However, I was there for the #PowerofFrozen, so I continued on to the frozen vegetable section to see what might be on offer. I was delighted to see several freezers packed with a good variety of vegetables. I was particularly surprised to see bags of kale leaves, packs of chopped herbs and most exciting of all asparagus spears. Iceland is Niceland.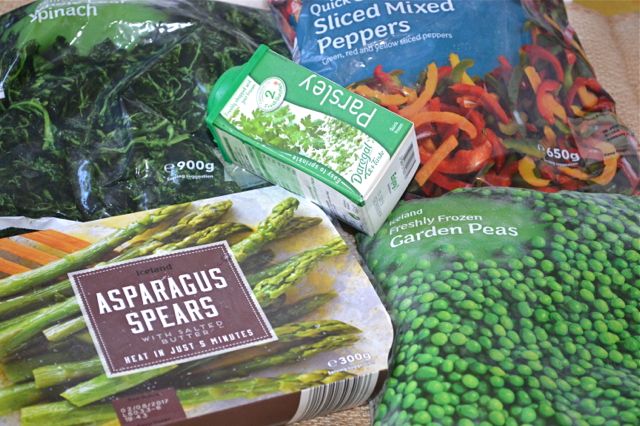 I was so obsessed with vegetables during my visit, I completely omitted to look in the fruit section. It's only recently, I realised there was such a thing as frozen berries and I like to keep some on hand as they make such a great addition to smoothies.
A 500g bag of mixed berries, I've now found, only costs £1.50 at Iceland. What a bargain. In fact I thought all of the prices I saw were very reasonable. I can see another trip to England coming up soon. To find out exactly what Iceland has on offer, head to one of their stores or visit their Power of Frozen website.
Apart from a bag of peas and more recently frozen berries, I'd not really thought about stocking frozen veg in the freezer. But what a great way to create speedy suppers or meals when there just isn't any fresh veg in the house. We often resort to cheese on toast in such circumstances. But how much better to be able to create a quick meal with nutritious vegetables.
Green Vegetable Galette
For my green vegetable galette, I ended up choosing spinach, parsley, sliced mixed peppers, peas and asparagus spears – all frozen of course. I was a bit sad not to take the kale, but I didn't think I'd manage to squeeze it into my freezer. Next time.


I found it a real treat when making my green vegetable galette, not to have to spend ages washing, peeling and chopping. And of course, frozen veg can cut down on food waste. Less thrown out from the supermarkets and less of those forgotten bits and pieces in the back of our fridges.
The vegetable galette was a complete triumph. If it hadn't been for the sounds of oohing and ahhing, it would have been eaten in blissful silence. Beautiful crisp wholemeal flaky pastry embraced a perfectly cooked and very tasty filling and topping. Not a soggy bottom in sight. Mary Berry would surely approve.

We ate it warm from the oven on day one, warmed up again on day two and then cold on day three. All ways were good.
Whilst it's true there's a lot of butter in the pastry, there's very little fat in the rest. The spinach is mixed with ricotta cheese, which is naturally low in fat and less than a tbsp of olive oil was drizzled over the peppers and asparagus. It's a great way to get a few extra veg into fussy eaters, who might not spot that the filling is actually made of spinach. Pizza, eat your heart out.

We were so impressed with my green vegetable galette, that it inspired this tomato galette with pesto which has become a firm favourite. And of course, if you have fresh vegetables available, use those rather than the frozen ones.
Other #PowerofFrozen Recipes You Might Like
Keep in Touch
Thanks for visiting Tin and Thyme. If you make this green vegetable galette, I'd love to hear about it in the comments below. And do please rate the recipe. Have you any top tips? Do share photos on social media too and use the hashtag #tinandthyme, so I can spot them.
For more delicious and nutritious recipes follow me on Twitter, Facebook, Instagram or Pinterest. And don't forget to SUBSCRIBE to my weekly newsletter.
If you'd like more pastry recipes, follow the link and you'll find I have quite a lot of them. All delicious and nutritious, of course.
Choclette x
Green Vegetable Galette. PIN IT.

Green Vegetable Galette – The Recipe
Green Vegetable Galette
This quick rustic tart has a beautifully crisp and flaky pastry topped with a creamy spinach sauce, bell peppers, asparagus and peas.
Ingredients
Filling
200

g

frozen spinach

I used 4 squares

100

g

frozen mixed sliced peppers

8

frozen asparagus spears

50

g

frozen garden peas

1

tbsp

olive oil

1/2

tsp

dried oregano

2

pinch

sea salt, or to taste

2

grindings of black pepper

good grating of nutmeg

1

tsp

chopped parsley

I used frozen

200

g

ricotta cheese
Pastry
125

g

wholemeal flour

125

g

plain flour

150

g

unsalted butter

1

pinch

sea salt

4

tbsp

yoghurt
Instructions
Filling
Place the spinach in a covered bowl to defrost.

Place the peppers and asparagus in another covered bowl. Sprinkle on a pinch of salt, the oregano and a grinding of pepper then drizzle with the olive oil. Leave to defrost.

Place the peas in another covered bowl to defrost, then get on with making the pastry.

When the spinach has more or less defrosted, add the ricotta, nutmeg, salt and pepper to the bowl stir until everything is well mixed.
Pastry
Cut butter into flour and salt then either rub between finger tips or pulse in a food processor until the mixture resembles coarse breadcrumbs.

Stir in the yoghurt with a knife until the mixture comes together into a ball,

Cover and leave to rest in the fridge or a cool place for ½ hr.

Roll out on a floured surface into a rough circle to about 4mm in thickness.

Place on a baking tray lined with baking parchment.

Spread the spinach mixture over the pastry leaving about a 5 cm boarder.

Sprinkle the peppers over the base, place the asparagus spears in a radial pattern, then sprinkle over the peas.

Fold the edges inward over the filling, leaving the centre open.

Bake at 200℃ for about 25 minutes when the vegetables should be cooked and the pastry crisp and golden.
Notes
Serves 6 – 8 people depending on how hungry they are and what you serve with the tart.
Swap the frozen vegetables for fresh ones if you have them available.
Please note: calories are per serving. They're approximate and will depend on exact ingredients used.
Nutrition
Calories:
330
kcal
|
Carbohydrates:
28
g
|
Protein:
9
g
|
Fat:
21
g
|
Saturated Fat:
12
g
|
Trans Fat:
1
g
|
Cholesterol:
54
mg
|
Sodium:
63
mg
|
Potassium:
283
mg
|
Fiber:
4
g
|
Sugar:
2
g
|
Vitamin A:
4086
IU
|
Vitamin C:
21
mg
|
Calcium:
117
mg
|
Iron:
2
mg
Tried this recipe?
Please take a photo and mention @choclette8 or tag #tinandthyme on Instagram, Twitter or Facebook.
Sharing
I'm sending my green vegetable galette off to the following:
I was commissioned by Iceland to create a recipe using some of their products. I was not expected to write a positive review and all opinions are, as always, my own. Thank you for your support of the brands and organisations that help to keep Tin and Thyme blithe and blogging.