Sometimes you want something sweet and lush, but really don't want to go to the bother of putting the oven on and baking. That's where no-bake comes in. This month bloggers have been getting creative with their no-bake recipes for We Should Cocoa.
Next month, Karen over at Lavender and Lovage is taking the We Should Cocoa helm. Check out her blog to find out what she has chosen. Do get in touch with me if you'd like to host a future We Should Cocoa. Thank you very much to everyone who took the time and effort to join the no-bake challenge; your entries are always a joy to behold.
So here we go:

Ros from The More Than Occasional Baker kicks us off in fine style with these impressive passionfruit and cream cheese filled chocolate Easter eggs. She assures us they are really quite simple to make, but I'm not sure I'd make as good a job AND she made chocolate spoons to go with them.

With Easter falling at the beginning of April this year, it is no surprise that we have some Easter nests. Craig from The Usual Saucepans gives us rum, ginger and dark chocolate Easter nests, which not only sound darkly delicious but are strictly for adults only.

Not content with just any old Easter eggs, Caroline over at Caroline Makes decided to make her own. These fondant-filled chocolate eggs and bunnies were the result.

And as if making her own Easter eggs wasn't enough, Caroline also made some classic Easter nests. These ones the kids would be allowed – assuming they'd ever get a chance.

In order to fuel her early morning exercise routine, Rebecca over at BakeNQuilt decided to give her usual peanut butter energy bites an overhaul. The result were these rather naughty Nutella energy bites.

We have more Easter delights from Johanna over at Green Gourmet Giraffe who had fun with her daughter Sylvia making these very cute Easter egg chicks. If you pop over to her site, you will also see some rather delightful chocolate carrots.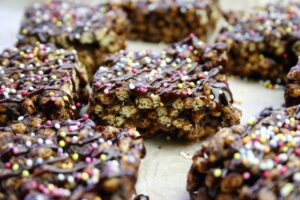 Chocolate crispies are a favourite with everyone and especially me. Dom over at Belleau Kitchen has added a luxurious twist to his with a glug or two of Bailey's Luxe – Baileys Chocolate Luxe rice crispie squares. Oh how very tempting.

This stunning Nutella trifle is something you can knock up in half an hour according to Kate of The Gluten Free Alchemist. One of the special ingredients is Fratello (in the adult version anyway), an Italian alcoholic blend of hazelnuts, vanilla, cocoa and honey – I'm on my way Kate.

I was surprised to get this far without coming across any biscuit cake, but Suelle over at Mainly Baking has not let me down – it is one of my favourite chocolate treats after all. Strangely she was not as enamoured of her Ginger Tiffin Loaf as I would have been. Ginger, chocolate, coconut and unusually, condensed milk makes this a must try for me.

Granola bars are all the rage, but I hadn't come across a no-bake version until I saw Lucy's oaty no-bake bars over at Baking Queen. What a revelation and a reminder why I love bloggers and We Should Cocoa so much.

And now for something rather different, which is perhaps no surprise as it's coming from the ever creative Lucy at The Kitchenmaid. Peaches with pistachio and chocolate are the sort of snacks I'd now very much like to have at my disposal. Now where can I find good dried peaches?

And last, but hopefully not least, we have my own pecan and maple ginger tiffin.