Redcurrant Ripple and White Chocolate Ice-Cream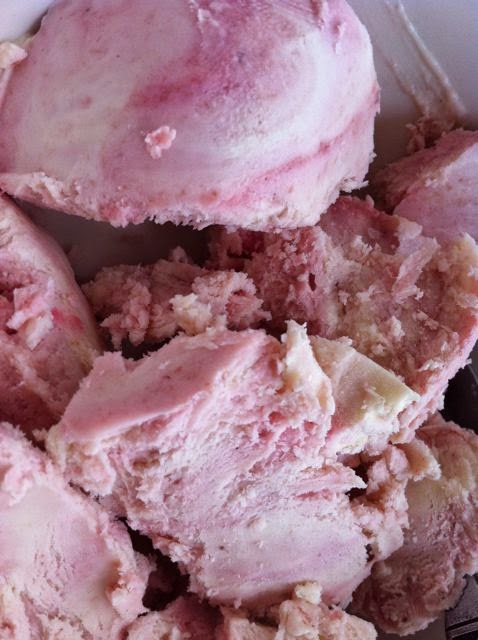 Here is another recipe I've been meaning to write up for a very long time. Our redcurrants aren't quite ready to make this ice-cream yet – assuming the birds don't get there before us! But we do still have some left in the freezer from last year – amazing isn't it?
This no-churn ice-cream is so simple to make it has become a firm favourite and I've made several different versions so far. Do have a look at my other ice-cream recipes. This one was sweet, smooth and creamy with lovely bursts of tartness coming through from the fruit. Strangely, it tasted more like raspberries than redcurrants.
I am entering this into BSFIC over at Kavey Eats as the theme this month is fruit. This is a super challenge which seems to inspire some fabulous creations. I keep meaning to enter and very rarely manage it, so I'm pleased to be able to do so this time.
Redcurrant Ripple and White Chocolate Ice Cream
2015-05-30 19:26:08
An easy to make no-churn ice cream using summer redcurrants, although any tart fruit could be used instead.
Ingredients
250g redcurrants – stalks removed
1 tsp vanilla extract
50g white chocolate (I use G&B)
200ml condensed milk
600ml double cream
Instructions
Simmer the red currants in 1 tbsp water until soft then push through a sieve to create a smooth puree. Mix in the vanilla extract.
Melt the chocolate in a bowl over hot water. Mix in 100ml of the condensed milk until smooth.
Whip the double cream until peaks form. Add the remaining 100ml condensed milk and whip again.
Stir in the white chocolate mixture.
Fold in the fruit puree to create a ripple effect.
Pour into a 1 litre container, cover and freeze
Tin and Thyme https://tinandthyme.uk/