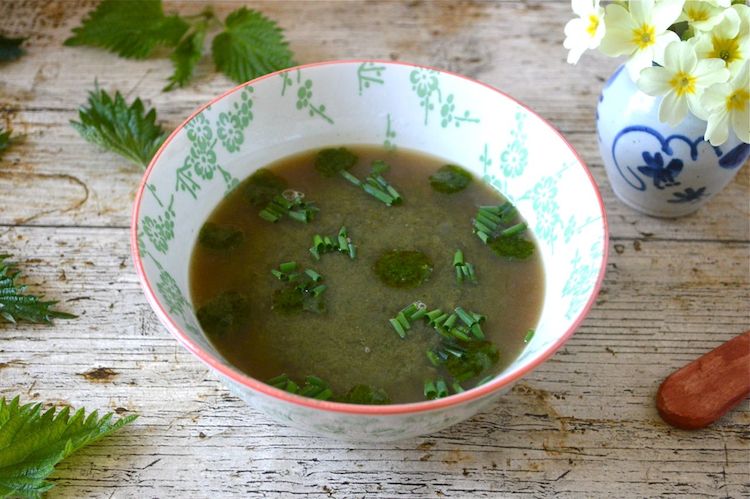 When spring finally emerges, I like to banish lethargy and listlessness and that's when I start to crave the vitalising, cleansing effect of nettles. I normally have my first bowl of nettle soup in March, but I was a bit late in foraging any from our plot this year. When the day dawned bright and fair on Sunday morning, I was determined to go nettle picking – and I did.
Love them or hate them, Brussels sprouts are an integral part of Christmas. So why not give your Christmas dish a spicy twist? These stir-fried Brussels sprouts with leeks, ginger, garlic and chilli will liven up the event.  They're quick to cook and unlike boiling, stir-frying makes the sulphury compounds of the sprouts less obvious.
An easy vegetarian savoury pudding flavoured with leeks and cheese which is just as good (if not better) than its sweet counterpart. If you've not tried this cheese and leek bread pudding recipe from Cranks, you're definitely missing out.
Caramelised onions, leeks and wet garlic give a lovely sweet taste to this delicious three allium courgette tart. The chilli paste gives a gently smokey flavour, the chocolate adds depth and the cheese adds a salty creaminess.
Welsh Pancakes, aka crempogau, are delicious in their own right. Here they're served with a savoury leek & mushroom chocolate sauce. But you can just as well drizzle them with maple syrup, a sweet chocolate sauce or fruit curd instead.
The party season is now in full swing and although I rarely buy ready made pastry, these  Gourmet Pidy pastry cases make excellent party fare for a time strapped host. Time and thought can go into creating delicious fillings without worrying about making the pastry and then having to shape it suitably. Pidy are a Belgium company that has been making their award winning pastry cases since 1952. They provide a range of interesting pastry forms, but have only recently launched into the home cook's market. Their products are available via Amazon, delis, farm shops and other independent retailers.