Last week I cooked up a Middle Eastern feast. I've already posted about the green veggie meatballs with tomato sauce. Now I bring you the recipe for brown basmati rice pilaf with currants, barberries and almonds.
Middle Eastern food is probably my favourite cuisine, though I also love Asian food, Italian and many British classics. I think it must be in my genes. However, I rarely make rice pilaf. I've no idea why as it's easy to make and creates a celebratory air to a meal. I'm so glad I pushed the boat out a little this time. It complimented the tomato sauce and green veggie balls wonderfully.
I received the main ingredients to make this brown basmati rice pilaf in my last Suma order. Just in case you don't know, Suma is a long established whole food worker's co-operative which supplies both shops and individuals with all sorts of healthy and organic foods as well as their own branded products. They're an organisation I've long admired and I'm delighted to work with them as part of the Suma Blogger's Network.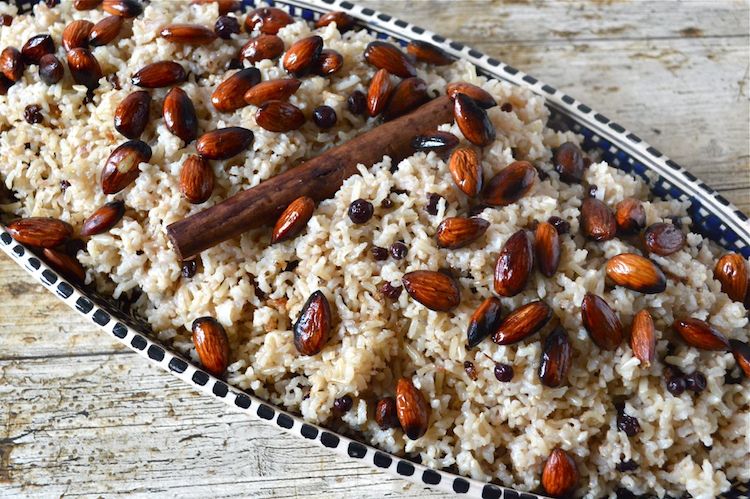 Brown basmati rice pilaf is simple to make and quick to put together. Having said that, rice always benefits from pre-soaking, so a little planning, whilst not necessary, is useful. If you like fluffy rice which doesn't clump together, this is a good way to prepare it. You may want to be a bit more careful with the nuts than I was though and not burn them – oops! The cinnamon and cardamom give a mild but welcome spicy note. The currants provide bursts of sweetness whereas the barberries offset this with a tangy sourness. The nuts are crunchy and delicious, even if a little charred. All in all, this is a delicious way of serving rice and well worth making to accompany many Middle Eastern dishes. Fit for an Oriental potentate, quipped CT. I don't know if he was imagining his harem favourite spooning this into his mouth, but he seemed to enjoy it.
Brown Basmati Rice Pilaf with Currents, Barberries and Almonds
A luscious lightly spiced fruity rice pilaf with fried almonds. A fantastic addition to any Middle Eastern feast.
Ingredients
2

tbsp

sesame seed oil

1

stick cinnamon

8

cardamom pods

50

g

currants

25

g

dried barberries

240

g

brown basmati rice

750

ml

hot water

1/2

tsp

sea salt

75

g

whole almonds
Instructions
Soak the rice in warm water for at least 2 hours before cooking. Wash and drain well.

Heat 1 tbsp of the oil in a large pan.

Throw in the cinnamon and cardamom pods and fry for a couple of minutes or until you can smell the spices.

Add the currants and barberries. Stir and allow to sizzle for a minute or so.

Stir in the rice until all the grains are well coated in oil.

Add the water and salt and bring to the boil. Cover the pan, reduce the heat to lowest setting and cook for 20 minutes. Turn the heat off and leave covered for ten minutes to continue steaming.

Meanwhile, heat the remaining oil in a small frying pan. Add the nuts and fry them over a moderate heat for 5 minutes or so. Keep stirring and be careful not to let them burn.

Fluff up the rice with a fork. Turn out into a serving dish and top with the almonds.
Notes
Soaking rice aids digestion and helps to reduce cooking time. If you don't have time to soak the rice, you will need a little more water and a further 5-10 minutes cooking time. Warn diners that there are cardamom pods to look out for.
This brown basmati rice pilaf with currents, barberries and almonds is my eighth recipe for the Suma Blogger' Network.
Other rice recipes you might like
Brown Basmati Rice Pilaf – Pin It!
Some of the ingredients for this recipe were provided by Suma. I was not expected to write a positive review and all opinions are, as always, my own. Thanks to my readers for supporting the brands and organisations that help to keep Tin and Thyme blythe and blogging.