Light and crunchy brown sugar aquafaba meringues are a complete delight. Eat on their own, top them with whipped coconut cream and berries, add to an Eton Mess style dessert or crumble over ice cream. They're a vegan dream.
If you've not tried making aquafaba meringues before I urge you to give them a try. They're a revelation. If you have made them before, why not try my brown sugar version?
What is Aquafaba?
Aquafaba is the water that chickpeas, beans and other pulses are cooked in. The clue's in the name: aqua means water in latin and faba mean bean. It's really useful stuff so it's a shame to throw it away. Just drain it from a tin of pulses or reserve the water from your own cooked ones.
Egg Substitute
You can use it as a general egg substitute in vegan baking and it's meant to make a good vegan mayonnaise too. I haven't tried it though. Now I've perfected my own super quick and easy recipe for vegan mayonnaise, I'm reluctant to move on.
In recipes that use one egg, substitute three tablespoons (45 ml) aquafaba. For an egg white, use two tablespoons (30 ml).
If you want to use aquafaba for baking, it's best to use unsalted water. Not only is the salted water salty, but it generally has a more powerful flavour that you don't really want in your bakes. For these brown sugar aquafaba meringues, chickpea water is best.
Why Vegans Should Avoid White Sugar
As a whole food blogger, I've only ever used white sugar on rare occasions. But I was really quite shocked to discover recently that white sugar is often refined using animal bones. I suspect I'm not the only person who's completely unaware of this.
The bones are charred and ground up into something called bone char. Bone char is then used to filter sugar to make it whiter.
This seems to be more of an issue in the US than it does here in the UK. Icing sugar is the main culprit here. If you want to avoid bone char sugars, however, it's best to avoid any pure white sugars. You'll be safe with certified organic sugars, muscovado sugar and anything from Billingtons.
Brown Sugar Aquafaba Meringues
I've heard that white sugar is the most reliable sugar to use when it comes to making meringues. But for the reasons given above, I've never tried it. I've used golden caster sugar, but these brown sugar aquafaba meringues are my favourite. They have a lovely caramel flavour and a good tan colour – well it is summer.
I use the aquafaba from one 400g tin of chickpeas, which usually comes out at around 180ml. But you may need to adjust quantities depending on how much you have available.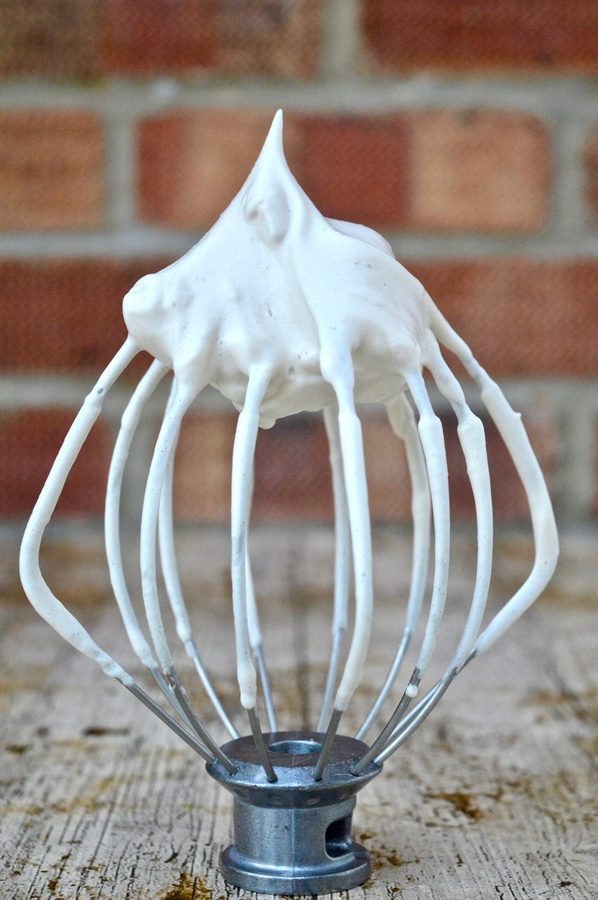 If you have a stand mixer, you'll find making these brown sugar aquafaba meringues a complete breeze. The machine will do all the work for you. I wouldn't recommend whisking by hand for this recipe though, as you'd need to be incredibly fit. This is because it takes ten minutes at high speed in a stand mixer to achieve a good stiff meringue.

For a rustic look dollop heaped tablespoonfuls of the raw meringue onto the baking tray. If you're after something a bit fancier, you'll need to get the piping bag out.

Some people say you can't taste the difference between vegan meringues and ordinary ones, but that's not the case in my experience. They do have a certain beany flavour, but you quickly get used to it. They're still light, crisp and delicious.
Brown Sugar Aquafaba Meringues – Top Tips
It's taken me a while to master aquafaba meringues. They are more fragile and temperamental to make than egg white meringues. I've had no problems whipping up the aquafaba into stiff peaks. I've even held the bowl over my head to make sure the mixture is stiff enough. But when the meringues started to cook, they collapsed and I was left with a sticky unusable goo.

So here are my top tips on how to make successful brown sugar aquafaba meringues.
Whisking Aquafaba Meringue
Chickpea water works best. Make sure your chickpeas are from a tin of unsalted water.
Use an electric mixer. If you have a stand mixer, so much the better as it takes about ten minutes to whisk to stiff peaks.
Make sure your bowl is clean. Grease can kill a meringue.
Whisk the aquafaba with a little cream of tartar to stabilise it.
Use a soft light brown sugar such as light brown muscovado not a dark or lumpy one.
Once the aquafaba starts to form peaks, add the sugar gradually, one spoonful at a time. Allow the sugar to get fully incorporated before you add the next spoonful.
Unlike egg whites, you can't over whip aquafaba meringue, so just keep going until you're satisfied you have stiff peaks that hold their shape. You should be able to turn the bowl upside down without the meringue sliding out.
Baking Aquafaba Meringue
Make sure you use baking parchment paper to line your baking trays. DON'T use silicone mats. I'm not a scientist, but I assume it's to do with the insulation. They're just too thick and cause the meringues to deflate. They were my downfall when I first tried to make aquafaba meringues.
Either spoon the meringues onto the baking tray for a rustic look, or pipe them on if you prefer something a bit more uniform.
Place the meringues well apart on the tray as the mixture will spread. This is a case of do as I say, not as I do. I have a terrible tendency to try and cram as many onto the tray as I can. As you can see from the photos, the result is a bit of a mess.
Use a low oven temperature and bake for at least one and three quarter hours without opening the door. I've found the best meringues are those I bake in the centre of the oven. If they're on the top shelf, they go a darker brown. Still delicious, but just not quite as good. At the bottom of the oven, they need longer to cook.
Before turning the oven off, test one by peeling it off the paper and gently tapping the bottom. If it's crisp, it's good to go.
Turn the oven off, but leave the meringues inside with the door slightly ajar until the oven is cold. This allows them to dry off a bit more.
Once cool, either eat straight away or store in an airtight tin for up to 48 hours. If you leave them exposed to the air for long, they will soften.
Keep in Touch
Thanks for visiting Tin and Thyme. If you make these vegan brown sugar aquafaba meringues, I'd love to hear about it in the comments below. Do share photos on social media too and use the hashtag #tinandthyme, so I can spot them.
For more delicious and nutritious recipes follow me on Twitter, Facebook, Instagram or Pinterest. And don't forget to SUBSCRIBE to my weekly newsletter.
If you'd like more vegan recipes, follow the link and you'll find I have quite a lot of them. All delicious, of course.
Choclette x
Brown Sugar Aquafaba Meringues. PIN IT.

Brown Sugar Aquafaba Meringues – The Recipe
Vegan Brown Sugar Meringues
Light and crunchy brown sugar aquafaba meringues are a complete delight. Eat on their own, top them with whipped coconut cream and berries, add to an Eton Mess style dessert or crumble over ice cream. They're a vegan dream.
Ingredients
180

ml

(6 fl oz or ¾ cup) aquafaba from an unsalted tin of chickpeas

½

tsp

cream of tartar

100

g

(3 ½ oz or ½ cup) soft light brown sugar (I use light brown muscovado)
Instructions
Tip the aquafaba into a bowl or the bowl of your stand mixer. Make sure it's clean. Add the cream of tartar.

Start on low speed and whisk until the aquafaba is foamy, then gradually increase the speed to high and whisk until soft peeks form.

Whilst the mixer continues to whip at high speed, add a spoonful of sugar at a time. Make sure it's well mixed before adding the next one.

Continue to whisk until the meringue is stiff and glossy. You should be able to turn the bowl upside down whilst the meringue stays put. It usually takes about ten minutes of continual whisking.

Set your oven to 100℃ (212℉, Gas ¼).

Scoop heaped tablespoons of the meringue onto baking trays lined with parchment baking paper. Allow room for spreading.

Place in the centre of the oven and leave for at least

1 ¾ hours

before opening the door. They usually take two hours, but I like to test mine just in case any are getting too dark.

If the meringues are firm and crispy all over, they're done. If not, continue to bake for a further fifteen minutes. Then test again.

Once you're happy they're done, turn the oven off, but leave the meringues inside to dry and cool. Keep the oven door slightly ajar to allow any steam to escape.

Once the oven and meringues are cold, serve immediately or store in an air tight tin.
Notes
They should last for 2-3 days if stored in a cool place in an air tight tin.
Please note: calories and other nutritional information are per serving. They're approximate and will depend on exact ingredients used.
Nutrition
Calories:
15
kcal
|
Carbohydrates:
4
g
|
Protein:
1
g
|
Fat:
1
g
|
Sodium:
1
mg
|
Potassium:
15
mg
|
Sugar:
4
g
|
Calcium:
8
mg
|
Iron:
1
mg
Tried this recipe?
Please take a photo and mention @choclette8 or tag #tinandthyme on Instagram, Twitter or Facebook.
Sharing
I'm sharing this recipe for vegan brown sugar aquafaba meringues with Recipes Made Easy for #CookBlogShare.