Soft on the inside and crunchy on the outside, these biscuits come cookies taste beautifully zesty. The sweet but zingy white chocolate drizzle makes a lovely contrast to these old-fashioned jumbles.
These jumbles with a white chocolate lemon drizzle came about serendipitously. I often borrow cookbooks from my local library; it's a great way to properly peruse new (or old) titles without having to buy them. I have limited space in the house and really need to justify buying new books. Sometimes, of course, I just can't help myself.
Paul Hollywood's British Baking was a recent book that made its way onto my bedside table, courtesy of Liskeard library.
To my great joy, one of the recipes in the book was for jumbles, a biscuit which according to Paul was a great favourite of Richard III. For this reason they are sometimes called Bosworth jumbles.
I've long wondered about these biscuits. I first read about them in What Katy Did at School, oh so many years ago. I don't know if New England jumbles are the same as our Bosworth ones, but I was willing to give them the benefit of the doubt.
Spanish Citrus
It just so happened that I'd recently been sent a large box of Spanish citrus from 3p Fruits. What a joy to have such a cheery and fragrant bundle in the house: nine kilos of pink grapefruit, large juicy oranges and bright yellow zesty lemons – all of them are organic. If I'm using the zest or peel in any way, I like my citrus to be organic. That way, you can guarantee that the skins are unwaxed and contain no nasty chemicals.

The box arrived with the fruit in perfect condition and also included a jar of honey and some blanched almonds which I'd requested. More of these in my next post.
The grapefruit were really juicy with a mix of sweet aromatic citrus and bitter undertones. I made this grapefruit and honey almond cake with some of them.
As for the oranges, they were sweet, both in taste and scent, but had enough sharpness to give a good flavour. The lemons were also particularly juicy. I passed a few on to friends and family who were delighted with them.
You can buy fruit, vegetables, olive oil, almonds and a number of other products from 3pFruits and they will be delivered from their farm in Spain in just a few days.
As well as these lemon cookies, I've also made lemon curd and Twelfth Night lemon marzipan cakes.
Old-Fashioned British Jumbles
Paul suggests drizzling lemon icing over the jumbles. I decided to make a lemony white chocolate to drizzle over mine instead. I also upped the quantities a little as I thought ten, just weren't quite enough; they were destined for CTs mother after all.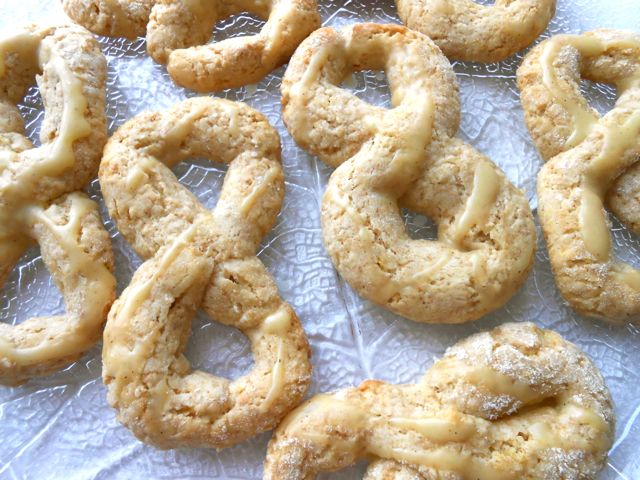 The biscuits are deliciously zesty and combine well with the sharp but creamy icing. The lemon and white chocolate combination is a revelation and I shall be using this again and again. Freshly ground almonds make such a difference; they give flavour as well as texture with a slight crunch from the bits that don't quite get ground up.
I'm very happy with my jumbles and they sort of taste like I imagined they might. Perhaps if Richard had been fortified with jumbles that morning, the Battle of Bosworth might have turned out differently.
Do look out for the rather special citrus recipe I shall be posting on Valentine's Day.
Keep in Touch
Thanks for visiting Tin and Thyme. If you make these lemon jumbles, I'd love to hear about it in the comments below. And do please rate the recipe. Have you any top tips? Do share photos on social media too and use the hashtag #tinandthyme, so I can spot them.
For more delicious and nutritious recipes follow me on Twitter, Facebook, Instagram or Pinterest. And don't forget to SUBSCRIBE to my weekly newsletter.
If you'd like more biscuit recipes, follow the link and you'll find I have quite a lot of them. All delicious, of course.
Choclette x
Lemon Jumbles. PIN IT.

Jumbles with White Chocolate Lemon Drizzle
Jumbles with a White Chocolate Lemon Drizzle
Soft on the inside and crunchy on the outside, these biscuits taste beautifully zesty. The sweet but sharp chocolate drizzle makes for a lovely contrast.
Ingredients
60

g

wholemeal spelt

60

g

white spelt

½

tsp

baking powder

70

g

golden caster sugar

(I used cardamom sugar)

30

g

freshly ground almonds

1

organic lemon.

30

g

unsalted butter – fridge cold

40

ml

milk
White Chocolate Drizzle
25

g

white chocolate

(I used Green & Black's)

1

tbsp

lemon juice
Instructions
Place the dry ingredients into a large bowl.

Grate in zest from the lemon.

Cut butter into pieces and rub it into the flour mixture until it resembles breadcrumbs.

Add enough milk to form into a soft dough.

Cover the dough and leave in the fridge or other cold place to firm up for an hour.

Divide the dough into 12 pieces and roll each one into a stick shape just under a cm thick.

Form into figures of eight and place on a baking tray.

Bake for 12 minutes at 180℃ (160° fan, 350℉, Gas 4) until lightly golden, then place on wire rack to cool.

Melt the chocolate in a bowl placed over hot water with 1 tbsp lemon juice.

Remove from the heat and stir until smooth.

Drizzle over the jumbles.
Notes
Adapted from Paul Hollywood's British Baking.
Please note: calories and other nutritional information are per serving. They're approximate and will depend on serving size and exact ingredients used.
Nutrition
Calories:
111
kcal
|
Carbohydrates:
16
g
|
Protein:
2
g
|
Fat:
4
g
|
Saturated Fat:
2
g
|
Cholesterol:
6
mg
|
Sodium:
4
mg
|
Potassium:
40
mg
|
Fiber:
2
g
|
Sugar:
8
g
|
Vitamin A:
68
IU
|
Vitamin C:
5
mg
|
Calcium:
23
mg
|
Iron:
1
mg
Tried this recipe?
Please take a photo and mention @choclette8 or tag #tinandthyme on Instagram, Twitter or Facebook.
Sharing
The theme of this month's Biscuit Barrel is loved ones. Well I made these for CT's mother for a recent visit. As it happened most of them were polished off by a dear friend and CT. Either way, they were made with love for loved ones. This challenge is hosted by Alexandra of The Lass in the Apron on behalf of Laura of I'd Much Rather Bake Than ….
In a similar vein of making something for loved ones, I am entering these into Treat Petite with The Baking Explorer and CakeyBoi where Love is in the Air.
Being as jumbles was the first recipe I bookmarked from Paul's book British Baking and the only one I got around to making, I am sending this off to Jac over at Tinned Tomatoes for Bookmarked Recipes.
NB October 2016 – These Bosworth jumbles could be tied into a knot as they were on the recent Tudor episode of The Great British Bake Off, but a figure of eight is a lot simpler to achieve.
Thanks to 3p Fruits for the citrus and almonds. I was not required to write a positive review and as always, all opinions are my own. Thanks also to my readers for supporting brands I work with helps keep Tin and Thyme blithe and blogging.