As some of you will know, smoothies are a regular breakfast item in the Tin and Thyme household. They are a tasty way of packing in a lot of healthy nutrients and generally keep us going for hours. It was not until I had a conversation with some fellow food bloggers yesterday, however, that I heard about the smoothie bowl. As soon as the concept was explained, I realised that smoothies in a bowl were quite a different thing to smoothies in a glass.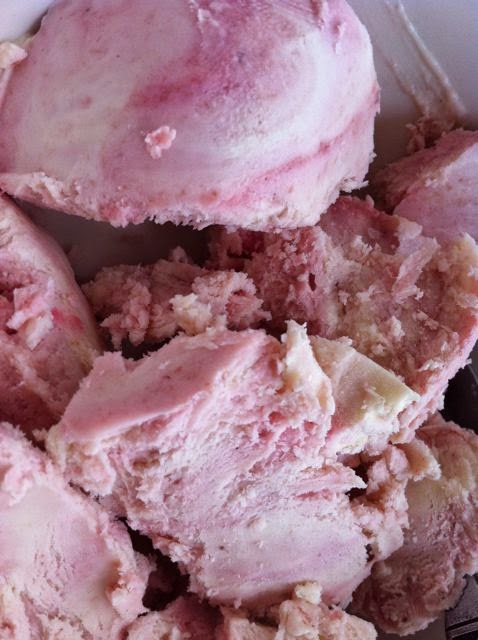 When the sun is shining and the day is warm, there's nothing quite like a scoop or two of delicious ice-cream. This homemade redcurrant ripple ice-cream is easy to make and the good news is, there's no need to churn it. So if you don't have an ice-cream maker, you can still make no fuss ice-cream.

After the indulgence of saturday's Yule log, it was time to knuckle down and make a few presents. In preparation, I'd earlier bought some single cupcake boxes to add to the bags and baskets of various goodies that I've made (not quite as many as I'd originally planned, but at least I have something of a selection – medlar jelly, cranberry, walnut and white chocolate cookies (will be posting this one for Sweet & Simple Bakes on 1 January) and most importantly for this recipe, redcurrant vodka. How could I let all those booze soaked redcurrants go to waste? I couldn't of course, so – stroke of genius – I decided to use them in the cupcakes.
This is what I did:
Creamed 125g unsalted butter with 125g dark brown sugar until pale.
Beat in 3 smallish eggs (would have used 2 duck eggs, but didn't have any).
Sieve in 125g sieved flour (1/2 wholemeal spelt and 1/2 white spelt), 1 tsp baking powder, 1 heaped tbsp cocoa and 1 tsp mixed spice.
Then stirred in 6 large tbsp of redcurrants marinaded in vodka & sugar for 3 months then drained (alternatively you could use 100g raisins soaked overnight in brandy).
Divided mixture between 12 cupcake cases and baked in a preheated oven at 180C (gas 4) for 22 mins.
Left to cool whilst made the topping.
Melted 100g 70% dark chocolate in a bowl over simmering water.
Creamed 100g butter with 50g icing sugar.
Mixed in slightly cooled chocolate and spread on top of the cupcakes.
Decorated with cranberries and chocolate snowflakes.
We managed to nab one of these each. Luckily, the consensus was favourable. They were a little reminiscent of a Christmas pudding, both in texture and taste: nice and fruity with a bit of alcohol to warm the cockles. They may have been slightly seedy, but that is only to be expected of currants. All in all, I was well pleased with my Christmas cupcakes.
Thank you to all the good folk who have visited my blog this year with special thanks to those that leave such kind and supportive comments. These are always much appreciated. I wish you all a Very Merry Christmas.