Breakfast should be fit for a king, they say. For me, breakfast would be my favourite meal of the day if I had the time to make and enjoy it properly. The wonderful leisurely breakfasts we recently enjoyed whilst on holiday on the Scilly Isles, set us up for the day and were, quite frankly, one of the highlights of the whole trip. Normally, I'm dashing down the road with a piece of toast in my hand, rushing for the train. Admittedly, the toast is from my own homemade sourdough, but it would be nice to have the time to enjoy it sitting down and not on the hoof.
To affirm my love of breakfast, I'm very pleased to be hosting Breakfast Club this month. Breakfast club is the very sound inspiration from Helen of Fuss Free Flavours. I haven't participated more than a couple of times so far, as there is a limit to just how much chocolate you can eat for breakfast, but I'm pleased to be doing so now. The theme is of course chocolate!
I have asked for chocolate inspired breakfasts once before, way back in the early days of my blog. So it feels like the time is right to revisit. I look forward to your chocolatey creations.
At this time of year, the humble oat makes a welcome comeback and porridge is our breakfast of choice at the weekend, err, sometimes adorned with a dollop of Cornish clotted cream. The following recipe for Chocolate Oatmeal Porridge was one I developed for a recent oatmeal competition. Sadly I didn't win, but I certainly enjoyed eating the porridge anyway.
Here goes:
This makes for an indulgent, but healthy, winter weekend breakfast for two. It's delicious, but not too sweet and with the nutritious oats and anitoxidents in the chocolate, it actually makes for a healthy and sustaining breakfast.
1/2 pt milk
1/2 pt water
50g fine oatmeal
1/4 tsp ground cinnamon (optional)
1 tsp honey
50g 70% dark chocolate – broken into pieces.
swirl of yogurt or cream (optional)
Bring the milk and water to boiling point in a medium sized saucepan. Slowly whisk in the oatmeal. Turn the heat down to the lowest setting & continue to whisk for a few minutes. Add cinnamon and whisk until fully incorporated. Cover and leave to cook for 15 minutes, whisking every 4 minutes or so. This bit is important to stop the porridge sticking and to give it a nice creamy consistency. Turn off the heat and add the honey and chocolate. Give it a final whisk and pour into two bowls. Add a swirl of yogurt or cream if desired.
To take part, make a breakfast which includes chocolate in some way, shape or form and post it.
Mention Breakfast Club and use the logo.
Link to the Breakfast Club page and to this one.
You are welcome to send in old recipes, but please add the information above and republish.
Entries can be sent to other events, but please respect their rules.
If you tweet please use #blogbreakfastclub.
If you do not have a blog, send a photo and details to me – choclette8 AT gmail.com
All breakfast clubs are also blog hops, so do feel free to grab the code and add to your page.
Entries to be in by midnight on 25th November please.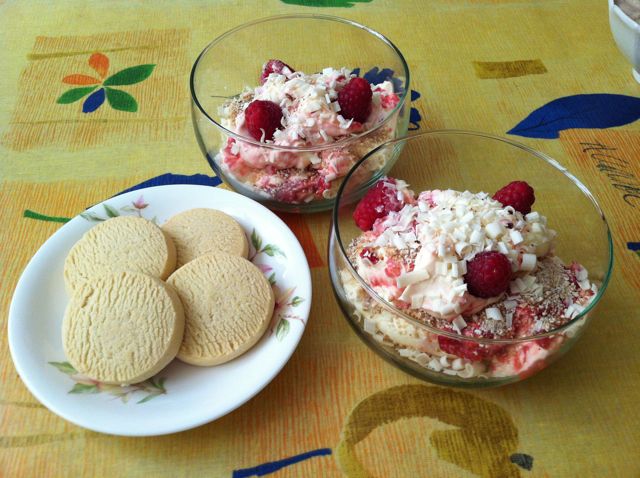 I know Janice of Farmersgirl Kitchen started us off with a very mastercheffy interpretation of cranachan which there is no way I am attempting to compete with. But even before I'd seen her entry, it was my first thought when I knew the next Best of British challenge was going to be Scotland. It's been on my list of things to make for years AND I wasn't going to miss this opportunity to give it a whirl. For the uninitiated cranachan is a traditional Scottish celebration dish consisting of oatmeal, whipped cream, honey & whisky and sometimes raspberries.
After Cornwall, Scotland is my second love. Many a family holiday has been spent there over the years. One of my aunts lived in Stirling and we would make the long journey up from Cornwall to stay with her at least twice a year. The Castle, Bridge of Allan, Wallace Monument and nearby hills are not something I'm ever likely to forget. She later moved to Edinburgh which was already full of family stories from my mother having been a student nurse there. Edinburgh is my favourite city anywhere, I just love the way there is a great big mountain stuck right in the middle of it. King Arthur's seat is the core of an ancient volcano. We also had family in Fort William for a while and spent hours walking the surrounding hills, although I only got to climb Ben Nevis once. It's the kind of wild remote beauty that I seem to crave.
Anyway, this is rather a rambling way of saying that I wasn't going to miss this Scottish challenge!
Sadly my raspberries weren't Scottish and I can't claim that they swam down the West Coast to Cornwall as Janice did with her mackerel, but it is my version of a Scottish classic and I did use a good Scottish malt whisky.
This is how I did it:
Toasted 40g oatmeal for a few minutes until lightly browned but not burnt.
Roughly crushed 200g raspberries, leaving a few whole for decoration.
Whipped 300g double cream and 100g Greek yogurt until peaks just starting to form.
Added 2 tbsp Cornish runny honey and 2 tbsp malt whisky and whisked a little bit more, until firm but still soft.
Swirled the raspberries through the cream.
Shaved about 40g of white chocolate with a vegetable peeler.
Spooned some of the raspberry cream into four glass bowls. Scattered on some oatmeal then added a final layer of raspberry cream. Scattered over the remaining oatmeal.
Finished with the whole raspberries and chocolate shavings.
Served with Highland shortbread.