Chocolate porridge is an indulgent, but healthy, winter weekend breakfast for two. It's delicious, but not too sweet and with the nutritious oatmeal and anitoxidents in the chocolate, it actually makes for a healthy and sustaining breakfast.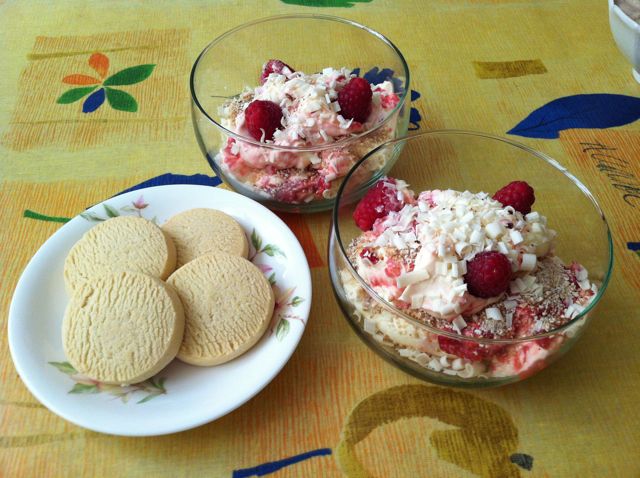 I know Janice of Farmersgirl Kitchen started us off with a very mastercheffy interpretation of cranachan which there is no way I am attempting to compete with. But even before I'd seen her entry, it was my first thought when I knew the next Best of British challenge was going to be Scotland. It's been on my list of things to make for years AND I wasn't going to miss this opportunity to give it a whirl. For the uninitiated cranachan is a traditional Scottish celebration dish consisting of oatmeal, whipped cream, honey & whisky and sometimes raspberries.
After Cornwall, Scotland is my second love. Many a family holiday has been spent there over the years. One of my aunts lived in Stirling and we would make the long journey up from Cornwall to stay with her at least twice a year. The Castle, Bridge of Allan, Wallace Monument and nearby hills are not something I'm ever likely to forget. She later moved to Edinburgh which was already full of family stories from my mother having been a student nurse there. Edinburgh is my favourite city anywhere, I just love the way there is a great big mountain stuck right in the middle of it. King Arthur's seat is the core of an ancient volcano. We also had family in Fort William for a while and spent hours walking the surrounding hills, although I only got to climb Ben Nevis once. It's the kind of wild remote beauty that I seem to crave.
Anyway, this is rather a rambling way of saying that I wasn't going to miss this Scottish challenge!
Sadly my raspberries weren't Scottish and I can't claim that they swam down the West Coast to Cornwall as Janice did with her mackerel, but it is my version of a Scottish classic and I did use a good Scottish malt whisky.
This is how I did it:
Toasted 40g oatmeal for a few minutes until lightly browned but not burnt.
Roughly crushed 200g raspberries, leaving a few whole for decoration.
Whipped 300g double cream and 100g Greek yogurt until peaks just starting to form.
Added 2 tbsp Cornish runny honey and 2 tbsp malt whisky and whisked a little bit more, until firm but still soft.
Swirled the raspberries through the cream.
Shaved about 40g of white chocolate with a vegetable peeler.
Spooned some of the raspberry cream into four glass bowls. Scattered on some oatmeal then added a final layer of raspberry cream. Scattered over the remaining oatmeal.
Finished with the whole raspberries and chocolate shavings.
Served with Highland shortbread.