Trying out new foods and products is one of the joys of being a food blogger. Food Bites is an occasional series showcasing some of the edible offerings that have landed on the kitchen counter at Tin and Thyme recently. This month it's mostly about liquids: alternatives to meals as we know them, condiments, dessert wine and then wrapping up with a few sweet treats.
Huel
Huel has been in the press quite a lot recently and is the subject of much controversy. Is powdered food that you just add water to really the future? As an open minded sceptic, it was certainly worth a try.
Even before opening the packet a wave of vanilla hits the senses and makes the rather undistinguished looking powder seem instantly more appetising. The instructions were to just add water and use a blender, shaker or whisk to mix to a smooth consistency, so I bunged it in my Optiumum 9200 Next Generation blender.
I heard the discussion with founder Julian Hearn on Radio 4's You and Yours a few weeks ago and found it interesting, but I was sceptical. So now I've tried it, what is my verdict? Both CT and I really liked it. It has a pleasant oaty flavour which reminds me of Ready Brek, a childhood treat I only ever experienced away from home; it wasn't wholesome enough for our household. It also has a roasted nutty wholesome quality about it. One slight downside is that Huel is sweetened with sucralose, a calorie free sweetener derived from sucrose. As a result, I find Huel a little too sweet for me and it leaves a slightly peculiar aftertaste.
But as a permeant replacement to food as we know it? I'm not so sure. Food is so much more than just fuelling our bodies and I'm also not convinced that we would obtain all the nutrients we currently get from a varied diet. However, as an occasional fill-in for a meal when time is short, I can see nothing wrong with it.
Huel is marketed as a complete food, it contains no dairy, soy, nuts or animal products and is made up of 30% protein, 40% carbohydrates and %30% fats. The main ingredients are oats, peas, brown rice, sunflower seeds, flaxseed and coconut. You can find out much more about Huel on their website. One week's supply costs £45.
Potash Farm Sauces
Whilst it's always sad to see summer go, I do love autumn. It's the time of mists, falling leaves, burnished colours and bountiful harvests including one of my favourite nuts, hazelnuts. As well as the wild hazels which grow copiously around here, but whose nuts the squirrels get to before ever I can, there are also the cultivated varieties, cobnuts and filberts. They are known for being particularly nutritious and apparently six cobnuts offer the equivalent iron and protein of ½ lb of red meat. Potash Farm are well known for growing Kentish cobnuts. They don't just grow and harvest them however, they also use some of their harvest to make a variety of creative products. Last year I tried some single origin chocolate bars and Kentish honey, the year before it was chocolate fudge and this year it is red pepper sauces – handmade as always on the farm premises.
The 250ml bottles are available from the Potash farm website and cost £6.95 each or two for £12. However, Tin and Thyme readers can get a 10% discount by using the following code: TANDT2015
Smokey Roasted Pepper Sauce with Kentish Cobnuts
I've not come across nuts in this type of sauce before, so was intrigued to try it. Inspired by the flavours of Morocco, this is made with chillies, sherry vinegar and various other spices as well as the headline smokey roasted peppers and cobnuts. It has a dark rusty red colour which make it a good fit for autumn; it's not only the colour however, the smokey notes are warming and make me think of bonfires. It's slightly sweet, spicy with a bit of a chilli kick and surprisingly, the flavour of hazelnuts really comes through. They provided a bit of added texture as well as flavour and the consistency is definitely sauce rather than ketchup; care is needed when pouring from the bottle. I got rather more than I bargained for with my first attempt. It's a very tasty and unusual sauce and I found it goes particularly well with eggs. Drizzled over a fresh herb omelette made for a most satisfying lunch, as you can see from the picture at the top of the post.
Thai Chilli Sauce with Kentish Cobnuts
As you'd expect with a Thai sauce, this had more than just a kick. It's simpler than the roasted pepper sauce in terms of ingredients, but also much punchier. Flavoured with limes, ginger, garlic, soya sauce and cider vinegar as well as chillies of course, the cobnut flavour was less pronounced. It's a brighter red than the pepper sauce, but also fits in with classic autumnal colours. It makes for a good dipping sauce, but as it's quite sweet, I found it goes really well with tomatoes. I made a quick chilli tomato chutney by frying up some spring onions, garlic and herbs with tomatoes and adding a dash of this sauce. It was delicious and made a nice accompaniment to the omelette in the top photo.
Skylark Farm Vinegars
From one farm to another. Skylark Farm is a smallholding based in Suffolk. As well as looking after a herd of goats and flock of chickens, they also produce a number of hand crafted items including some rather special flavoured vinegars from their Fancy Pantry.
On checking the website just now, it's unclear quite what is going on with availability of these vinegars, so I do apologise if you are now desperate to get hold of them.
Choc What! Chocolate Vinegar
Made with organic cocoa powder, sugar and a combination of malt and white wine vinegars, this is fantastic drizzled over ice-cream and other desserts and adding to dark gravy like sauces. It worked wonderfully with the strawberry blancmange I made back in July, contrasting nicely with the sweet creaminess of this classic dessert.
Raspberry Vinegar
This not only smells of raspberries, but it tastes of them too. Much like my blackcurrant vinegar, it makes an intriguing salad dressing and is also very good as a refreshing drink when added to water.
Vee Vee Vanilla Vinegar
Infused with real vanilla pods, this slightly sweetened vinegar has a heady aroma. I've been using it in baking recently instead of vanilla extract as it gives the flavour, but also reacts with bicarbonate of soda to give a good rise. These retro apricot vanilla buns were one such bake.
Lime, Chilli & Coriander Vinegar
This vinegar also smells delightful. It makes for an excellent salad dressing; the flavours are clean, fresh and zesty. It also has a bit of a chilli after kick to it, which I'm all in favour of.
Tanners Sauternes
Established in 1842, Tanners are a British independent family run wine merchant based in Shrewsbury. They offer a range of good quality wines and have a whole swathe of awards and accolades to their name. With my sweet tooth, I find a good dessert wine hard to resist. So when I was offered the opportunity to pick a wine of my choice to review, it was this bottle of French Sauternes that I went for. The wine is shrouded in mystery; it has an appellation Sauternes controllée, but the Sauvignon and Semillon grapes are grown in a top secret vineyard somewhere in Bordeaux.  It's definitely a sweet wine and quite strong too (13.5%), but with a refreshing fruity flavour; there are notes of raisins and honey. Super taster CT, reckoned it was also rather pruney with an undertow of liquorice.  Either way, it's very nice to drink and I reckon this would work well in supporting one of my fruit puddings – I'm thinking apple crumble. Here's to autumn. Cheers.
A 50cl bottle costs £12.95 and is available at various outlets around the country as well as on the Tanners' website.
Madécasse Toasted Coconut Chocolate
Since I was first introduced to Madécasse earlier this year, it has become one of my favourite chocolate brands. Not only are the Madécasse chocolate bars deeply flavoursome, but the company has an ethical stance that I can relate to.  You can read more about it in my Valentine's Treats post. The milk chocolate has a distinctive smell and taste that reminds me of buttermilk. In fact all of the chocolate I have tried from Madagascar has that certain distinctive note. The bar is deeply flavoursome with a slight buttermilk aroma as well as that of tropical coconut. It tasted just as delicious as I expected – I am a real sucker for coconut chocolate. The coconut here was not a flavouring however, it was the real thing, toasted and scattered across the top.
Madécasse bars are available at Waitrose and retail at £2.99, though I notice they are on offer at the moment at £2.29.
Kallo Milk Chocolate Corn Cakes
Milk chocolate (27%), corn, sea salt
I've been a regular consumer of Kallo's rice cakes for years, but had no idea they had branched out into chocolate covered ones nor that quinoa cakes and corn cakes were also in their repertoire. As it happens, I was a little bit dubious about tasting these as I wasn't sure that puffed corn and chocolate sounded like a good combination. How wrong I was. The corn, strangely did not have either the taste or the texture of popcorn, which was what I was expecting. Don't get me wrong, I like popcorn, but this tasted more like a childhood cereal, puffed wheat, only better cos they got chocolate on 'em, innit?  The cakes were delightfully crunchy, without having any of the hard bits often found in popcorn – I took a filling out with some last year.
The layer of sweet milk chocolate on top is a perfect foil for the slightly salted corn and is a match that could become rather addictive. The cocoa content of the chocolate was not high, but it was real chocolate. As regular readers will know, I have a sweet tooth, but don't like thing to be overly sugared. I find much of our British confectionary too sweet, which is a real shame as we are quite innovative in that department. However, these were a perfect balance of sweet, savoury and salty and quite frankly had me reaching for more. One cake will set you back 78 calories and contains 3.4g fat and 4.5g of sugar. So as long as you can stop at one, or maybe two, these are a very nice treat indeed with the added bonus, they are gluten free.
These are now available in Waitrose and Asda and retail at £1.59.
Dobbies Garden Centres Strawberries & Champagne milk chocolate bar
To celebrate their 150th anniversary and to coincide with Wimbledon this year, Dobbies Carden Centres came up with this rather wonderful idea of a celebration Strawberries & Champagne milk chocolate bar. The chocolate is mildly flavoured with strawberries and Champagne, but its piece de resistance was the popping candy which exploded in the mouth giving the illusion of Champagne bubbles. The chocolate has a perfectly acceptable 33.6% cocoa solids and was fun to eat.
It costs £2.29 and is available at Dobbies Garden Centres.
Miss Millar's Marshmallows
As a vegetarian, marshmallows are not something I should really eat, but whilst I would never use gelatine in any of my recipes or buy products containing it, I do find a good marshmallow hard to resist if it's offered to me. These Raspberry Eton Mess Mallows were definitely good ones and totally irresistible. Not only did these clouds of fluffy delight gently flavoured with raspberry taste good and have the perfect mallowy texture, but they looked beautiful too. The ingredient list is short, no additives or preservatives are used and raspberry is not just a flavouring but is the real deal, raspberry purée. These came with a scattering of meringue on top which gave a good contrast in texture. I found, rather naughtily, that they made a wonderful topping for hot chocolate.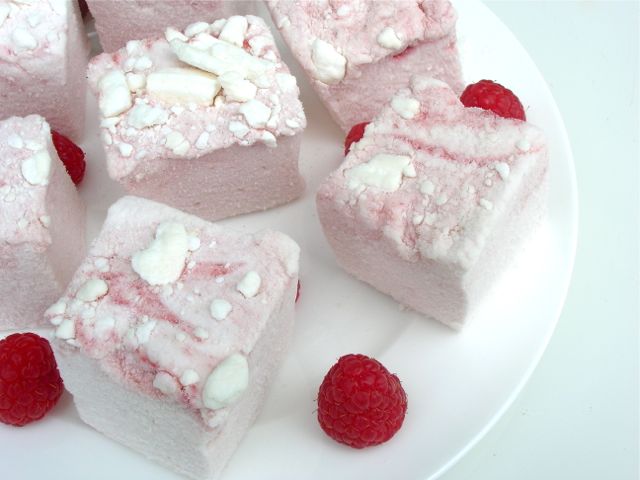 Miss Millar's marvellous marshmallows, as proclaimed on the box, are handcrafted from start to finish. They may not yet be vegetarian, but a vegan version is being worked on and they are gluten free.  They come in 15 different flavours of which I particularly like the sound of: apple blackberry crumble, mango meringue and toasted coconut and lime. A box of 8 large mallows costs £4.50 and is available via the Miss Millar's website.
---
Do take a look at my other reviews and if you are in the food business and would like me to feature your products in a future Food Bites post, please get in touch.
Disclaimer: the Optimum 9200 is an affiliate link. If you buy one through this link, it will not cost you any more, but I will get a small commission.