One of the many fascinating things about food is that there are so many ingredients and combinations in the world. As long as we are able to access them, the adventure never ends. Here are some of the food products that have landed on the kitchen counter at Tin and Thyme recently.

Spices have always played a big part in my cooking life. I was introduced to spicy exotica at a young age by my mother who fell in love with curries when she was living in Edinburgh in her youth. This was followed by a number of Middle Eastern connections which increased the range of spices used by our family. At a time when the British palate was decidedly conservative and most people hadn't even heard of cardamoms, our rural Cornish kitchen had a well stocked spice cupboard.
Spice Kitchen
Luckily the British taste for spices has grown exponentially and it is now possible to get hold of good quality fresh spices with relative ease. Spice Kitchen provide fragrant freshly ground spices via their online shop. The spices are 'sold with love' from Birmingham based mother and son team, Shashi & Sanjay Aggarwal. They source their spices from around the world, then blend, roast and grind them by hand.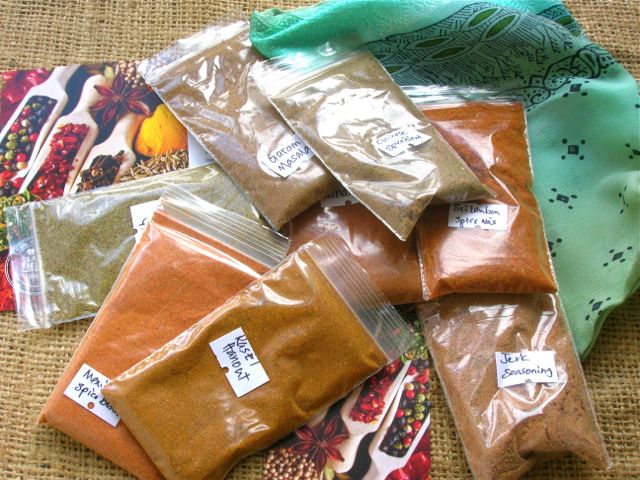 When I received a parcel of spice blends in the post, I could smell them emanating from the parcel before ever I opened it, which took me straight back to living in the Balti heartlands of the Midlands. When I unwrapped it the sweet spicy fragrance leapt out in a way that just doesn't happen with a supermarket spice jar that's probably been hanging around in warehouses for far too long. These mixes were worth having for the olfactory hit alone. The resealable packets came in a silken bag which added an oriental charm. I've made a number of dishes so far including cauliflower rice with jerk sweet potatoes in coconut. When spices are this fresh, a little goes a long way. I only needed a teaspoon of the Mexican Spice Blend for a large stew I made recently. It had no other seasoning, except for salt and it was hot, spicy and delicious.
The eight International Spice Blend Kit retails at £9.95 and consists of the following:
Baharat
Chinese Spice Blend
Garam Masala
Jerk Seasoning
Mexican Spice Blend
Panch Pooran
Ras el Hanout
Sri Lankan Spice Mix
For another take on these spices head to Farmersgirl Kitchen and Foodie Quine.
Stag Seaweed Biscuits
From way up north on Stornoway, Isle of Lewis, come some very tasty, almost addictive savoury biscuits. Seaweed is one of those foods that is seeing a renaissance here in the UK. It is recognised as being good for gut health and high in vitamins and minerals, particularly magnesium, iron, calcium and B vitamins. Surrounded by sea on all sides, this largest island of the Outer Hebrides, has a good supply of both sea salt and seaweed. Stag Bakeries has been a feature of Stornaway life since 1885 and although much bigger now, it is still a family run business which prides itself on artisanal craft and good food. If these biscuits are anything to go by, they are fulfilling their promise. They have a real taste of the sea and just like offerings from that other maritime nation, Japan, there is that delicious umami flavour that enhances all that accompanies it.  The seaweed is a blend of red, green and brown varieties and is sustainably harvested. The biscuits are diminutive, making them ideal for canapés and come in 125g packs of 30. They are now available at Marks and Spencers and retail at £3 a pack.

Oatcakes
CT is a big fan of oatcakes. When he spotted the pack of Seaweed Oatcakes, I was hard pressed to stop him demolishing the contents right away. The seaweed makes these biscuits even tastier than normal, so much so, they are good eaten just as they are. However, I did find they were even better with some cheese and a slice of radish. The trouble is, CT now wants seaweed in all of his oatcakes. Containing no dairy products, these biscuits are suitable for vegans. They do contain palm oil, but I have been assured that although it doesn't say it on the pack, it is sustainably sourced..
Water Biscuits
Much as I enjoyed the oatcakes, these water biscuits were my favourite. As they have also won a Great Taste Award, I'm guessing it's not just me. Crisp, light and tasty, they were particularly good with a dollop of my garden pesto. As they contain milk powder, they are not suitable for vegans or those who are lactose intolerant.
Thomas J Fudges
I do like a good savoury biscuit, so I was delighted to receive a pack of Many-Shaped Miscellany of Biscuits for Cheese from Thomas J Fudge's remarkable bakery. Not quite as old as Stag's, this famous Dorset bakery has been going since 1916.  It specialises in biscuits and has an innovative range of both sweet and savoury. Products can be purchased directly from their online shop, but the range is also available from selected Waitrose, Tesco, Booths and Ocado stores as well as some farm shops and delis.

These savoury biscuits are tasty and the packaging is fun. Each of the four varieties come in a their own serving box with an appropriate statement such as "For those that know their Stinking Bishop from their Stilton". I particularly liked the deep black charcoal hearts which I ate with cream cheese and chives as well as the crunchy & rustic fruit & nut crackers which contained almonds, hazelnuts and cranberries. The crisp & clean water biscuits were also good, but I found the wholesome malted wheat rounds a little too sweet for me. Needless to say, CT was happy to help out. This 300g box would be fantastic for dinner parties, providing a cracker to suit different palates and different cheeses. It retails at around £4.50
I also got to try some Marvellous Milk Chocolate Flapjacks. I'm a big fan of anything oaty and flapjacks are one of my favourite sweet treats. These ones were very sweet, but they were also sticky, chewy and tasty with crunchy almonds and a hint of ginger. The milk chocolate made them extra special and I would not be at all averse to trying them all over again. A box of eight flapjacks retails at £3.25
Moose Maple Butter
As soon as I heard the name of this wondrous product, I knew I was going to like it. And I did. Moose Maple Butter is not only delicious, but unlike many spreads you can buy, it's not full of refined sugars and other nasties. Pure Canada no 1 maple syrup whipped into British butter with a dash of sea salt, what's not to like?

There's nothing quite like the taste of pure maple syrup and I find it really exciting to have it in such a simple, tasty and versatile form. I've enjoyed it on pancakes (see top picture) on waffles, (will be posting about that at some future date), but actually most of all on crumpets. The sweet salty butter melting down into the crumpet holes is simply the best. And just in case anyone's worried, we are assured that "absolutely no MOOSE were harmed during the making of this delicious product.
Made by Farrah who came up with the concept whilst she was not very successfully trying to eat maple syrup on buttered toast, this is a unique product that I really hope gets more attention. It is currently only available in selected outlets, but there is a planned UK wide launch later this year. Look out for it.
Aduna Baobab & Moringa Powders
I've got the smoothie bug. I like to start my day on a healthy note, even if I can't keep it up and smoothies offer a great way of combining lots of healthy ingredients into a tasty drink or even bowl, as in this red berry coconut smoothie bowl. I was delighted then to make contact with the good people of Aduna who are working with women in countries such as Ghana and Senegal. Aduna are empowering them to create better livelihoods for themselves and their families by producing superfood powders from African trees. Africa has many extraordinary natural resources that are under utilised; baobab and moringa are two of these and creating a demand for them will help African smallholders get a fair price for their work. Do take a look at the Aduna website to read more about how they are helping people in some of the poorest parts of the world.

Baobab Superfruit Powder
This is a pale yellow powder which is slightly sweet and slightly tart with citrussy notes. It reminds me a little of amchoor (dry mango powder). It comes from the fruit of the iconic baobab tree (Adansonia digitata) which grows wild in thirty two countries across Africa and is known as The Tree of Life. The powder is very high in antioxidants as well as vitamin C and soluble fibre. I've used it several times and find it goes particularly well in fruit smoothies. Watch out for an upcoming baobab smoothie recipe. A sudden flash of inspiration had me using it in the pancake batter I made yesterday (see top picture). It gave a subtle but distinct lift to the pancakes which both CT and I really liked. An experiment that will be repeated.
Moringa Superleaf Powder
The moringa powder is dark green and tastes, well, leafy! It is, however, one of the most nutrient dense foods on the planet. The leaves come from the moringa tree (Moringa oleifera) also known as the Miracle Tree. With a name like this, it is perhaps not surprising that it is able to grow in drought smitten Africa and every part of the tree can be used. A natural multivitamin, it is high in antioxidants and is surprisingly high in protein, almost 25%. It has 24 times the iron of spinach and 21 times the calcium of milk. It is also organic. I used mine in a green power smoothie which I'll be posting about soon.
The packaging is bright and cheerful and definitely reminiscent of the bright dresses worn by many African women. The logo is a Ghanaian Adinkra symbol called Owia Kokroko, which stands for vitality, renewal and the power of the sun. An 80g tub of Baobab costs £7.99 and a 100g tub of moringa is the same price. The two can be bought together for £14.50 and larger quantitates work out cheaper still. As well as the powders you can also buy both products online in the form of energy bars.
This is a project well worth supporting. It's a win-win situation: we get to enjoy the riches of Africa and in so doing can help create dignified and sustainable employment for Africans.
Thanks to Spice Kitchen, Stag, Thomas J Fudge's, Moose Maple Butter and Aduna for the samples. I was not required to write positive reviews and as always, all opinions are my own.