These simple no-bake chocolate peanut butter crispies are given additional bursts of flavour by adding peanut butter and a little honey. Such salty and sweet crunchy bites of delight.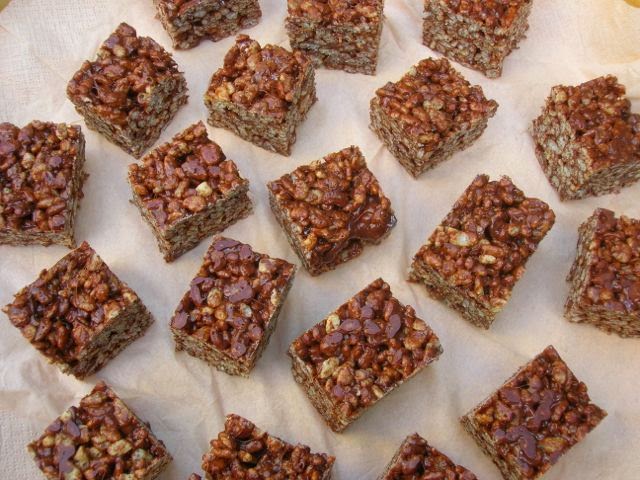 A sticky chewy crispy no-bake chocolate treat. These chocolate marshmallow crispies are really easy to make. The difficult part comes in waiting for them to set.
Coconut oil seems to be the new superfood that everyone is raving about. I have been using it now for many years, mostly as a skin moisturiser and eaten in its raw state spread on toast. Occasionally I've used it for making raw chocolates or cooking savoury dishes. However, it was not until The Groovy Food Company sent me some of their organic virgin coconut oil to try did I think about using it in baking. Ahh, now that got the brain cells firing. But as soon as the many possibilities started to emerge, I changed my mind; I decided I wanted keep it in its raw state. Something quick and delicious that was truly healthy and 100% organic was in order – not something I achieve very often.
Coconut oil is solid at room temperature, so can easily be used as a spread or body butter. It melts very quickly and has a high heat threshold making it ideal for stir fries in particular. It contains medium-chain fatty acids (MCFAs) which are a healthy fat quickly transformed by the body into energy and are not stored as body fat. For maximum benefit, coconut oil is best used in its cold pressed state. It is said to help reduce abdominal obesity and protect against insulin resistance thus reducing the risk of type 2 diabetes. It is also said to benefit digestive disorders and boost the bodies immune system due to the high percentage of lauric acid contained. Used on the face and body, it acts as a good moisturiser and has many purported benefits including protection from UV radiation from the sun.
On opening the jar, a powerful aroma of coconut was released and I couldn't resist tasting some. It was both sweet and unmistakably coconutty which is more than can be said of some I've tried.
I was also sent a bottle of The Groovy Food Company's organic premium agave nectar, which is often used as a low Gi sugar substitute. I am an occasional user of agave nectar, but this gave me an opportunity to try it out in a few more things. I tried it out in my matcha smoothies as a substitute for the honey and it worked very well, proving a lot easier to handle than honey as it less viscous.
So, what I wanted to make was a healthy version of that children's classic rice crispy cakes. My first task was to find some sugar free crunchy cereal, not something I thought was going to be particularly difficult. So I was truly shocked when I went to my local Co-operative, only to find they sold no sugar free cereal at all except for oats. I trekked off to our local health food shop and found the last bag of unsweetened cereal they had in stock – luckily it was puffed rice, which is what I'd been hoping for.
This is how I made:
Vegan Chocolate Puffs
Melted 1 heaped tbsp cold pressed coconut oil in a pan over low heat.
Added 50g 100% cocoa chocolate.
Stirred in 1 tbsp cashew nut butter (any nut butter would be good, but that was the one I had to hand).
Added 3 tbsp agave nectar, 1 tsp raw cocoa powder, 1 tsp vanilla extract (homemade) and a pinch of Himalayan pink rock salt.
Stirred until smooth, then removed from heat.
Weighed 100g 100% puffed rice into a bowl, then poured over the chocolate mixture and stirred until all of the rice was coated.
Placed teaspoonfuls of the mixture into mini muffin cases and pressed the rest into two silicone moulds.
Left in my cold kitchen to set, but would normally put them in the fridge.
Back along, feeling traumatised after my various roulade misadventures, I was in need of something a little simpler. Having skimmed through a chocolate baking book I was given a few years ago, but still hadn't actually used, I thought it was time I did so. Greatest Ever Chocolate is perhaps not the catchiest of titles and it doesn't have an author, only stating it was published by Papplewick Press in 2002 – this could be why I hadn't taken much notice of it up until then. However, Chocolate crispy bites using rice crispies had caught my eye after the pleasure derived from the cornflake Easter Nests I made earlier this year. So chocolate crispy bites it was. My only change was to use the Co-op's fairtrade dark chocolate with spices and orange oil rather than just plain dark, oh and CT suggested a catchier name: two tone crispies.
Melted 150g white chocolate (G&B) in a large bowl over hot water along with 55g unsalted butter and 1 tbsp golden syrup.
Stirred in 50g puffed rice.
Gently pressed into a 22cm round silicone flan dish.
Used same bowl to melt 125g orange flavoured dark chocolate with 55g unsalted butter and 2 tbsp golden syrup.
Stirred in 75g puffed rice.
Gently pressed this on top of the white layer and left to set.
Turned out of the mould and cut into squares, snaffling the round edgy bits as I went.
These were as good as I expected them to be – light, moreish and very simple to make. A nice twist on a children's classic, the two tones made for a visually interesting appearance. The orange flavour gave a hint of sophistication and the white chocolate made for a sweet contrast. I am now thinking these would make good party food using chilli chocolate for a suprise kick!
This also seemed like a good opportunity to try out one of the new pieces of silicone ware I won recently. I was rather drawn to having this in slices, but at the last minute, changed my mind and went for the small squares prescribed in the book.