A review of some new and exciting Zotter chocolate bars. You'll also find chocolate brazils and various salted caramels from Mad Cowes. These would all make fabulous stocking fillers, but be aware, chocolate isn't just for Christmas.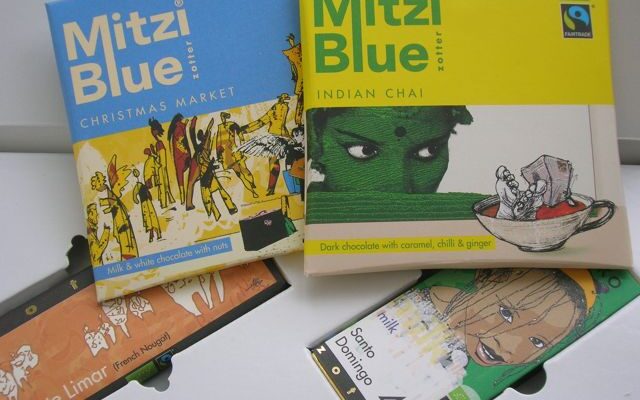 Reviewing products is a funny old game. Things can turn up at odd times and often not at all. So it's often a complete surprise when I get a knock on the door and a parcel delivery; in such cases I generally have no idea what might be inside. It makes for an interesting life. Here's some chocolate that turned up this month.
Zotter Chocolate
And what is Christmas without chocolate? Well, in my book, it's not up to much. And seeing as it's a special day, just any old chocolate won't do. Something rather special is called for. So it give me great pleasure to present to you some of the best chocolate around – Zotter.
Austrian chocolatier, Josef Zotter has made a name for himself for producing high quality but quirkily individualistic chocolate. He has also set himself apart from his peers with a staunchly ethical approach to production methods. As a consequence all Zotter chocolates are fairtrade and organic.
Not only that, but packaging is carbon neutral. The out wrapper is cardboard outer and the inner is organic plastic which Zotter claim is 100% biodegradable. All chocolate is handmade, from bean to bar. So far, so good. It seems that Austria's pivotal role as a cradle of chocolate innovation continues from the far-off days of the Sachetorte down to the present.
The packaging is also highly individual with striking, colourful and sometimes impressionistic illustrations on the wrappers. Once I removed the wrappers I found the chocolate bars inside are unusual in appearance. And the fun and general air of excitement continued once I tasted the bars.
I was recently sent four bars to try.
Zotter Chocolate: Mitzi Blue (Indian Chai)
The chocolate is round like the wheel of a wagon with a slightly off-centre hub and geometric patterns scored into the surface. The hub tastes of spicy hot sweet chai milk tea; the outer disc is of dark chocolate which is beautifully smooth and melts wickedly in the mouth.

The dark chocolate is unusually sourced from Kerala in India and is 68% cocoa. It is refreshing and zesty with citrus notes but a hint of coffee bitterness slowly inveigles its way onto your palate.
Zotter Chocolate: French Nougat
Zotter is particularly famous for its 70g hand-scooped bars. French Nougat is one of these. Hence, I couldn't wait to try it. First off the chocolate is a dark milk with 60% cocoa. This is my favourite kind, but one which is very hard to get hold of. It's filled with a layer of salty honeyed pistachio and hazelnut nougat on top of a layer of cinnamon and ginger flavoured almond praline.

This is the most divine bar of chocolate I've had in a very long time; all of my favourite ingredients in one bar made doubly interesting by the layers of flavour and interesting textures. One to truly savour.
We are off to Cambridge for a few days – anything to escape the incessant rain and Cornish floods. Just in case I don't happen to get any special chocolate this year, I'm saving the other two bars for emergency rations.
Beech's Chocolate Brazils
Brazil nuts are quite high in selenium which is said to keep the blues at bay. They're thus particularly welcome at this time of year when the days are short and often dull in our part of the Northern Hemisphere. To my mind, Christmas is not complete without a good box of chocolate covered Brazils – for medicinal purposes naturally.
I'm rather fond of these delightful nuts, especially when covered in chocolate. CT is even more fond of them and is unable to resist buying them from time to time – Christmas or no Christmas. So I was delighted when I found a parcel of Beech's Fine Chocolates in the post, just in time for the festive season.
They came in both 90g and 140g boxes of milk and dark chocolate. Interestingly the dark Brazils were of a more or less uniform size whereas the milk ranged hugely from really quite small to really quite large. We both tucked in eagerly.
The nuts were nice and crisp and tasted fresh. Stale, rancid Brazil nuts can be a bit of a problem, but not in this case. The milk 33% chocolate was creamy but not overly sweet and went well with the slight bitterness of the nuts. There was a good contrast of textures with the smoothness of the chocolate and the crunchiness of the Brazils. We both really liked these and reckoned they were the best chocolate Brazils we had tasted for some time.

The dark 67% chocolate had a strong aromatic smell and the texture was crisp rather than creamy. The overall effect was quite different to the milk. They were also very tasty, but the nuts were not centre stage, as the dark chocolate had its own bitter notes that somewhat overpowered the flavour of the nut.
They were, however, less sweet, which I generally find more palatable. That said, the milk chocolates were our favourite as the flavours were, we felt, better balanced.
Beech's Fine Chocolates have been making traditional British chocolates in Preston since 1920. They pride themselves on using natural raw ingredients with no artificial colours or flavours. They have a string of ethical certifications including buying from UTZ farmers (better farming, better future) and a care for the environment. However, I noticed the Fairtrade logo was missing.
They supply own-label chocolates for a number of high street retailers including Waitrose and Marks & Spencer as well as chocolates under their own brand.
A 260g box of chocolate Brazils costs £5.99 from their website, which seems eminently reasonable to me.
If you fancy having a go at making your own, I have a fabulous recipes for homemade chocolate caramel brazils.
Following a Twitter conversation about the delights of chocolate salted caramels Chocolate Mad Cowes sent me a sample box of their artisan caramel chocolates. Once again, I really liked the packaging. After all, I can't resist a bonny turquoise box tied with ribbon. Are you listening CT?
Chocolate Mad Cowes
As their name suggests, this chocolate shop is based in the international yachting centre of Cowes on the Isle of Wight. I don't know whether these came over on a yacht, but they were a little bit scattered and scuffed on arrival. No matter, ultimately, it's all in the taste.

As regular readers will know, good salted caramels are my Achilles heel. Given the opportunity, I'll eat them anywhere at any time. Luckily motive and opportunity rarely coincide. I was, however, looking forward to trying the selection offered.
On opening the box, I found an interesting variety with centres that were chewy, soft and almost liquid. The caramels are covered in Valrhona dark and milk chocolate. Both CT and I enjoyed all of them, but thought the plain chocolate ones had the edge as they helped to counteract the sweetness of the caramel.
Plain Chocolate Pecan Turtles
The soft, but not runny caramel had a good rich flavour with the toffee note coming through almost immediately. It was not too sweet and the pecans' bitter hints were both a good flavour foil and produced a contrasting crunchy texture.

Salt Caramel Bouchees
These squares of salty milk and dark chocolate were firmer, chewier and sweeter than the turtles, but still quite toothsome.

Salt Caramel Spheres
The most liquid of the lot, these were my favourite. They were not too sweet and had a hint of the sea about them. Perfectly smooth, these work worked well with the plain and milk chocolate. CT thought he detected oaky tannins that reminded him of whisky.

Keep in Touch
Thanks for visiting Tin and Thyme. If you try Zotter chocolates or any of these other chocolate brands, I'd love to hear about it in the comments below or via social media. Do share photos on your preferred social media site and use the hashtag #tinandthyme, so I can spot them.
For more chocolate reviews follow me on Twitter, Facebook, Instagram or Pinterest.
Subscribe and Receive
Wishing all my readers, visitors and friends a
Very Merry, Happy, Festive and Relaxing Christmas