If you're looking for a healthier chocolate bar, raw chocolate is where it's at. Whether you're after a brand you can find in the supermarket or something a little more artisan, there are now raw chocolate bars to suit everyone. Here's a review of some of them.
Food of the Gods
Cornwall is starting to produce some fabulous and innovative chocolate. I've already highlighted some of our chocolate producers, but Food of the Gods has only recently come to my attention. Based down at the other end of Cornwall to me, in St Just, this is an exciting new enterprise. Owner and chocolate maker Dal Hall loves his chocolate, but didn't like eating all the associated sugar and additives that comes with most mass produced bars.
Initially he ran a few raw chocolate workshops for people with mental health problems. But when he saw the joy it brought them, he decided to start making his own raw chocolate whilst carrying on the day job.
Ethical Raw Chocolate Bars
Ethics are important and Dal's chocolate is made using organic and fairly traded ingredients. There are only three things in the base chocolate, cocoa solids, cocoa butter and unusually, date syrup. I was particularly interested in this latter ingredient as it appeals far more to me than agave syrup or Sweet Freedom. These are the only two raw chocolate sweeteners I've come across so far.
Date syrup is a more natural ingredient, as it's less highly processed and contains fibre, potassium and antioxidants. The chocolate is 96% cocoa, which leaves only 4% for the date syrup sweetener. This makes it the healthiest raw chocolate I know as well as the darkest.

What Does Raw Chocolate Taste Like
I was sent three bars to try: one with cocoa nibs, one with mixed nuts and one with rose petals, goji berries and something chocolatey. The something chocolatey is a bit of a mystery as none of the bars had labels on them. However it tasted very nice.
In fact both CT and I enjoyed this raw chocolate very much. Although it's barely sweet and very rich and dark, it's surprisingly easy to eat. It's not at all bitter and you can really taste the cacao. The texture is also much better than the first lot of raw chocolate I made; it's less soft and almost has a bit of a snap to it. It is, however, quite chewy, so better munched than left to gradually melt in the mouth.
The nut bar was probably my favourite, even though I was quite taken by the rose which had a subtle flavour with burst of fruitiness from the berries.
This Food of the Gods is by far and away the most exciting raw chocolate I've yet come across and I wish Dal every success with his venture.
Where to Buy
The chocolate is available online and at selected outlets in Cornwall. Happily for me, one of these is Trevallicks, the farm shop in my home village. Online it costs £2.75 for a 60g bar including P&P.
Chilli Pie
Rather late in the day I know, but I loved the wrapper of this chillies pie so much, it took me a while to get around to eating it. It was actually a Christmas present, but it wasn't until the end of February that I decided to savour the contents. It's a shame I didn't write up about it at the time as recollections are already starting to dim.

There were a few simple ingredients, all raw: Cocoa Nibs (14.2%), Chilli (1.3%), Coconut butter, Agave nectar, Golden raisins, Lucuma powder, Carob flour, Ground almonds. The wrapper proudly states, Sugar Free, Dairy Free, Gluten Free and Guilt Free – who could resist?
This was very different in texture to any other raw chocolate bars I've tried, which is probably why they've called it a pie. There was a nice crunch of cocoa nibs and I could taste the carob – it was quite delicious. Like all delicious things, it was over far too soon. A word of warning, however: you need to be a chilli lover to enjoy this particular bar, oops pie, as it's very hot. As a chilli lover, I did.

Handmade in St Ives, Cornwall by The Raw Chocolate Pie Company, this bar and other flavours are actually available at our very own Taste Cornwall in Liskeard. You can see three of their other bars in my Cornish Cornucopia post.
Gourmet Raw Brownies
When I was asked to review some raw organic brownies from Gourmet Raw, I could barely contain my excitement. All of the raw chocolates I've tried so far have impressed me and I've enjoyed their taste and texture. As the name suggests, all products are raw; they are also organic, vegan, GM, wheat and dairy free. With the added claim that they are not going to do me any harm and might do me quite a bit of good, I'm glad I was given this opportunity to try some more.
Although these are described as brownies, they don't bear much relation to brownies as most of us know them. The texture is chewy, nutty, granular even which gives them a substantial mouth feel. But don't let that put you off, they are moist, flavoursome and have a balanced sweetness about them which makes them quite delicious. They are in fact quite similar in taste and texture to the chilli pie that we are lucky enough to have stocked in one of our local shops.

These brownies are a great way to indulge without feeling too guilty. At nearly £2 for a 55g bar, these brownies are not cheap, but I loved them. However, they are delicious and strangely satisfying. One bar is really quite filling and doesn't leave you feeling as though you need more. Maybe it's because they are packed full of nutritious ingredients. They carry the Soil Association symbol, which pleases me as this is the organic certifying body that I trust the most. I think these are probably worth every penny and would make a wonderful gift for your health minded Valentine.
Cacao Cashew Brownie
cashews, coconut palm nectar, buckwheat, dates, cacao powder, pecans, almond butter, cinnamon, vanilla, Himalayan salt.
This smelt chocolatey with the sweet aroma of vanilla and was nuttily delicious.
Cacao Mint Brownie
coconut palm nectar, cashews, buckwheat, dates, cacao powder, cacao nibs, almond butter, vanilla, mint essential oil, Himalayan salt.
Mint is a flavour that can be hard to get right. They hit the spot with this one though and the refreshing mintiness was a lot more delicious than I was expecting.
Carob Orange Brownie
coconut palm nectar, cashews, buckwheat, dates, hazelnuts, carob powder, vanilla, orange essential oil, Himalayan salt.
Like mint, orange can be a difficult flavour to balance correctly. That wasn't a problem here. The brownie smelt sweetly of orange and the flavour was just right. I did miss my dose of Theobroma, although I do like carob. The toasted buckwheat on top gave a nice crunch to the proceedings.
A self confessed greedy sceptic, CT enjoyed this one. Apparently, he thought it had a pleasantly orange taste, was quite sweet and the flavour combined well with the carob. He also liked the crunchiness. He concluded: " I don't know whether it's good for you or not, but I like it".
Cacao Cocbanana Brownie
cashews, coconut palm nectar, buckwheat, dates, banana powder, coconut flakes, cacao powder, coconut butter, vanilla, Himalyan salt.
Topped with crunchy pieces of coconut, this was the dominant flavour, with the banana becoming increasingly prevalent the more I chewed. CT's comment was "the banana inveigles its way in and reminds me that although I don't like bananas very much, I'm not sure why".
Carob Hazelnut Brownie
coconut palm nectar, cashews, buckwheat, dates, hazelnuts, carob powder, vanilla, Himalayan salt.
Another delicious offering, with the flavour of hazelnuts predominating and the carob coming through as a secondary.
Raw Nibbles
Made by husband and wife team Soph and Ian in Suffolk, Raw Nibbles are on a mission to create delicious and healthful products which retain the nutritional benefits of chocolate by keeping processing to a minimum. All products are handmade, vegan and free from dairy, wheat, gluten, beet sugar, cane sugar, soya, egg and artificial additives. Not only that but they are organic, with Soil Association certification, which always endears a producer to me.

Double Chocolate Brownie
dates, cacao butter, coconut sugar, cacao powder, cacao paste, vanilla powder, almonds hazelnuts.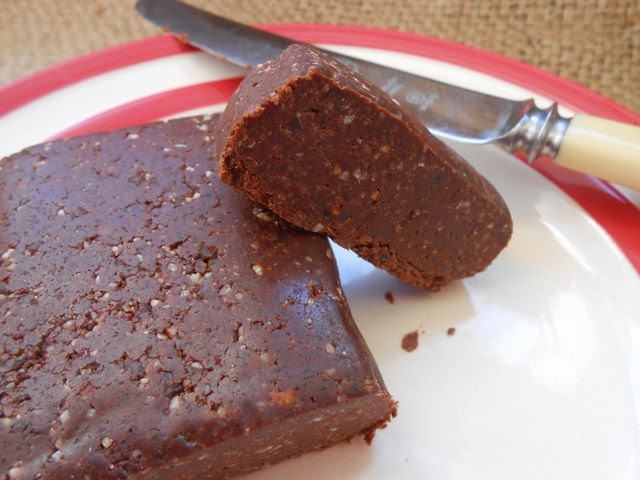 This is substantial and dense, but with a fudgy texture consistent with a good brownie. It's certainly very tasty; I noticed that the date flavour comes through quite strongly – maybe it's my Middle Eastern genes, but I really liked that: I found myself desiring more than a nibble. Weighing it at 110g, it's currently on offer for £2.80.
Crispy Raw Chocolate
cacao butter, coconut sugar, cacao powder, cacao paste, sprouted buckwheat, vanilla powder.

Sprouted buckwheat in chocolate? This was a first for me and I have to say I was a little dubious. My mistake. Buckwheat usually has a powerful and distinctive flavour, which is not to everybody's liking. I needn't have worried, they tasted just like nuts with the same crunchy texture. The chocolate had a good snap with a feel of "real" chocolate. My mouth didn't feel assaulted by vast quantities of sugar – really nice. Currently on offer at £2.40 for a 50g bar.
Nakd
My goodness, I have fallen totally in love again (sorry CT). I was recently sent some bars of Nakd Cocoa Delight to review. These are bars of raw nutty fruity goodness which are not only healthy but are absolutely delicious. Nakd bars are made principally with dates, raisins and cashew nuts – and as far as I'm concerned are the ultimate in healthy snacks.

Cocoa Delight
dates (48%), cashews (29%), raisins (17%), cocoa (6%), natural chocolate flavouring
This all sounds wonderful, but I would have liked more information on the natural flavouring. I've found they can often be anything but natural.
The bar has a strong and pleasant aroma of both fruit and chocolate. The texture is fudgy but with crunchy pieces of cashew adding a bit of extra interest. It is sweet, but not excessively so – basically it's a chocolate flavoured fruit & nut bar, but a particularly nice one and filling too. CT wasn't quite as enamoured as me, which as he doesn't really like dates is no surprise, but he still thought they were tasty.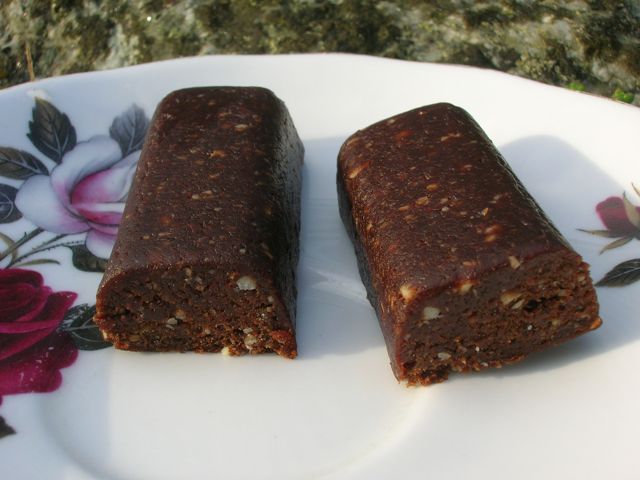 The list of benefits is long: cold pressed unrefined raw ingredients, wheat free, gluten free, dairy free, no added sugar and nothing artificial. Assuming my concerns about natural flavour are unfounded of course. But it's not all about being healthy.
The company behind these bars, Natural Balance Foods, is dedicated to making their wholefoods as delicious as they are nutritious. I know I would prefer to snack on one of these than many of the so called "health bars" that are marketed with such promise and they would be perfect to accompany a coastal or moorland walk too.

They come in 35g bars and can be found in many supermarkets and health food shops. Retailing at around £2.50 for four, these are not unreasonably priced and if you consider the quality of the ingredients, I reckon they are good value. If chocolate is not your thing, though I find that hard to believe, you'll find a range of flavours to entice and delight such as: rhubarb and custard, cashew delight, ginger bread, berry delight and pecan pie.
Other Raw Chocolate Recipes & Reviews You Might Like
Keep in Touch
Thanks for visiting Tin and Thyme. If you try any of the items featured in this review of raw chocolate bars and brownies, I'd love to hear about it in the comments below. Do share photos on your preferred social media site and use the hashtag #tinandthyme, so I can spot them.
For more reviews and giveaways, follow me on Twitter, Facebook, Instagram or Pinterest.
Choclette x
From time to time I get sent products to try. I'm not expected to write a positive review and all opinions are, as always, my own. Thanks to my readers for supporting the brands and organisations that help to keep Tin and Thyme blithe and blogging.