How about a loaf of real banana bread? One that's made with sourdough, wholemeal flour and no added sugar? This sourdough banana bread does all of this and more. And it's not only healthy, it's really delicious.
I've been contemplating the creation of a sourdough banana bread for a long time now. A loaf that's just like real bread rather than cake. Finally I've made one and I'm really pleased with it. I've added the classic ingredients of walnuts and cinnamon, but the only sweetness comes from the bananas.
Banana Sourdough Bread with Walnuts
This recipe for banana sourdough bread is perfect for using up squishy bananas. It's an easy loaf to make if you have a stand mixer. But the dough is quite wet, so whilst it's not impossible, it's a bit harder to knead by hand. This recipe makes one large loaf or two smaller ones.
As you can see from the photo below, I didn't make this bread in a tin. Because it's a soft dough, however, the loaf goes a bit flat. I don't mind this, especially as it cooks faster. But if you'd prefer a more standard shape, use a tin or tins.
For a particularly quick and easy to prepare yeast-free loaf, my healthy breakfast banana bread is pretty good.
What's in the Loaf?
I based this banana bread on my standard rye sourdough bread recipe. Because of the addition of bananas, however, the dough is wetter than it normally is. So I've used more flour, which creates a particularly large loaf. The flour is a mix of strong wholemeal and wholemeal spelt. The bread thus rises well because of the strong flour and has a soft texture because of the spelt.

Feel free to use a different sourdough starter. I'm wedded to rye. It's robust, needs little attention and can be used to make any kind of sourdough bread you like. Recently I lost my ten year old sourdough starter and I was completely bereft. When I'd more or less come to terms with its loss, Monica Shaw from Smarter Fitter came to my rescue and sent me some of hers. Thank you so much Monica.
As well as walnuts and cinnamon, I've also added linseeds to the mix. The reason is twofold. They help to absorb liquid and they're good for you. In fact I always add them to my sourdough breads. They're high in omega 3 fatty acids and great for the digestion. I should add that the bread is entirely vegan, but I sort of take that as read when it comes to sourdough.
So What's it Like?
Well, apart from the weird purple tinge that the bananas give, this sourdough banana bread is just fabulous. It has a good texture, a lovely flavour and is slightly sweet from the banana and cinnamon. Plus you get a bit of crunch and additional flavour from the walnuts. If you don't like walnuts, just leave them out.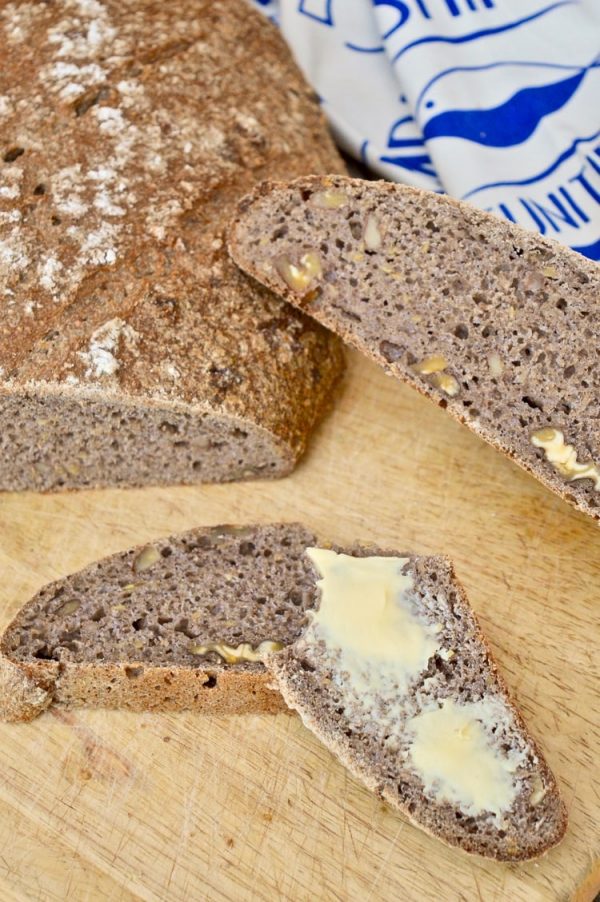 Spread it with butter or a nut butter and that's really all you need. However, its also delicious toasted and spread with honey. It even goes well with plain mild cheeses like cheddar, Lancashire, Cheshire, Gloucester or Caerphilly.
Other Banana Recipes You Might Like
Keep in Touch
Thanks for visiting Tin and Thyme. If you make a loaf of this sourdough banana bread, I'd love to hear about it in the comments below. And do please rate the recipe. Have you any top tips? Do share photos on social media too and use the hashtag #tinandthyme, so I can spot them.
For more delicious and nutritious recipes follow me on Twitter, Facebook, Instagram or Pinterest. And don't forget to SUBSCRIBE to my weekly newsletter.
If you're after more bread inspiration, why not take a look at these recipes in my Bread and Buns category?
Choclette x
Sourdough Banana Bread. PIN IT.

Sourdough Banana Bread – The Recipe
Sourdough Banana Bread
This recipe is for a loaf of leavened bread, not cake. It's made with sourdough, wholemeal flour and no added sugar? And it's not only healthy, but also really delicious. It's also great for using up squishy bananas.
Ingredients
75

g

rye starter

225

g

whole rye flour

300

g

wholemeal spelt flour

300

g

strong wholemeal flour

4

overripe bananas

50

g

walnuts – chopped

1

tsp

cinnamon

25

g

linseeds

1 ½

tsp

sea salt
Instructions
The night before baking the bread, mix the rye flour with 450ml of warm water in a large bowl. Add the sourdough starter and stir well. Cover loosely with a plastic bag and leave to ferment overnight.

In the morning remove 75g of the ferment into a covered glass jar and place in the fridge until the next time a sourdough starter is needed.

To the remaining ferment, add the wholemeal flours, peeled bananas, linseeds, cinnamon, salt & walnuts. Knead in a stand mixer for ten minutes. The mixture is quite wet, so it's a bit more difficult to do by hand, but not impossible.

Dust a proving basket with flour, then press the dough into it. Alternatively, form the dough into a freestyle loaf and place on a greased or lined baking tray. As the dough is quite a soft one, a free style loaf will flatten out. For a more uniform loaf, place the dough into a 1 kg/2lb loaf tin or two smaller tins.

Cover loosely with a plastic bag, ensuring it doesn't touch the dough and leave to prove until the loaf has risen by about ⅓. This could be anything from 2 to 6 hours depending on the temperature of the room and the liveliness of the starter.

Turn the loaf out of the proving basket, if using, onto a greased baking tray. Otherwise, dust with a little spelt flour and slash the top 2-4 times with a sharp knife if liked.

When, or just before, you think the loaf is ready for baking, turn the oven on to 220℃ (425℉, Gas 7).

Place the bread in the oven and turn the temperature down to 200℃ (400℉, Gas 6). Bake for

40 minutes

or until the bread sounds hollow when the base is tapped. Allow a further 10 minutes or so if baking in a tin. Place on a wire rack to cool.
Notes
If the bananas are soft enough, just add them whole, otherwise mash with a fork before adding to the mix.
This recipe makes one large loaf or two smaller ones. If you make smaller loaves, reduce the cooking time by fifteen minutes.
Please note: calories and other nutritional information are per serving. They're approximate and will depend on serving size and exact ingredients used.
Nutrition
Calories:
2994
kcal
|
Carbohydrates:
570
g
|
Protein:
99
g
|
Fat:
60
g
|
Saturated Fat:
7
g
|
Sodium:
3515
mg
|
Potassium:
4292
mg
|
Fiber:
88
g
|
Sugar:
62
g
|
Vitamin A:
302
IU
|
Vitamin C:
41
mg
|
Calcium:
360
mg
|
Iron:
26
mg
Tried this recipe?
Please take a photo and mention @choclette8 or tag #tinandthyme on Instagram, Twitter or Facebook.
Sharing
I'm sharing this recipe for sourdough banana bread with Apply to Face Blog and Jo's Kitchen Larder for #BakingCrumbs. And also with A Strong Coffee for #CookBlogShare.