It's been a few years since I did any sort of retrospective on the blog, so before January runs out and the new year excuse has worn any thinner, I thought I'd give you the top 5 favourite T&T recipes of 2016 – according to you, that is.
We food bloggers are a bit obsessed by our stats, but I hope some of you might look beyond the blog-geekery and find this interesting too. I'd love to know if you have a favourite recipe you've found on Tin and Thyme. Oh and if you have a recipe you'd like to see on the blog, I'd be interested in hearing that too.
I've taken the most popular recipes viewed in 2016, although not necessarily published in that year. Not surprisingly, I guess, all of the favourites are sweet ones. I'm not the only one with a sweet tooth it would seem. So in reverse order to keep you in suspense as to the absolute favourite recipe:
Top 5 Favourite Recipes of 2016
This was my first attempt at making a blancmange. I used agar agar instead of gelatine to make it vegetarian friendly. I made it from a fresh strawberry puree which I didn't sieve. That was a mistake, so if you make this, do please sieve the strawberries for a super smooth texture.
If you ever fancy a healthy sweet treat that tastes as decadent as any chocolate truffle, I urge you to have a go at making these dead easy coconut bliss balls.
Banana and ginger is not an obvious pairing, so I was really surprised to see how popular this post is. It is a most delicious cake though with a lovely sticky texture, so I'm quite pleased its profile has been raised.
There is no doubt that these flapjacks are really tasty, but I'm not sure why they are one of your top 5 favourite recipes. I'd sort of hope I've created quite a few recipes that are more interesting than flapjacks. Do let me know why you think they are so appealing.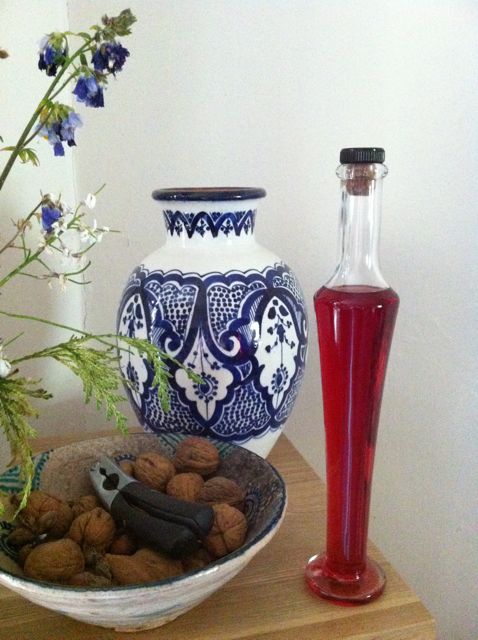 Who would have thought that rose syrup would be so popular. This post was far and away the most popular last year. Rose syrup is very simple to make and keeps for ages. It has a whole heap of uses, so if you haven't tried this yet, I urge you to give it a go. The key to getting a deep pink colour and good flavour is to use the petals from a deeply scented dark rose.
For more of your most popular posts, take a look at our Top of the Pops tag.
I'm linking your top 5 favourite recipes of 2016 up to the Best Recipes of 2016 over at The Jenny Revolution. Here you can see a whole host of other food bloggers' top recipes from last year.