Well it's hard to believe I know, but today is the sixth anniversary of We Should Cocoa. Yes, Chele of Chocolate Teapot and I started it six years ago and I've been managing it solely for the last few years. So with a new year just about to commence, it's time for a change. I also have 9 darkly divine chocolate recipes for you to celebrate the occasion.
Blogging challenges have moved on and multiplied since #WeShouldCocoa started up all those years ago. Many bloggers have become more commercially focussed and seem less inclined to make something specifically for a challenge. So I'm starting year seven with a new format. There will no longer be a challenge of making something with a specific ingredient or to a special theme. From now on all recipes containing chocolate are welcome (as long as they are vegetarian of course).
I will continue to do a monthly round-up of all entries and from now on I'll also pin all entries to the We Should Cocoa board on Pinterest. The round-up will be posted on the 1st of the month following entries along with the linky for the month. The linky can be found at the bottom of the post and will be open for entries until the 28th.
Before showcasing our 9 darkly divine chocolate recipes, I just wanted to say a very big thank you to everyone who's contributed to We Should Cocoa over the last six years. Whether you've taken part in the challenges or have guest hosted, it's been a wonderful way of getting to know each other and sharing the chocolate love. I very much hope that some of you will still want to be guest hosts. I wouldn't have been able to have continued this for so long without your help.
9 Darkly Divine Chocolate Recipes
Kate, over at The Gluten Free Alchemist has been trying to make the most of seasonal cherries. Shockingly I managed to miss the cherry season this year and didn't have a single one. I'm feeling quite deprived. I shall just have to gaze at these perfectly gooey chocolate-cherry pecan brownies and hope that works – gluten-free of course.

I made one of the best cakes ever, though I do say so myself. Darkly divine this coffee cardamom chocolate mousse cake is best served in small slices and works well as a dinner party dessert with crème fraîche if liked.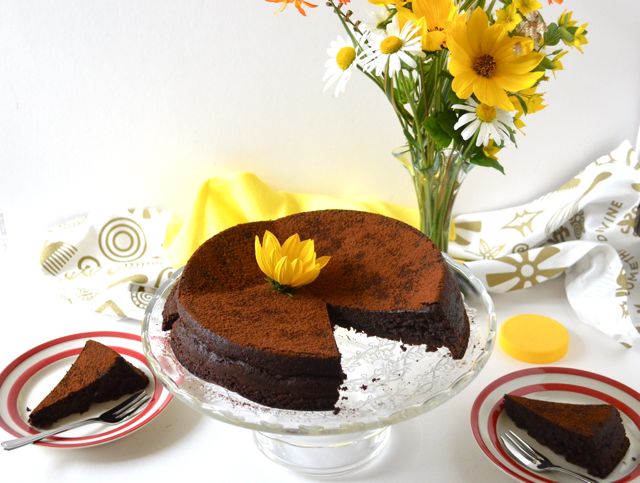 We've got lucky this month and more sumptuous brownies have emerged from the Mainly Baking kitchen. These tahini brownies with a sesame praline crust sound unusual and quite delicious. Suelle deserves special mention as she's been with We Should Cocoa since the very beginning.

For something completely different, we have savoury cocoa jerk tofu from Johanna at Green Gourmet Giraffe. The spicy Caribbean marinade has my name all over it and I shall be losing no time in trying this out.

Nico from Yumsome reckons she makes the best vegan choc chunk cookies ever and who am I to disagree? They are chewy and bursting with chocolate and look absolutely fabulous.

Scones and nutella are a new one on me, but one I'm very willing to try. Head over to The Lawer's Cookbook to find the recipe for coconut scones with coconut nutella glaze, cooked in her new kitchen in her new house.

Last week saw the return of the Great British Bake Off. The contestants were challenged to make Jaffa cakes and I've seen Jaffa cake bakes popping up all over the internet ever since. I reckon these homemade Jaffa cakes from Kat at Baking Explorer are the best I've seen.

One of my favourite things ever is tiffin, so I was delighted by this chocolate tiffin from Farmersgirl Cook. Janice has used lots of dark chocolate in this sumptuous no-bake and I really want a piece now.

And finally, just to show that Jaffa Cakes don't get it all their own way, Michelle from Utterly Scrummy Food for Families made one Giant Jaffa Cake. She also departed from tradition by making it vegan and why not?

So ends our darkly divine chocolate recipes and our sixth year of #WeShouldCocoa.
We Should Cocoa September Entries
Guidelines on how to enter are on the We Should Cocoa page.