This month We Should Cocoa teamed up with Bloggers Scream for Ice Cream (BSFIC) for an icy chocolate extravaganza which is #WeShouldBSFIC. January may not be your favourite time for eating ice cream or other frozen treats, but some of you hardy souls rose to the challenge with enthusiasm. Hop over to Kavey Eats to see her round-up.
Look out for next month's #WeShouldCocoa with Katie, over at Recipe for Perfection.
Apparently we told Elizabeth, over at The Law Student's Cookbook, that she had to make ice-cream, so she did. I didn't know we had that much power. Being a fan of all things Nutella, she decided NOT to use it and go for chocolate hazelnut ice cream using roasted hazelnuts instead.
Over at Honey and Dough, Hannah has a little doughnut sitting on her shoulder, apparently! Well actually I think I have a little brownie sitting on mine. I suspect it's not the same brownie Hannah used to make her frozen crème fraîche and brownie custard. I am very excited about the use of crème fraîche not to mention the brownies of course.
Janice from Farmersgirl Kitchen has presented her white chocolate Eton mess ice cream in a very stylish cup and saucer, which I am now coveting. I'm rather wishing I could dig into the ice-cream too – made with strawberry purée found in the freezer, it's a real taste of summer.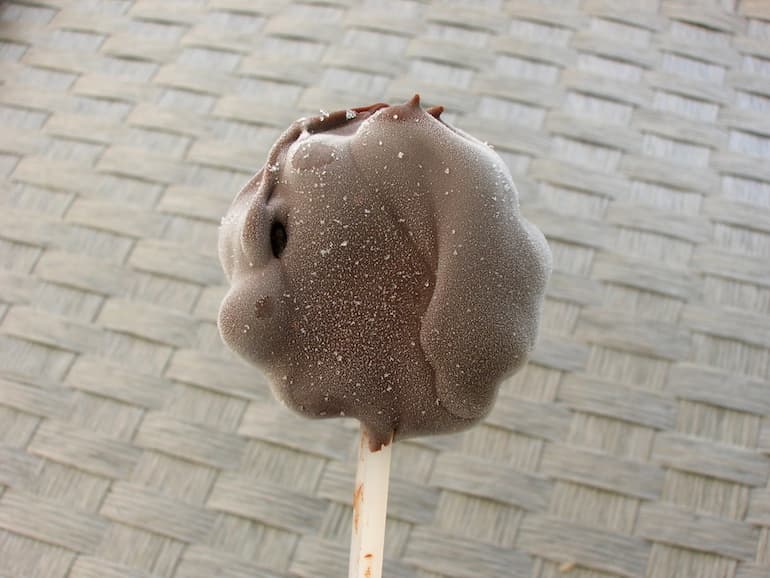 I had a go at making mini chocolate ice pops. Well the chocolate may not have looked quite as slick as I'd have liked, but my goodness they were good. Chocolate milk ice covered in thick dark chocolate – I think I'll have another one.
I've not tried ice-cream sandwiches before, but having seen these mini triple chocolate ice cream sandwiches over at Jo's Kitchen, I am seriously tempted. Jo's home-made chocolate ice cream contains chocolate chips and is then sandwiched between chocolate biscuits – wow!
In case you missed it, it was Australia Day last Monday and Johanna over at Green Gourmet Giraffe marked it by making Violet Crumble ice-cream. I'd not heard of Violet Crumble until I read the post. It is not, as I first thought, a crumble pudding flavoured with violet, but an iconic Australian chocolate honeycomb bar.
Julia, over at Something Missing, also made a no churn ice-cream, but a rather different one to the condensed milk one we all know and love. Her birthday cake ice cream is made using a base of Italian meringue – most intriguing. Even more intriguing is the cake batter used to flavour the ice-cream. I'm a big fan of cookie dough ice-cream, but I hadn't heard of cake batter ice-cream.
The Big Spud describes his chocolate and passion fruit baked Alaska as a showstopper and he isn't wrong. The flavours and colour contrasts are just too tempting.
And finally we have Kavey's very own rich, dense & dark chocolate ice cream over at Kavey Eats. Wow, all I need is the title of this to make me go week at the knees. The ice cream is another no-churn version which I've not come across before – it's all very exciting.

No summer collection of chocolate recipes is complete without some ice cream. Luckily Kate at The Gluten Free Alchemist has come up with cherry-chocolate brownie ice cream. I think she's got all bases covered there 🙂