If you haven't tried socca before, you're in for a treat. It's a sort of flatbread or substantial pancake made from chickpeas and it's naturally vegan and gluten free. It's also delicious. With little cooking or preparation required it makes a perfect meal for summertime. This socca spread with walnut basil pesto and scattered with toasted walnuts and purple mangetout scored particularly well.
I thought I ate a lot of fruit and veg, but I'm finding that getting in the newly recommended ten a day is a bit of a challenge. We usually start off our mornings with a smoothie packed full of all sorts of nutritious ingredients. This carrot smoothie with ginger & orange ticks off one of the ten. Only another nine to go then. Juicing could be a good way of adding more fruit and veg to our diet. I've stayed clear of juicers, however, as I've heard they can be a bit of a faff to clean. But, cue fanfare, this may be a thing of the past with the all singing, all dancing self-cleaning Juisir.
I know I've given a recipe here for spiced turmeric milk already, but this being Veganuary and all that, I thought I'd give you my vegan version. Plus I've learnt a thing or two about the super spice since writing that post. Golden turmeric latte is not only a healthful drink, it's also quite delicious.
CT has a cold and I can feel a sore throat coming. In a bid to alleviate CT's symptoms and stop myself from developing the cold, I'm turning to my all time favourite comfort food, dhal. In this instance it's made with split red lentils, but pretty much any pulse will do. So for National Curry Week, I give you this Kill a Cold Lentil Curry with Kale & Red Peppers. Whether it will stop a cold in its tracks remains to be seen, but it's a killer for flavour and full on satisfaction.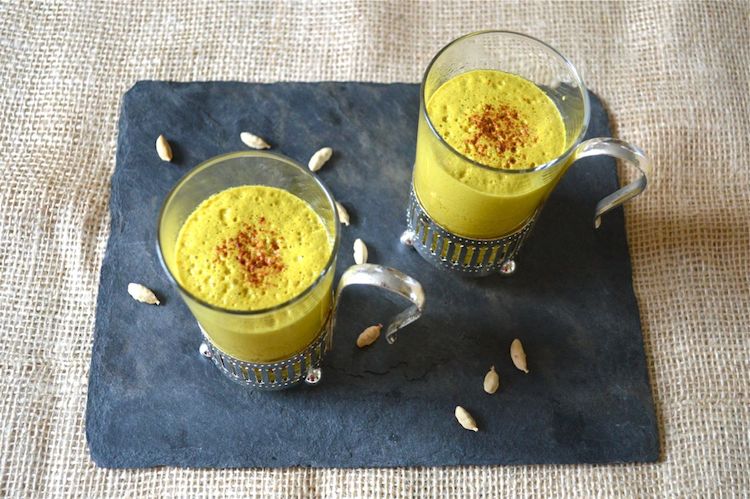 Age is supposed to confer wisdom, but the main thing I notice these days is that my joints are a little creaky. I try to alleviate this by getting as much turmeric into my diet as I can. This is the first time I've made it the star of the show, however. Building on my recent success with hemp milk, I decided to combine these two oriental power houses to make spiced turmeric milk. If the hemp doesn't get you, the turmeric will.
I've heard a lot about tofu scramble over the last few months and I have to say, my inner sceptic wasn't convinced. However, when I found out this vegan breakfast alternative to scrambled eggs was one of the recipes in the Vegan Toolkit Workshop, I thought I really ought to try it. I volunteered to make this particular dish and was of course completely won over.
CT gets a bit sniffy about watching endless cookery programmes, although he does cave in for the Great British Bake Off. So when he's away I take the opportunity and catch up on the odd programme. He's been away enough over the last couple of months for me to see the entire Simply Nigella series. Her parsnip spinach soup I simply had to try.