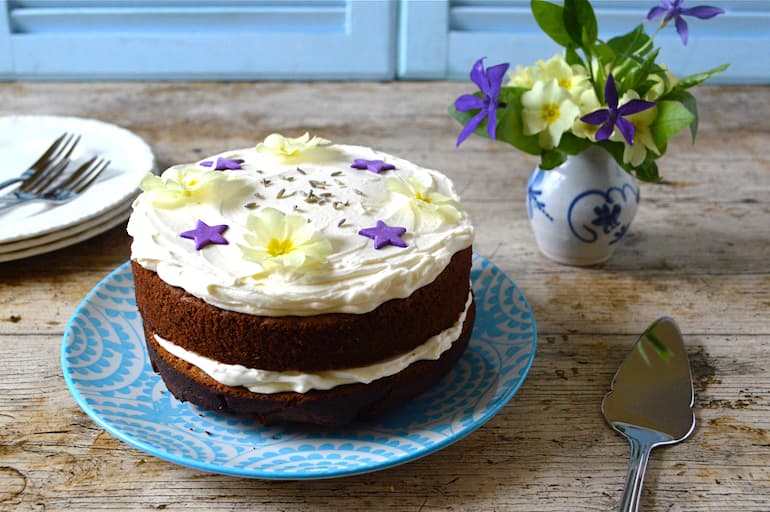 Mother's Day is fast approaching and I can't help but think of cake. I feel something light and spring like is needed. I know, how about a lavender honey cake scented with lemon and smothered in honey cream cheese icing? Sorted.
Energy balls are all the rage now. Look in any self-respecting modern "healthy" cookbook and you'll find at least one recipe for them. There's a good reason for this. They are easy to make and utterly delicious. I've made quite a few over the last few years and these goji berry bliss balls are the latest.
Happy Mother's Day to everyone. I'll be heading off to visit my mother shortly. I was going to take her out to lunch, but turns out she hadn't realised the significance of the day and has invited friends over. So I decided to make her an ultra healthy, dairy-free, grain-free and refined sugar-free vegan cake instead. Why? Because I felt like it and thought it would make a nice change. So this chocolate coconut cannellini cake is what she's getting.
It was time to make a cake for my wonderful mother for Mothering Sunday. The question was, what cake to make? Simnel cake is traditional for this Christian festival which falls on the fourth Sunday in Lent. It was a day's reprieve from the Lenten fast and domestic servants were given the day off to visit their mother church. This meant being able to spend time with their families and specifically their mothers. These days Simnel cake is more closely associated with Easter, but the old tradition of baking a cake and picking flowers for our mothers lives on.
With spring in the air, a cake with a floral theme seemed appropriate. I happened to have some lavender chocolate in the house and although lavender isn't exactly spring like, it is floral. So a chocolate lavender cake it was going to be. Excitingly, it is the season for goose eggs and I had bought one especially to make my Mother's Day cake. Goose eggs have a very short season, so I pounce upon them with glee whenever I see them in the spring. They are very large and have a whopping yolk, so are excellent for baking – they roughly equate to three large hens eggs. I scattered the cake with edible red dust, pink hearts and lavender flowers. Sadly most of the flowers all blew off in the wind when I took the cake outside to photograph it, but I reckon the hearts say it all anyway.
I made the cake yesterday and am off to deliver it later this afternoon along with a bunch of primroses and a card.
Update 31 March
The cake was sensational. I was really pleased with it and more to the point so was my mother. The lavender flavour was good without being overpowering and the cake was beautifully light.
I am sending this over to Emily's #recipeoftheweek over at A Mummy Too.
print recipe
Lavender Chocolate Cake
by
Choclette
March-30-2014
A dark rich chocolate cake flavoured with lavender and then filled and covered with a dark rich ganache also flavoured with lavender.
Ingredients
1 tbsp

lavender flowers

125ml

hot water

150g

unsalted butter

175g

sugar (half caster, half dark muscovado)

a pinch

sea or rock salt

40g

cocoa powder

175g

flour (half wholemeal, half white)

1 scant teaspoon

baking powder

¾ teaspoon

bicarbonate of soda

85g

ground almonds

1 heaped tbsp

Greek yogurt

80g

dark lavender chocolate (70%)

70g

unsalted butter

1 heaped tsp Cornish

honey

3 tbsp

double cream

1

goose egg (or 3 large eggs)
Instructions
1. Placed the lavender in a covered pan with the water and brought to the boil. Left to steep for an hour, then strain.
2. Creamed the butter, sugar and salt until light and fluffy.
3. Beat in the cocoa, followed by the egg.
4. Sift in the flour, baking powders and almonds and stir in alternately with the lavender water.
5. Stir in the yogurt until just incorporated.
6. Divide the mixture between two 8″ round silicone cake moulds and bake at 180℃ for 22 minutes. Leave to cool in the moulds for 10 minutes, then turn out onto a wire rack to cool completely.
7. Melt the chocolate, butter and honey in a pan over very low heat until just melted. Remove from the heat, then stir in the cold cream.
8. Use half of the ganache to sandwich the two cakes together then spread the remainder over the top cake.
9. Decorate with lavender buds.
Details
Yield: 1 8″ cake
Chocolate comes in many forms and here it comes in the form of hand cream. Cocoa butter has long been used for cosmetic purposes. I have used it myself on occasion to make my own body butter and lip balm. Cocoa butter is said to have a number of benefits: it is high in fatty acids helping to keep skin hydrated, high in antioxidants known for fighting off free radicals which stress the skin and helps to reduce stretch marks and scar tissue.
Hotel Chocolat now do a range of skin care products, Cocoa Juvenate – all using cocoa butter of course. In addition to the benefits already stated, they claim there is an extra feel good factor and that slapping it all over will enhance your mood as well as rejuvenate your skin. Great for chocoholics who can now have an all round chocolate body experience, both inside and outside; the skin is, after all, the biggest organ of the body. When I was offered a tube of Revive, the Cocoa Juvenate hand cream, I was very happy to try it out. Like many of us hard working food bloggers, I don't pay as much attention to my hands as I should. They get very dry from frequent washing. This isn't helped by my gardening activities; soil is notorious for drying out the skin.
As well as cocoa butter, Revive contains shea butter, mango seed oil and honey, all good protective moisturising ingredients. The scent is pleasant, if a little strong for me and reminds me of bergamot. A little goes a long way and massaged into hands and cuticles, it is almost instantly absorbed, leaving hands smooth but not at all greasy. The hand cream came in a very smart paper handbag echoing the black and white packaging of the product, which itself has a silver cocoa bean printed both on the box and the tube.
Available in store and online, a 100ml tube costs £19.
With Mother's Day fast approaching, this is a gift which will surely be appreciated. Mummy bloggers, multi taskers par excellence, deserve a little pampering from time to time. In that spirit, I'd like to pass the love on to one of them. Galina of Chez Maximka is a devoted mother and blogger. She is also a prolific cook and artist to boot. With two sons, one with autism, her life is very busy – I don't know how she does it.
May her hands be smooth, silky and fragrant.
Thanks to Hotel Chocolat for the hand cream. There was no requirement to write a positive review and as always all opinions are my own.
For Mother's Day this year, I decided to make some cake truffles. I had some left over lemon & poppy seed cake from the book swap event which, I thought, mixed with orange, would make some nice tangy St Clements Truffles.
This is what I did:
Creamed 1/2 oz unsalted butter with 1 oz icing sugar until very pale.
Crumbled in a square of lemon & poppy seed cake.
Beat this together until all incorporated and smooth.
Added a couple of teaspoons of orange liqueur & beat some more.
Formed into small balls and placed in the freezer for 30 minutes to harden.
Melted 60g dark chocolate (Green&Black's 72% cook's chocolate).
Dipped the cake balls into the chocolate and placed on some greasproof paper to set.
Almost immediately, placed a sugar flour on top of each before the chocolate set.
Placed in a pretty box and tied a ribbon around.
Oh my, these were delicious. It may not say much for the sophistication of my palate, but I'm becoming a real fan of cake truffles. They are a lot nicer than I would ever have believed and are set off so well when covered with a nice dark chocolate. I was a little concerned at how well the lemon flavour would go with chocolate, but I needn't have been – sweet and sharp is a well known winning combination. The box found its way back to me empty, so I have to assume my mother quite liked them too.
A walk along the lovely Lerryn river following an early lunch at Duchy Nursery were to be the treat of the day. My mother is particularly enamoured of the leaf that appears in the froth on the top of their coffees, as can be seen in the above picture (sort of). Although the weather was showery, we didn't get rained on, which was most fortuitous as, due to an oversight on the restaurant's part, we had to sit outside for lunch. Luckily, my mother is a hardy soul and she really enjoyed her day.
Having made my first experiment using marmalade in cakes with this chocolate and marmalade cake and been won over by the result, I decided to have another go.