When spring finally emerges, I like to banish lethargy and listlessness and that's when I start to crave the vitalising, cleansing effect of nettles. I normally have my first bowl of nettle soup in March, but I was a bit late in foraging any from our plot this year. When the day dawned bright and fair on Sunday morning, I was determined to go nettle picking – and I did.
In cold weather, there is nothing more warming and comforting than a big bowl of steaming soup. Or do I mean stew? I'm not entirely sure whether this Mexican bean soup is actually a soup or stew, but with a generous amount of vegetables, beans and spicy Mexican flavours, it certainly makes for a satisfying meal. It's especially good when served with some hearty soda bread spiked with a little smoked chilli honey.
CT gets a bit sniffy about watching endless cookery programmes, although he does cave in for the Great British Bake Off. So when he's away I take the opportunity and catch up on the odd programme. He's been away enough over the last couple of months for me to see the entire Simply Nigella series. Her parsnip spinach soup I simply had to try.
A couple of months or so ago, I decided we needed a change from fruity smoothies for our morning breakfast. Delicious as they are, I'm more used to having something savoury at this time in the morning – it just feels right somehow.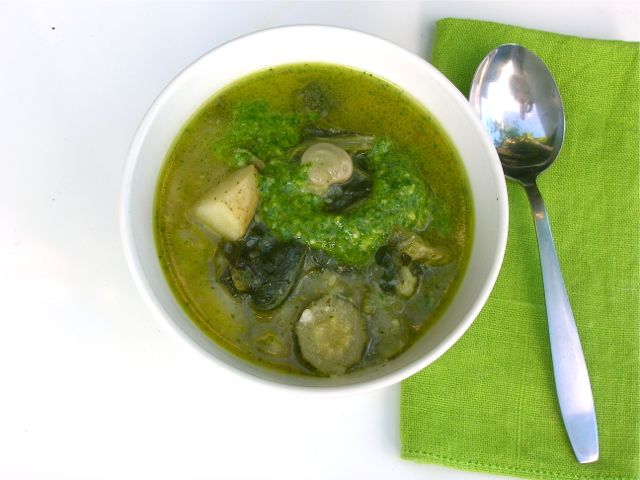 Just because it's summer, it doesn't mean I don't want soup, especially when that soup is packed with summer produce. With a house full of newly dug potatoes, courgettes and broad beans, I took inspiration from a Nigella recipe for Summer Minestrone in the September 2004 issue of Delicious.
The other day, I had the pleasure of sharing a bowl of soup with
The Hedge Comber
. As it was rather cold outside I fancied making something both warming and colourful. I always have split red lentils in the house, but I also happened to have carrots and tomatoes too. All were of a suitable hue I reckoned. As for flavourings I decided ginger and home-grown chilli for warmth and rosemary and thyme for aroma would hit the spot.