When spring finally emerges, I like to banish lethargy and listlessness and that's when I start to crave the vitalising, cleansing effect of nettles. I normally have my first bowl of nettle soup in March, but I was a bit late in foraging any from our plot this year. When the day dawned bright and fair on Sunday morning, I was determined to go nettle picking – and I did.
I've been wanting to create a stand out recipe for veggie meatballs for a very long time. Procrastination rarely pays off and now Heck have beaten me to it. There was nothing for it but to create a super delicious way of serving them. These green veggie meatballs in tomato sauce served as part of a Middle Eastern feast fits the bill beautifully. All vegan and so very tasty.
CT has been interested in The Lost Crops of the Incas for a very long time. One he's been growing over the years is oca (Oxalis tuberosa). I was recently gifted a kilo of beautifully coloured oca tubers from The Guild of Oca Breeders. This was a rare treat as I hardly ever get to try any of CT's precious tubers. You can prepare them in pretty much anyway you'd cook a potato, but I like them best roasted. Here I give you my recipe for a quick and simple dish of chilli roasted oca with hedgerow pesto.
Never mind raindrops on roses and whiskers on kittens, falafel are definitely one of my favourite things. They transport me straight back to the bustling streets of Alexandria in Egypt. Every street corner had its own falafel vendor who sold them fresh and hot, stuffed into pitta bread and drizzled with tahini sauce. We used to have them for breakfast as a special treat. These air fryer carrot falafel may not be the authentic recipe, but they're delicious and are a breeze to make.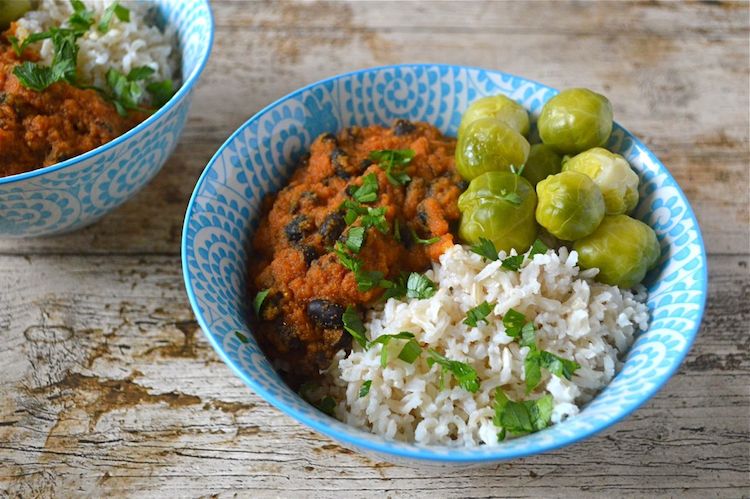 It may no longer be the International Year of Pulses, but lentils, beans and peas have been a staple for me ever since I can remember. They are not only nutritious, delicious and filling, but they make a great base for many a meal. These black bean tomato carrot curry bowls are simple to make and they taste very good indeed, especially when served with brown basmati rice. A perfect healthy whole food supper for Veganuary and to Jumpstart January.
If you're running out of time to make biscuits but want to give homemade gifts this Noel, these Christmas Bliss Balls may be the answer. They're not only delicious but are refined sugar, dairy and gluten free and easy to make. Rolling the balls in green pistachios, red cranberries and white coconut make them look wonderfully festive.
We've had the worst year ever on our plot. Lack of time combined with mega numbers of pests including deer, has meant little survived. We do, however, have plenty of kale. When I found a big bag of kale in my veg box last week, I knew I had to up my game. The result was a big batch of these vibrant green kefir kale pancakes. Served with vegetable tomato sauce and fried halloumi, it made for a most delicious meal – several meals in fact.
Failed nut butter may not sound like the most promising of posts, but do read on. I unwittingly turned my failure to make almond butter into a delicious pear almond butter, which is definitely worth blogging about.
Autumn pears, fragrant honey and warming ginger come together for an easy bonfire night bake. These gingered pear almond honey cakes are not only delicious, but are easily portable. They're the perfect antidote to overhyped Halloween and its transatlantic excesses. They can be eaten whilst watching the bonfire flames dance and the Catherine wheels spin – no tricks, just treats.
I make no excuses for posting this indulgent chocolate milk drink. It's nothing like my salted caramel chocolate milkshake and I'm making no health claims for this one. It's a rich confection full of chocolate and cream and is purely for pleasure.