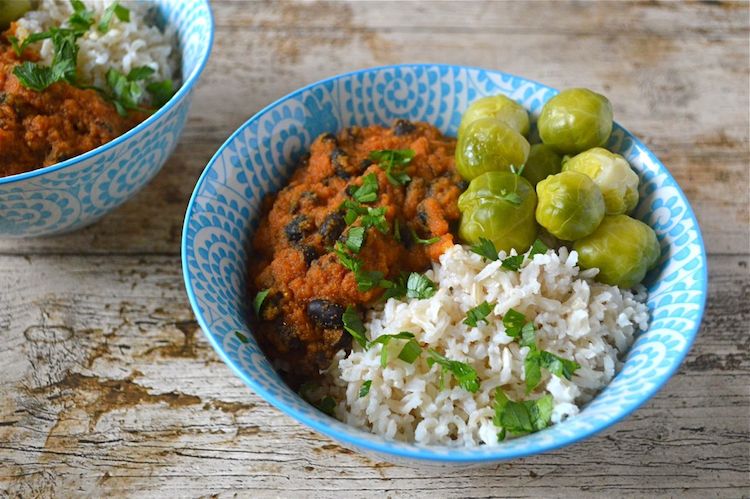 It may no longer be the International Year of Pulses, but lentils, beans and peas have been a staple for me ever since I can remember. They are not only nutritious, delicious and filling, but they make a great base for many a meal. These black bean tomato carrot curry bowls are simple to make and they taste very good indeed, especially when served with brown basmati rice. A perfect healthy whole food supper for Veganuary and to Jumpstart January.
If you like a variety of different textures, flavours and colours in your meals, then this halloumi rice bowl with ginger carrots and caraway cabbage could be for you. It's comforting, nutritious and delicious. It's also surprisingly quick to make. You can have your meal on the table within half an hour.
Barley is a much underrated grain. It grows well in the UK, it's easy to cook, has a nice nutty flavour and is highly nutritious. Traditionally, it's used in soups, but I've been using it more and more these days as the main grain in our meals. This vegan barley bowl is a simple meal of whole grain barley topped with a combination of spiced aubergine, chickpeas and tomatoes.
Bowls of grains topped with vegetables, protein and some sort of dressing are not only healthy but can be flavoursome and deeply comforting. This vegan rice bowl with its smoked tomato sauce is particularly good, especially when topped with tofu marinaded in a pure maple syrup dressing then fried in coconut oil. If you're running out of ideas for #Veganuary, this is an excellent one to try.
I've been hearing a lot about bowls recently, smoothie bowls, Buddha bowls and rice bowls seem to be all the rage. I thought it was time to join in and come up with my very own take: the quinoa bowl. It was also a chance to showcase not only the contents, but the beautiful Japanese vessel in which it was served.
Quinoa has been one of our staples for many years now, but we rarely have it in salad form. With the weather warming up (well we have had the odd day), thoughts turn to summer salads. What could be nicer than sitting outside on a summer's day and eating a delicious salad for lunch or supper?
As some of you will know, smoothies are a regular breakfast item in the Tin and Thyme household. They are a tasty way of packing in a lot of healthy nutrients and generally keep us going for hours. It was not until I had a conversation with some fellow food bloggers yesterday, however, that I heard about the smoothie bowl. As soon as the concept was explained, I realised that smoothies in a bowl were quite a different thing to smoothies in a glass.