Ever since I can remember, I've known that there's no such thing as too many chocolate eggs for Easter. When I was a child, chocolate was a rare treat, so I looked forward to Easter with eager anticipation. I'd make my chocolate Easter eggs last over the entire Easter holidays and beyond. That seasonal excitement has never left me and I'm sure that's part of the reason I like to celebrate Easter.
Last week I cooked up a Middle Eastern feast. I've already posted about the green veggie meatballs with tomato sauce. Now I bring you the recipe for brown basmati rice pilaf with currants, barberries and almonds.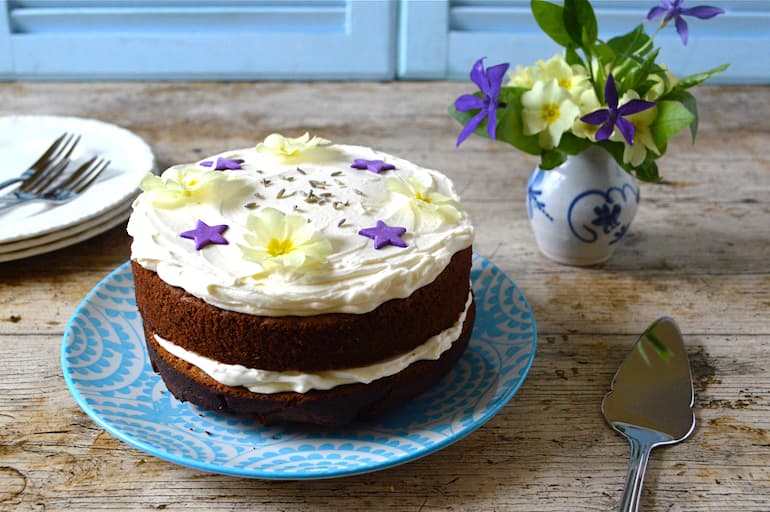 Mother's Day is fast approaching and I can't help but think of cake. I feel something light and spring like is needed. I know, how about a lavender honey cake scented with lemon and smothered in honey cream cheese icing? Sorted.
Energy balls are all the rage now. Look in any self-respecting modern "healthy" cookbook and you'll find at least one recipe for them. There's a good reason for this. They are easy to make and utterly delicious. I've made quite a few over the last few years and these goji berry bliss balls are the latest.
I've been wanting to create a stand out recipe for veggie meatballs for a very long time. Procrastination rarely pays off and now Heck have beaten me to it. There was nothing for it but to create a super delicious way of serving them. These green veggie meatballs in tomato sauce served as part of a Middle Eastern feast fits the bill beautifully. All vegan and so very tasty.
A late leisurely breakfast or brunch is such a treat at the weekend. In fact, brunch has become my favourite meal. It seems I'm not the only one. It's been rising in popularity over the last few years and is now said to be the nation's best loved repast. This recipe for Mexican Huevos Rancheros with smashed avocado is a great brunch standby. It's simple to make, pushes the boat out a little and kicks ass.
As regular readers will know, I can't resist a brownie. I have many recipes for them on the blog, but there are still so many to try. These black velvet cheesecake swirl brownies with stout caramel sauce were the happy result of two events fortuitously coinciding. It was a no brainer; I had to make them. The third event, is of course We Should Cocoa, the blogger's monthly, "we need chocolate".
CT has been interested in The Lost Crops of the Incas for a very long time. One he's been growing over the years is oca (Oxalis tuberosa). I was recently gifted a kilo of beautifully coloured oca tubers from The Guild of Oca Breeders. This was a rare treat as I hardly ever get to try any of CT's precious tubers. You can prepare them in pretty much anyway you'd cook a potato, but I like them best roasted. Here I give you my recipe for a quick and simple dish of chilli roasted oca with hedgerow pesto.
We're already nearly one week in to Fairtrade Fortnight, which runs from 27th Feb to 12th March. This year the Fairtrade Foundation are urging us to take a break with fairtrade products. Fairtrade coffee, tea, chocolate and bananas are all readily available. We can enjoy our break in the certain knowledge that impoverished farmers and farm workers are getting a better deal than they otherwise might.
February brings us two fabulous celebratory days. Valentine's Day is all about chocolate in my book. It brought in a bumper crop of entries, so I guess I'm not alone. Read on to find 23 loved up chocolate recipes. You're bound to find something to fall in love with. Shrove Tuesday highlights our love of pancakes and the tradition of eating up all the remaining good things in the house before the lenten fast. I'd sort of thought I'd get loads of chocolate pancake recipes this month, but only one turned up right at the last minute.