I have a new piece of Froothie equipment to play with. It's an Optimum HealthyFry – a rapid air fryer that can bake cakes too. Who'd have thought it? I have used it for frying of course, but I couldn't wait to try baking a cake in it. With my promise to bring you all things vegan this month, I have created this rich and fudgy chocolate banana cashew cake. Ladies and Gentleman, forget the banoffee, I give you banashew.
As promised for this month of Veganuary, I'm trying to up the number of vegan meals I eat. This has been massively helped by the acquisition of two recently published vegan recipe books authored by talented fellow food bloggers. You'll find reviews of the books below along with a recipe for veggie chilli which has been rather heavily adapted from one of them. Twas ever thus …
At this time of year, there's nothing quite like a warming bowl of porridge for breakfast. It's quick to make, comforting to eat and keeps you sustained for several hours. Plain porridge is good, but it's nice to jazz things up a bit and this vegan prune porridge topped with toasted walnuts and cinnamon makes it a bit more special.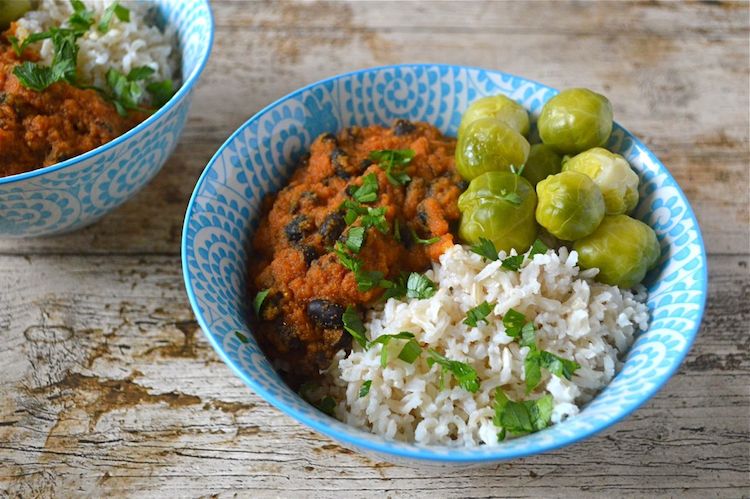 It may no longer be the International Year of Pulses, but lentils, beans and peas have been a staple for me ever since I can remember. They are not only nutritious, delicious and filling, but they make a great base for many a meal. These black bean tomato carrot curry bowls are simple to make and they taste very good indeed, especially when served with brown basmati rice. A perfect healthy whole food supper for Veganuary and to Jumpstart January.
Now Twelfth Night has passed, I'm feeling it's time to Jumpstart January. Whilst these vanilla almond cookies aren't exactly healthy, they aren't too bad for you either. They contain freshly ground almonds and wholemeal spelt flour and the sugar content is relatively low. I'm also trying to eat more vegan meals than usual this month to celebrate Veganuary, so I've made them vegan.
It's very hard to believe and somewhat difficult to come to terms with, but my mother turned eighty a few days ago. Where have the years gone? To celebrate, we went out for lunch with a few friends and I made this fig lemon marzipan bundt cake.
It's a new year and a new start. Always an exciting time with resolutions, ideas and enthusiasm abounding. New diet plans may be in the offing, but we are still in festive season, so I have no qualms in offering up these 14 celebratory chocolate recipes from chocolate loving food bloggers. If you scroll down to the bottom of the post you'll also find the January link up for this month's We Should Cocoa. Please do join in. I wish you all a very Happy New Year.