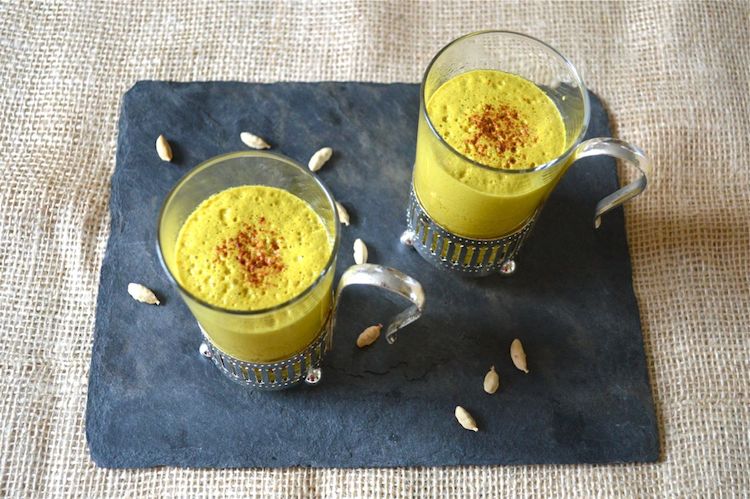 Age is supposed to confer wisdom, but the main thing I notice these days is that my joints are a little creaky. I try to alleviate this by getting as much turmeric into my diet as I can. This is the first time I've made it the star of the show, however. Building on my recent success with hemp milk, I decided to combine these two oriental power houses to make spiced turmeric milk. If the hemp doesn't get you, the turmeric will.
The BBQ season is well under way and although the weather has by no means been perfect, we've had several warm sunny days that just make you want to get out into the garden and grill. These maple tofu skewers are not only delicious but are thoroughly inclusive to all as they are vegan and by their very nature, gluten free.
Making your own hemp milk is a good way of ingesting the nutritious qualities of hemp seeds without all the additives that are often found in bought varieties. It's a great vegan alternative to dairy milk and as long as you have a good blender it's a quick and easy process.
June is full-on strawberries and cream season. As you may have noticed from my previous posts, it's also the prime time for roses. So when we were invited to an alfresco lunch at Incredible Vegetables near Ashburton, these three ingredients immediately sprang to mind. I needed something that was portable and easy to eat outside – strawberry cream cakes with a hint of rose it had to be.
A rose by any other name would taste as sweet, to misquote Shakespeare. We have one rose bush in the garden, it's in a shady spot and rarely produces more than two or three blooms. But what fabulous blooms they are. The rose is red with a heavy scent and it makes fantastic rose syrup. Now I have a dehydrator, I thought I'd have a go at drying rose petals this year.
Raw chocolates are easy to make. They are also said to be much better for you than regular chocolate; more of the beneficial active ingredients in raw cacao are retained. However, I find plain old raw chocolate on its own can be just a teeny bit boring. So I've come up with a few ways to make them a bit more interesting.
I've never really got on with commercially made chutneys, but homemade ones are jars of joy. I make some most years, but I didn't get around to it last autumn and stocks have been running rather low. Cue rhubarb and ginger chutney.
Remarkable rhubarb cake may seem a bit of a lofty claim, but this bake is so easy to make and tastes so good that I made it twice in quick succession. It's a great way to use rhubarb, which is in season right now and it's delightful both eaten warm as a pudding or enjoyed for afternoon tea.
These malted superfood bars with mango and coconut chocolate are just what's needed to give a boost when spirits or body are flagging. They are vegan, almost refined sugar free and are loaded with so many nutritious ingredients, it's hard to stop bouncing around with energetic abandonment once one has been consumed.