I had half a jar of sour cherries that desperately needed using up. Fortuitously I was e-mailed a recipe using cherries that came from Merchant Gourmet which I then adapted as a booze free version. I was particularly pleased to have found some local and organic crème fraîche which meant that it was a completely organic cake.
This is what I did:
Melted 125g unsalted butter in a pan with 100g muscovado sugar and 100g of 70% dark chocolate.
Sifted 100g wholemeal spelt and 100g of white spelt flour into a bowl with 1 tsp baking powder.
Stirred in 50g ground almonds
Made a well in the centre and poured in the chocolate mixture.
Mixed this in together with 3 duck eggs.
Added 4 tbsp of sour cherries from a jar together with about 75 ml of the juice from the jar.
Poured this into a 9 inch square silicon pan and baked in a preheated oven at 180°C for 25 mins.
When cool, cut into 9 large squares (think 16 would have been better as these were a little too large I thought).
Meanwhile melted 100g white chocolate with 250ml crème fraîche and left to cool.
Whisked cold mixture until stiff enough to spread onto cake squares.
The cake rose well, had a nice moist consistency, wasn't too sweet and had a subtle cherry undertone. The topping took a lot of whisking and then went a sort of curdled consistency, but it tasted good.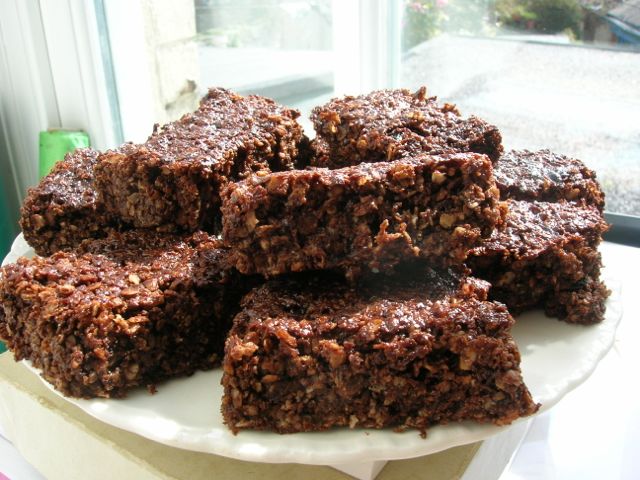 I've seen various recipes for chocolate flapjacks over the years and to be honest I couldn't really see the point. Flapjacks are so good anyway, how could they get better? Well, I've tried it now and I have to say they were good, not necessarily better but certainly different with a rich chocolatey flavour.

About a year ago, I tasted a chocolate cake made with Guinness. It was delicious and I've been wanting to have a go at making one ever since. I found a recipe for Chocolate Stout Cake in Green & Black's, and had a go at making it for Easter Tea. It didn't go quite according to plan, as there was too much mixture to fit into my biggest cake pan, so I made it into a sandwich cake instead. I then had to think of some sort of filling and topping to use at rather short notice and with no shops open!
Creamed 8oz unsalted butter with 12oz soft brown sugar for ages.
Weighed 10oz flour (6oz wholemeal spelt and 4oz white spelt), 2oz cocoa, 1/2 tsp baking powder and 2 tsp bicarb of soda.
Beat in 4 duck eggs alternately with some of the sieved flour mixture
Stirred in 4oz melted dark chocolate (85%)
Stirred in 12fl oz Guinness alternately with the remainder of the sieved flour.
Baked this in 2 23cm round cake pans at 180C in a preheated oven for about 50 mins.
Whilst cakes cooling, melted 4oz dark chocolate (70%)
Stirred in 4oz butter
Added a good sloosh of Guinness and stirred fast.
When thick enough used this to sandwich the two cakes together and to ice the cake.
Decorated with little gold wrapped Easter eggs
It was a great cake – light in texture, dark in colour, moist and rich tasting. The icing worked well too, although a bit more would have been better.
Next time, I shall make a smaller quantity so I can bake it as one cake and use a white chocolate topping to imitate the frothy Guinness top.
Our annual Easter walk. So, something needed that would carry well over a distance of 11 miles and could be handed around to a group. Biscuits seemed like the obvious choice, I went for a recipe in Green Black's. Apart from flapjacks, I haven't made biscuits for years and certainly not in my rather unpredictable oven, so I was a little nervous. I was right to be so; they turned out more like little buns than biscuits – next time I shall be a bit more generous with the milk and they should spread in a more biscuit like fashion. Luckily they tasted good and everyone had second helpings.
This is what I did:
Creamed together 3oz butter and 2 1/2 oz granulated sugar (would use light muscovado next time).
Beat in 1 large egg, 6oz sifted wholemeal flour and 1 small tsp baking powder and pinch of salt.
Mixed in 1/2 tsp vanilla extract and a slosh of milk to make a soft dough.
Roughly chopped up a 100g bar of 85% dark chocolate (made a mistake here as meant to use a 70% one).
Roughly chopped 2oz brazil nuts.
Mixed chocolate and nuts into the dough.
Broke of 22 lumps and rolled these into balls between my hands, flattened them slightly (expecting them to spread) and placed on lined baking trays.
Baked for 12 mins in a preheated oven at 180°C (gas 4).

This is a heavily adapted version of Chantal Coady's 'Mexican refried beans with chocolate sauce' from her book Real Chocolate – chiefly because I didn't have some of the ingredients required nor the forethought to do the requisite planning. I am a huge fan of re-fried beans, principally because it's a nice quick meal to make after work and it's a good excuse to have tortilla chips. I had, however, never made them with chocolate before – until now!
This is what I did:
Fried 1 small onion and 3 cloves garlic slowly in a slosh of olive oil and a knob of unsalted butter for about 10 mins.
Added 1 nearly drained can of haricot beans – they were all I had.
Stirred in 1 tbsp tomato paste, 1 tsp ground ginger, 1/2 tsp my chilli sauce and 1 tsp cocoa.
Simmered for 5 mins, then mashed roughly.
Served with tortilla chips, sheep's yogurt and chopped parsley with purple sprouting broccoli on the side.
The yogurt gave a wonderfully tangy contrast to the rich tasting beans. Next time, I shall attempt to follow the original recipe more closely.

A party – hurrah! So, a chocolate party cake. A suitably large and rather nice sounding cake came to light as I was leafing through my various recipe books, encouragingly entitled 'The Big Quick Cake'. Sounded promising. It ended up not being quite so quick. Firstly, it was meant to be one big cake, but I wanted to make a filled cake. Secondly, despite my aversion to the creaming method, I have been rather won over by the results I've been getting and after all, this was a cake for a special occasion. In addition, the muscles in my right arm seem to have firmed up somewhat. So despite this not being the method used according to the book, Divine, I heroically gripped my bowl and spoon and commenced.
Creamed 250g unsalted butter with 250g light muscovado sugar – for ages!
Sifted 200g speltflour (100g wholemeal and 100g white) together with 2 tsp baking powder, 75g cocoa and a pinch of salt
Beat in 6 duck eggs alternatively with some of the flour mixture
Folded in remaining flour.
Spooned mixture into two 23cm round tins
Baked for 25 mins in preheated oven at 180°C (gas 4)
Melted 100g unsalted butter with 100g bar milk chocolate (Montezuma's for a change)
Mixed this in with 100g sieved icing sugar, 1 tbsp cocoa and 1 tsp coffee powder dissolved in 1 tbsp hot water.
Spread half of this on top of one cooled cake, sandwiched the other cake on top then spread on remaining icing.
I managed to snaffle a small slice at the party and was well pleased with the results. I am not a coffee fan and definitely not a coffee chocolate fan, but this was quite a light touch and did give a certain depth of flavour.